Training
In order to apply for flight attendant in an airline, you need to send your application, interview and selection. These courses are free for candidates, except in cases of early termination of training – then you have to pay airlines compensation the cost of the course. Course enrollment involves signing a contract stating that the candidate agrees to work a certain number of years (usually 2-3 years) specified in the airline upon graduation. The courses last about three months. The school day lasts 6-8 hours. At the time of study the candidates will be charged a scholarship. In Moscow it is possible to get on courses of flight attendants at such airlines as "Aeroflot", "Transaero", "Siberia".
Another training option is to visit the paid courses, after which you do not need to be tied to the testing of required number of labour hours in a particular airline. At the end of paid training, you can get in any airline and to change jobs at any time. Such training courses are very intensive and takes a full day. The cost of a full course of study is from 30 to 50 thousand rubles.
In Moscow the paid courses, "flight" performed at the following institutions:
School conductors at the Moscow state technical University of civil aviation;
educational institution "Personnel";
educational institution "Jet Service".
Courses include the study of the theory of aviation, buildings, aircraft, psychology, English language, basics of medical assistance, as well as playing sports, learning style and make-up. Separately are studied and practiced in practice, the rules of conduct in emergency situations
Requirements to girls applying for the position of flight attendants
Requirements for candidates for specialty training of flight attendants is quite high and specific, especially in Moscow. These include:
- age from 18 to 35 years;
- the growth of not lower than 160 cm (such a requirement is justified by the need to reach overhead bins, seats);
- good condition;
- good knowledge of the English language;
- stress (the need for concentration and clear thinking in life-threatening situations);
- competent speech;
- friendliness;
- presence of citizenship of Russia.
Advice 2: How to get a flight attendant
The flight attendant is a specialist in the crew of the aircraft whose primary task is to ensure the comfort and safety of passengers during flight. Work in the so-called "schools of stewardesses" or "sky schools".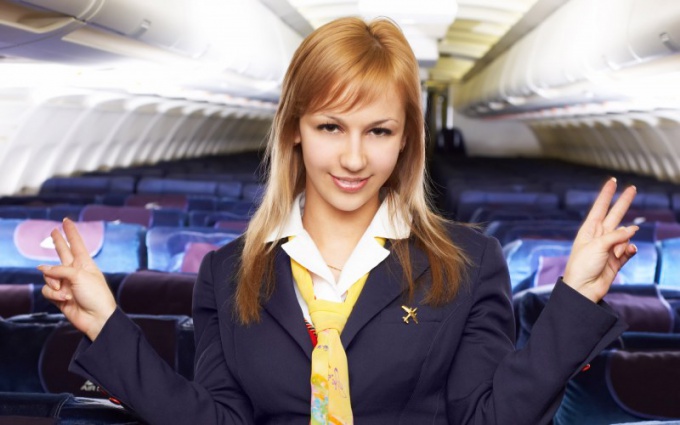 Instruction
If you have seriously decided to become a flight attendant, choose the airline in which you would like to work. Almost each of them has its own school.
To future flight attendants meet high requirements: their age must be at least 18, but not more than 35 years; the increase is strictly from 160 cm; right speech and a pleasant appearance will also be required.
For admission to the school of flight attendant you need to be interviewed. There you will have to briefly tell about yourself, to show a crust of higher education (if any), and also mention about your skills and abilities. Preference usually is given to those girls who know the English language . So before you go for an interview, your foreign is better "pull" in specialized courses.
It should also note that international airlines are working normally flight attendants with higher, preferably linguistic education, and on domestic flights it is possible to work without it.
Before to go to school, you will have to undergo a serious medical examination. Many only accept those with excellent health (no nervous and cardiovascular diseases). You also will not allow for classes, if you fail the psychological test incorrectly or will behave in a stressful situation.
If the interview was successfully completed, ahead of you waiting for training at
the flight attendant
, which lasts about 2-3 months. Have to study 6 days a week throughout the working day.
If the interview representatives of the airline will be interested in your person, the training you will be free. You will even be paid a small stipend (about 5 000).
After three months of training you will be invited to undergo training at one of our aircraft (although these dates are only approximate). After you pass it, and pass the final exam, you will be allowed to work.