Training in the airline "Transaero"
"Transaero" every year is gaining comers, passing on the requirements of the company, to receive free training on the profession "Steward". After successfully passed examinations, the airline owners of a new profession employs to yourself. Learning is 3 months.
The average salary of flight attendants on international flights is 50 - 75 thousand.
Requirements to the candidate is mandatory, Russian or Belarusian citizenship, age limit 19 to 30 years, height should be 160-175 cm for girls clothes size not more than 46, speaking, vision and -2.5. Future flight attendant must also be able to swim, have a passport and be free of scars and tattoos on the hands, face and neck. Your CV should be sent by e-mail aazakharova@transaero.ru.
Training in SPb ATA HA to them. Novikova
St. Petersburg air transport College of civil aviation named after chief Marshal of Aviation A. A. Novikov offers for future flight attendants pay for courses "Service on Board the aircraft". The school is located on Liteiny prospect, 48/50. Your questions can be sent to the email address of the school ATK@spbguga.ru. or ask by phone 8 (812) 273 46 67.
Training in the branch of "Aeroflot" in Saint-Petersburg
Also, the airline "Aeroflot" spends a set on learning a new profession "Steward" in its St. Petersburg branch. Training takes place at the expense of the company, followed by employment. Three years should work in the company after getting a profession. Who does not want to stay in "Aeroflot" could learn a fee.
Paid training is approximately 40 - 65 thousand.
For applicants put forward the following requirements — not younger than 19 and not older than 30 years, education not below average, commutativity, good looks, good health, German and English should be at a conversational level. More detailed information can be obtained by phone: 8 (812) 438 56 83.
General information
In St. Petersburg is recruiting for the position of flight attendants and foreign airlines. For example, Qatar Airways each year makes the selection of candidates and provides training in the Qatari capital Doha and in the subsequent to work for three years in the company under the contract.
After reviewing a summary of the airline or school is invited to two interviews with a psychologist and English. If these stages are successfully completed, in the future, to undergo a medical examination. Only after starting school, exams and work on Board the aircraft.
Advice 2 : How to get a flight attendant
The flight attendant is a specialist in the crew of the aircraft whose primary task is to ensure the comfort and safety of passengers during flight. Work in the so-called "schools of stewardesses" or "sky schools".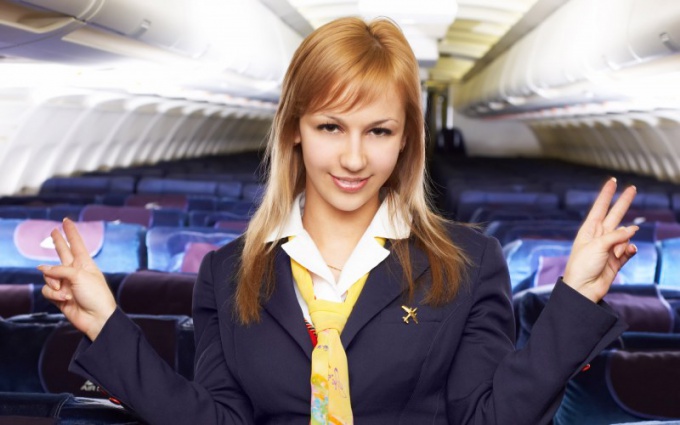 Instruction
If you have seriously decided to become a flight attendant, choose the airline in which you would like to work. Almost each of them has its own school.
To future flight attendants meet high requirements: their age must be at least 18, but not more than 35 years; the increase is strictly from 160 cm; right speech and a pleasant appearance will also be required.
For admission to the school of flight attendant you need to be interviewed. There you will have to briefly tell about yourself, to show a crust of higher education (if any), and also mention about your skills and abilities. Preference usually is given to those girls who know the English language . So before you go for an interview, your foreign is better "pull" in specialized courses.
It should also note that international airlines are working normally flight attendants with higher, preferably linguistic education, and on domestic flights it is possible to work without it.
Before to go to school, you will have to undergo a serious medical examination. Many only accept those with excellent health (no nervous and cardiovascular diseases). You also will not allow for classes, if you fail the psychological test incorrectly or will behave in a stressful situation.
If the interview was successfully completed, ahead of you waiting for training at
the flight attendant
, which lasts about 2-3 months. Have to study 6 days a week throughout the working day.
If the interview representatives of the airline will be interested in your person, the training you will be free. You will even be paid a small stipend (about 5 000).
After three months of training you will be invited to undergo training at one of our aircraft (although these dates are only approximate). After you pass it, and pass the final exam, you will be allowed to work.
Advice 3 : How to find a job as a flight attendant
Two decades ago to become a flight attendant, but rather the flight attendant was more prestigious than a model or actress. Travel, beautiful shape, interesting passengers, a far country and brought out the fashionable new clothes – all this pushed young girls to pester Aeroflot. To get to the only then existing the airline was only an acquaintance. Today, the path to the aircraft was much closer now. Standard height, the age of thirty years, knowledge of spoken English, good health and forward - to conquer the air space of our country.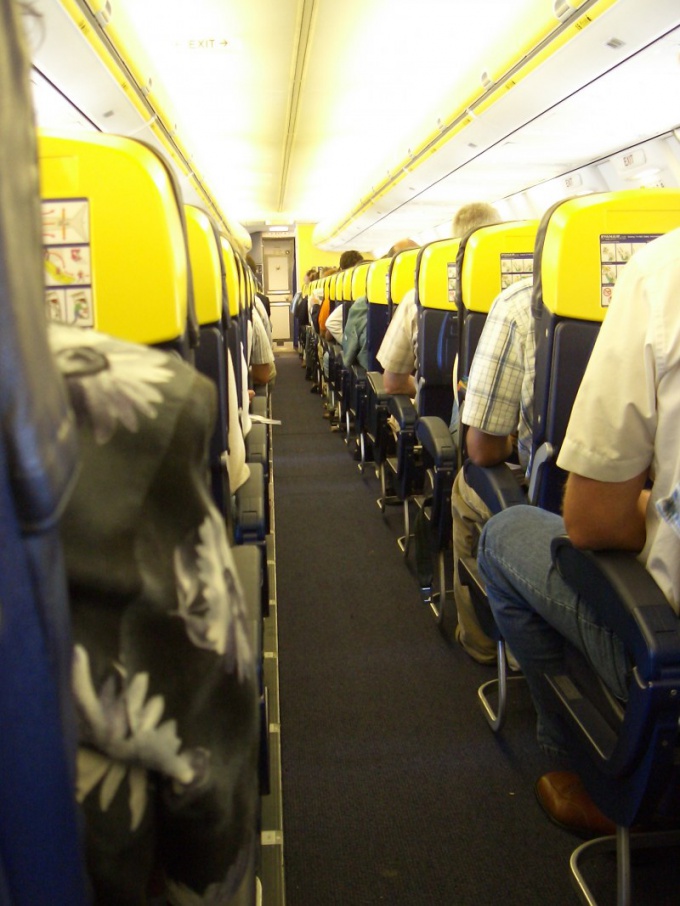 Instruction
To finish the training of flight attendants is completely free, if to study at the training center refer you to a specific airline. But this requires it to pass an interview and a successful outcome, to conclude a contract for several years. When terminating the contract prematurely, will have to pay a tidy sum. The average tuition - and-eighty thousand.
Carefully choose the airline in which you wish to work. What factors will be decisive for you? A high salary? The close location of the airport? Good benefits package? Long trips, or Vice versa, turning flight? Sometimes a higher salary, the airline company compensates the conditions in which you will have to work. Conversely, a lower payment kompensiruet reliable fleet of planes, free flights for the employee and family.
During the interview act natural. Smile a bit more. A flight attendant must be sociable, friendly. The standard questions will be asked - why go to the aircraft, ready for night shifts, travel, work irregular hours? Will be a few questions in English. Even if you have a school level training, do not despair. If you manage to win over an employer, you are likely to take.
Interviewed candidates are sent for medical flight expert Commission. There is eliminated about a third of those wishing to rise in the sky. You will be rotated in a special chair, check hearing, eyesight, dental health and other vital organs. If you have not passed a medical examination, the contract is not signed.
The course lasts three months. There you will explain how to use the fire extinguishers and oxygen cylinders, first aid, deliver babies, and to evacuate in case of a threat, a plane full of passengers in ninety seconds. Major centers equipped with a swimming pool – the crew learning how to survive when landing on water. You will also learn how to lay the tables, serve the desired drink to each dish. In some centers teach the basics of makeup and hairstyles for flight attendants.
After completing the course you will have to descend thirty hours in excess of the basic brigade as a trainee. Make them a few flights easy. Enough to fly to Novy Urengoy. Return to Moscow - a third RAID ready. However, the remaining hours can be long to finish Nizhny Novgorod or Kazan. Flight time to these cities is just three hours. But on average, a month after graduation, young flight attendants fly to your first solo flight. Be especially watchful. Old men love to make fun of youth. So don't rush to climb on the wing to check the engine or turn the wrench to the chassis. Aviation – a special world and there is humor too, as you guessed, very special.
Note
The profession of flight attendant consequences for health. Low pressure due to early appearances on the flight. varicose veins - that professional disease stewardesses.

It is impossible to plan private life. The outfit is known only for a few days. And a lot of bad situations that change all the plans. No holidays, but there are often night shifts and hours a day. Work schedule is hectic. Fans of all in the life of the plan it will not work.

Cabin crew have a long vacation, but to make it in the summer impossible.

Flying the first year, other countries you'll only see the window above. On long trips (relay) normally fly "old".
Advice 4 : What it takes to become a flight attendant
The profession of flight attendants, is still shrouded in a romantic aura, in reality, demands from its owner, responsible for the lives and health of many passengers, the whole set of volitional and psychological qualities. They are inherent not every pretty girl wants to become a flight attendant.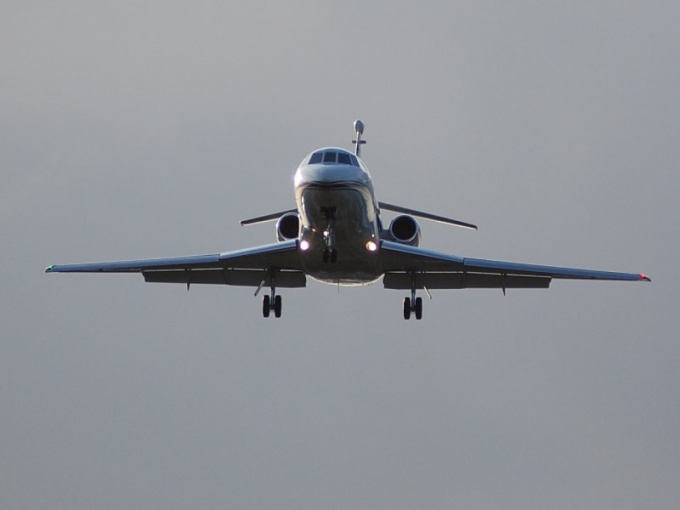 In order to obtain the qualification of a flight attendant, you must undergo training courses organised, as a rule, the major airlines. The selection of entrants is conducted in three stages.At the interview candidates are asked to tell about their education and demonstrate knowledge of foreign languages: pass grammar test and to make the translation of the text. Chances are girls with higher education in psychology, management and medicine. Moreover, candidates must not have any defects. Girls should have pretty nice face, height, allowing you to reach the overhead bins in the cabin, and the weight from 54 to 65 pounds. If the size of the clothing applicants exceeds 46, it is considered to be full-bodied and not allowed to participate in the contest, as the completeness in this case is a sign of any health problems. In addition, the rigidity of such
requirements
lies in the need for space-saving in narrow aisles of the salon and the kitchen of the aircraft. The appearance of entrants should be the most natural: no physical defect, tattoo, piercing, large moles, scars, permanent make-up and extreme hair colors. The girl who wants to become
a flight attendant
must be at least 18 and not older than 25-30 years.The majority of the contestants is eliminated at the stage of passing the medical Commission, since the flight attendant should have almost one hundred percent health that allows you to easily frequent change of time zones, climate zones and extreme pressure. In addition to the standard examinations and tests, girls are the tests for resistance to turbulence. The final stage of selection is the completion of a psychological test, which reveals the stress and emotional suitability, compiled psychological characteristic of a person. The flight attendant, which often determines human life should be disciplined and responsible, has to be balance and composure, have developed strong-willed qualities, technical thinking and good communicative and mnemonic abilities.The study itself lasts for about 2-3 months. During this time, future flight attendants study the types of aircraft, taught to provide medical care and security, in the framework of area studies cultures, policies and practices of foreign countries. In practical classes the girls learn how to behave in extreme situations and to build a competent contact with passengers. To obtain the certificate of completion of courses and qualification of steward of the third class must obtain at the final exam mark not lower than "four" and fly under the guidance of the instructor 30 teaching hours.
Advice 5 : How to study for a flight attendant
The flight attendant profession has always attracted girls. Beautiful, dressed in an elegant form, always smart, friendly flight attendants greeted passengers on Board the airliner and the duration of the flight taking care of them is so romantic. But behind the external simplicity and ease are a few months of training and experience. To become
a flight attendant
, not enough to be only attractive.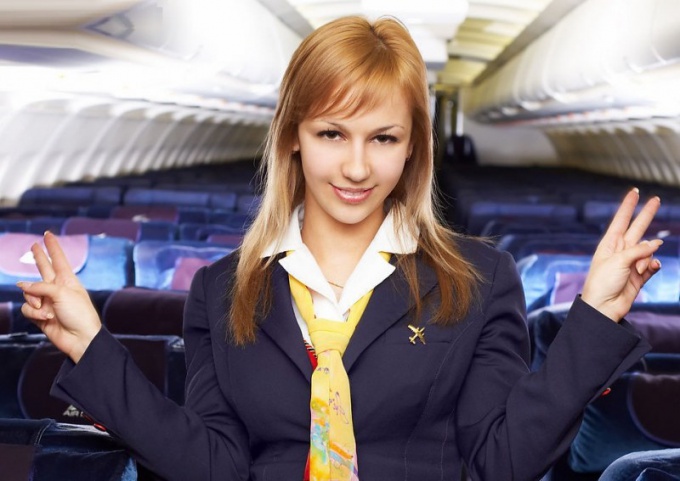 Instruction
First, you must meet the requirements for its physical development that airlines present to its flight attendants. They are practically the same: great health, which will have to be confirmed twice per year, prepossessing appearance, competent and correct it, no scars on the visible parts of the body. In addition, your ROS should not be below 160 cm, and age in the range of 18-35 years. Will significantly increase your chances of becoming a flight attendant knowledge of the English language, with it you can take training even at the age of 35 years.
If all the mentioned parameters and a passionate desire to fly, contact the airline that you like, but better – in all at once. Review the list of vacancies that exist at the sites of the airlines, and write a statement in a summary form, indicating their skills and education if it is already there.
You will have to pass an interview – with primary you rather check on the psychological readiness to become a flight attendant, so during it you can ask one provocative question. The second interview is conducted both orally and in writing. Another interview should be conducted in the English language, here, too, you will be asked questions you have to answer, including writing.
After interviews go medical flight expert Commission. To do this, you should be absolutely healthy. Before the passage of the fee, collect the necessary information from the psychiatrist, the psychiatrist from the clinic by place of residence. You will also need a chest x-ray and sinuses with photos and description, information from a dentist and electrocardiogram. General analysis of blood and urine should be taken for laboratory fee.
If you were found fit, then the airline will sign a contract with you. To learn on the flight attendant, you do not need to pay, but you will be required to work for the company some time after the training. During the study you will be paid a small stipend – about 5-6 thousand rubles. Training time – 2.5-3 month, it is counted in the workbook.
In the course of study includes: English, rescue, and water rescue training, the ability to care for themselves, to always look neat, care and impeccable service. You should study for 6 days a week, and your knowledge you will confirm in the examination.
Note
Training at the school of flight attendants consists of two components – theoretical and practical. The theoretical part includes the study of types of aircraft, the provision of medical care and ensure the safety of the flight. The acquired knowledge is reinforced in practice. Prospective flight attendants learn to build a true psychological contact with passengers in emergency situations to produce the evacuation of ninety seconds.
Useful advice
Students a lot of practice: for training, there are special layouts for the aircraft in full size, fire simulators, mannequins—"passengers" pools"oceans". Future flight attendants are taught how to wear the life jackets, how to behave in case of accident medical care. The second largest discipline. Few people know, but the very first flight attendants had medical education. If one of the passengers suddenly feel bad, the flight attendant must give him first aid and to do it correctly.