Despite the fact that things of Chinese production is considered to be not the highest quality, China is doing quite a lot convenient and powerful scooters (primarily for internal trade, as half of the country moves on scooters and motorbikes). Virtually all Chinese models are made by Japanese standards and technically are copies of Honda, Yamaha and Suzuki.


Budget scooters

One of the most famous manufacturers of scooters is Stels. Specializiruetsya on scooters up to 50 CC, cost up to 30-35 thousand rubles (1000$) for a new two-wheeled friend. The most common and reliable model number can be called Vortex 50.

Scooter double, holds up to 165 lbs. Stated the maximum speed to 90 km/h, but most comfortable in movement – 40-50 km/h In appearance is quite nice, looks analogous to the classic "Honda Click 125", but less powerful. Engine two-stroke, transmission – automatic. Overall, a very safer option.


Urban models

Urban scooters in retro-style, non-Asian substitute Italian Vespa's are made in Taiwan factory Sanyang Industry Co. The most popular model is the Sym Orbit 50 is designed to drive on urban roads (rough terrain, the driver and passenger will be very uncomfortable).

"SIM" is quite a roomy trunk, unobtrusive and very cute design, there is a place for the passenger. Top speed is 65 km/h, but this scooter great gas tank (5.2 litres) and a comfortable seat. Perfect for the big city, having, unlike other Chinese models two-year warranty from the manufacturer.


Maxi-scooters

Interesting option, however, requires obtaining rights And can be called Chinese Maxi-scooters. From the ordinary scooters, they are large in size, engine capacity and, consequently, speed. To the classic models of this series can be attributed to Sym GTS 250 Sym GTS 300i.

If talking about the original models, the prototype, in all probability, was the Honda PCX 125 or PCX 150, however <url> Sym differ in design and optics system. These scooters are ideal for lovers of walks in the city or those who work in a large city, and lives in the near suburbs. For all its fairly large size, they are easy maneuvering in traffic and can be parked in any place, not disturbing other road users.
Advice 2 : How to choose a 50 CC moped
Lately become very popular to use varieties of two wheelers such as mopeds, scooters and motorcycles. In a big city that would be a relief and will help to save time.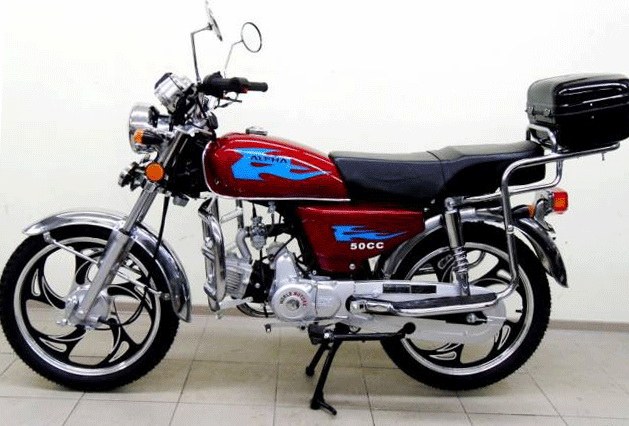 At the moment in the Russian market you can find a large number of motorcycles of different capacities. For example, in various 50-boiler scooters, mopeds and scooters there is a big demand. This technique of buying adults and even teenagers. The big advantage of the 50 CC scooter is a high maneuverability, low fuel consumption and ease of operation. In connection with the popularity of mopeds and scooters people are beginning to wonder – how do you choose a 50 CC moped?


Price category

First, future owners of mopeds choose equipment at cost. On the Russian market of motor vehicles there is a large variation of prices on mopeds and scooters. For example, you can purchase a 50 CC moped within 25 000 rubles, and can spend all 85 000 rubles. That is why you need to choose a vehicle based on your budget. The average cost of moped and scooter – 30-50 thousand rubles. Agree, not so much for equipment that will last you a long time and save you from the congestion and perpetual traffic jams in the city.

Contrary to popular belief among the low 50-CC mopeds also found a decent technique. That is, the cost of a moped is not the primary indicator of its quality.


What manufacturer is better

In recent years, the market of motorcycles, a large number of budget mopeds and scooters. For example, most of the goods stores selling scooter is the equipment of such manufacturers as Omaks, Stels, Yamaha, Honda, etc. each company has its good and bad models, so don't get hung up on the name of the manufacturer. You can buy a moped Stels that will last you 5-7 years, and can purchase equipment from Yamaha, which requires serious investments and repairs in a month after purchase.


The appearance of a moped

If you think that a moped or a scooter – it's a stylized "stool on wheels", you are wrong. Manufacturers began to pay great attention to appearance of equipment. Lovers of sport bikes will appeal to a moped Yamasaki Scorpion that fit into 50 cubic meters (a characteristic feature of scooters and mopeds), thus imitating the appearance of most sport motorcycles. If you prefer road motorcycle equipment, you can find the standard moped with a characteristic body, a classic fit and at a reasonable price. The choice is yours!
Advice 3 : What are Chinese scooters
China has made huge progress in the combination of technology, quality and prices of scooters. Chinese enterprises have the right to export products only when the production of high quality products. Such enterprises have international certificates and have the right to sell the scooters in the EEC countries.
Instruction
Choosing a Chinese scooter, you need to find out which company manufactured it. The manufacturer should not work the first day, to offer the customer a broad range and have an official representative in Russia. Only in this case there is confidence that the disadvantages of a scooter in the process of operation will be timely eliminated and will not be interruption in supply of spare parts.
Chinese manufacturers produce scooters under license by Japanese firms on scooters, engines and transmissions. The majority of Chinese scooters are analogues of good Japanese models. These products are pretty hard to mess up. Owner reviews Chinese scooters are not always entirely negative. Still, the failure rate mainly depends on the attitude of the owner of the scooter than from the manufacturer.
In connection with toughening of control over emissions and noise, in Russia are basically scooters with 4-stroke engine. For this engine, it is easier to obtain a certificate of conformity and the approval of the countries of Europe. 4-stroke engine, the filling process fuel, its compression, ignition, expansion stroke and exhaust emissions occurs over four beats. 4-stroke engine due to the more complex devices the fuel consumption is less than a 2-stroke engine. Modern engines fitted to Chinese scooters provides good traction and steady set speed.
In Russia are scooters from several manufacturers. One of the most popular brands include scooters from the following brands: HP, Honling, Keeway.
Under the Irbis trademark produced a very popular model - rounders. Such scooters are designed for use in city and in country conditions. To this kind belongs a Chinese scooter Irbis FR. Externally this model looks quite simple, with the classic contours of the body and a round muffler. The style of the scooter give 12-inch wheels and the original dashboard. Scooter Irbis FR belongs to medium-sized scooters. Engine 4-stroke, engine size 50 CC Max speed of the scooter at 60 km per hour.
Also for universal scooter include the model produced by the firm Honling. Honling scooter Pharaon 50 refers to a full size double scooter with 12-inch wheels and an enlarged splash shield. The driver of this scooter will be to feel comfortable both on the paved road and on the dirt. Engine 4-stroke, engine displacement is 50 CC top speed up to 60 km per hour.
One of the most popular models of scooters company Keeway - scooter Matrix. This model features excellent driving characteristics and a rich equipment. Scooter Matrix with a 12-inch alloy wheels, disc front brake and alarm system with remote engine start. Engine 4-stroke, engine displacement is 50 CC
Advice 4 : What scooter best buy
Scooter – convenient, fast, flexibly and beautifully. This representative motor vehicles have an interest not only the young but also the older generation. What scooter you will be most comfortable and how to avoid trouble and costly mistakes? A few simple tips will help to choose the actual model of scooter.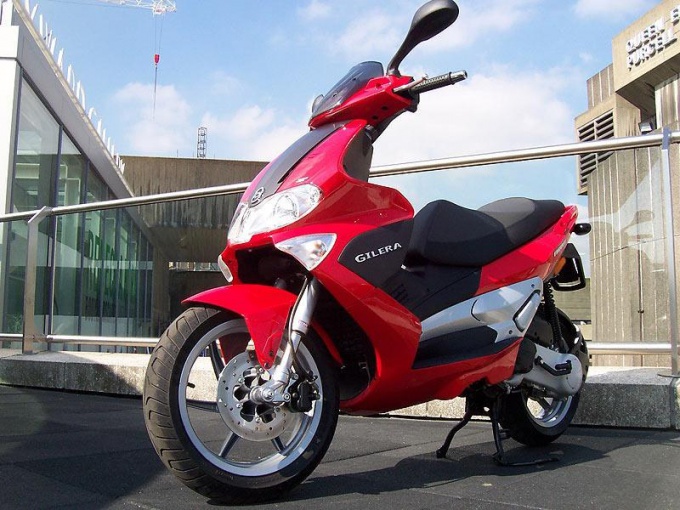 The choice of any vehicle is responsible. So the first thing you need to determine the features of the scooter that will help make your drive comfortable and safe. This will help a few questions:
1. The scooter will be used in the city or on country roads?
2. Who will be the driver? Or who will use it more often?
3. Whether you have a passenger?
4. How much were you looking to spend?


The choice of the manufacturer


In specialized shops are a lot of models from different manufacturers.

European scooters are reliable, fashionable, fast, expensive. The build quality is not satisfactory. But apart from high prices you may encounter another drawback. If "European" is broken, to get spare parts would be problematic, and they are quite expensive. A great choice if sufficient funds are available.
Chinese scooters manufacturers – cheaper is not found. But it is not necessary to count on good quality. There's a chance that after the first fall, all the plastic will crack or fly rivets.

Japanese scooter – a combination of price and quality. As European models are first-class quality, but very affordable in price aspect. Parts are available and inexpensive.


Terms of use


Scooter for city driving. When buying, pay attention to the dynamics, it is important that the rate of acceleration. Pay attention to the quality of the disc brakes. Choose a scooter with telescopic fork (ideally enhanced). All together these indicators will be invaluable when maneuvering through the narrow streets, traffic jams or driving on the highway.

Scooter for country roads. If you plan to use the scooter more often outside the city, then pay attention to the location of the air filter and the front fork designs. Best suited pendulum fork. This will improve shock absorption and smooth out" bumps in the road, with a telescopic fork you will "pop" on each mound. If the air filter is low, it will gather all the dust and it will have to be changed frequently.


For who bought the device


If the driver is an experienced man, you can pick up a scooter with the dynamic acceleration, modern design. However, expensive high-speed models can be some difficulties: you need high-quality fuel in the winter may not start.

If the driver is a beginner, a teenager or an elderly person, it makes sense to choose a more simple model is not very sensitive throttle. Will be less likely suddenly to flee or to stand "up".


Additional passenger


When buying, pay attention to the length and width of the seat. The passenger in any case should not hamper the driver.


Budget purchase


After you define all necessary terms, it remains only to compare the desire and the budget. In a good shop you'll find a scooter that meet your requirements.
Advice 5 : What scooter is better suited for girls
Motorcycle or scooter today have become a real salvation, especially in big cities. This training for you can easily get to the other end of the city, without spending money on taxis and not pushing on the bus or subway.
In connection with a wide variety of two-wheel vehicles has become difficult to choose the scooter which you would like for the price and design. This problem often faces the beautiful half of the population, since it plays a big role in style scooter.


Features choice

Before you pay from 20 to 80-100 thousand rubles for a scooter, you will need to determine exactly what you would like. You can choose a scooter classic shapes or the same shape. The last kind of scooter looks quite impressive, but poorly versed in the technique of two-wheeled people will think you legacythe on a real motorcycle.


It is not necessary to choose a technique such as scooter, remote — look in online stores or on websites with private ads. First, whatever was externally, scooter, get you through the day after purchase may find that sitting on it is uncomfortable, hands start to go numb quickly, and the capacity is very small. Secondly, if you want to buy such a vehicle from a private seller, it is best to come and view the scooter with a knowledgeable person. Often the owners of scooters in the desire to sell vehicles resort to such tricks, like painting plastic, poor-quality repair of engine components, the change in the mileage records, etc.


The cost of scooters from different manufacturers

To start, you will need to determine your budget. If you want to purchase classics, for example, Japanese scooters HondaDio, HondaLead, YamahaX-Mahi, etc., then you will have to pay a big amount ranging from 50 to 150 thousand rubles. 20-50 thousand rubles you can also buy a decent scooter for girls from companies such as HP, Griphon, Stels or Venta. The only disadvantage of this technique is cheap and plastic wear (in the fall of scooter plastic parts can be formed horrible scratches). Lovers of sporty design will appeal to scooters ForsagePB-14 or YamasakiScorpion.


Why girls should buy a scooter

If you have never ridden a bike or bad keep the balance, then buying a scooter can help in the further development of more powerful techniques. It is on the scooter you can learn to turn, brake, move the weight on the technique, and to drive in heavy traffic vehicles without unpleasant consequences.


A big plus of driving on a scooter is no need to shift gears like on a motorcycle — at this stage of novice motorcyclists is female, there are often problems.
Advice 6 : How to choose a double scooter
Many companies that manufacture scooters, began to produce double the technique for the convenience of buyers. On a conventional single passenger scooter constantly have to draw your legs in, pushing and otherwise disturbing the driver. On a double scooter, this problem is solved completely.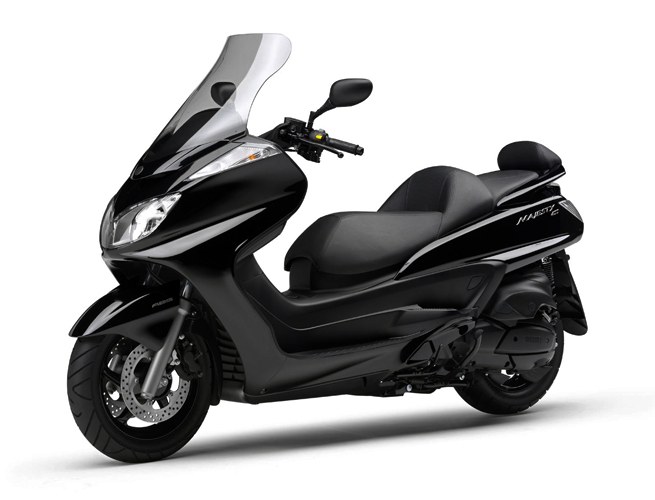 Before buying double scooter you need to decide on the budget. In recent years, this technique began to produce not only well-known brand (Yamaha or Honda), but more young. It therefore became possible to buy double scooters cost only 40 to 80 thousand rubles, while the technique from the "Yamaha" is about 150.


Selection criteria

Price is not the only criterion by which you should choose double scooter. In addition to the cost is paid to the design of the scooter engine power, and availability of repair. For example, if you buy double scooter from the Peugeot company, then you can splurge on buying new parts, and living in small towns, you will have to order parts for the vehicle by mail.


In terms of design, the modern double scooter buyers also have a choice. Today, the market of motorcycles can be found classic, and sporty two-wheeled scooters, each of which look quite fashionable.


Almost all double scooter with a speed of no more than 70-80 km/h. If you want to buy a scooter from private owners, it is not necessary to believe that the technique is "quietly gaining up to 100-130 km/h." Even if the owner of the scooter decided to fork out and put a powerful engine, wear this power unit will be much faster.


The main thing-the details

During the inspection of your future double scooter, pay attention to the quality of the materials. The upholstery must not have strong fading (even if the scooter is used), and plastics should not bend when you press on it. All parts of the engine, "stars" and the chain should be free of rust and other damage. Of course, it is better to buy a new double scooter, as you will then be confident that the numbers on the engine is not broken, plastic is new, and the mileage matches the indicators on the speedometer.


Make sure before buying is to sit on the scooter, start it, take a ride on a small platform (if you have a license and knowledge of driving), as real feeling can not be compared with the arguments and description of the technical characteristics. Also worth a try to go on a double scooter with a passenger, just to understand the dimensions of the equipment, its weight and the load. Management of double scooter by and large the same as for the classic single. The only thing – difficult to quickly get used to the size and weight of equipment (weight is comparable to moleculator motorcycle).