You will need
Computer with Internet access
Instruction
Place the ads. The more people know about what you sell your scooter, the more you will have of potential buyers. Based on this, you need to place as many ads about selling your scooter in a variety of sources. Use electronic auctions and popular message boards. Don't forget to register on several popular forums of fans of scooters and post your ad there's a section of sale. In addition to electronic media, do not forget about traditional. Try placing your ad in several free periodicals - this will significantly increase the size of the audience and will give you potential buyers. Don't be lazy! From how responsibly you approach this step depends on the success of the event.
Hold a meeting with a potential buyer. Your ads began to receive phone calls? It's time to think about where will be conducted the inspection of your scooter. This is best done on neutral territory: some quiet residential courtyard is fine. Avoid show your scooter where you keep it, unless it is a guarded garage cooperative - among the possible buyers may well be criminals, the purpose of which is not fair buy and banal larceny.
Also we would recommend not to come to such a meeting alone, better call a friend - so all will be calmer. If the demand for your scooter is great, try to give potential buyers one day, during which and conduct all meetings. Do not assign them all at one time, because people may not like it.
You make the investment. When you have agreed with a potential buyer about the transaction, you will only document it, to avoid problems in the future. You can enter into a contract of sale in writing or contact the Commission store, where your transaction will help to make professionally. In the end the buyer will get a scooter, my copy of the contract of purchase and sale and documents of the vehicle, and you contract and money.
Note
Avoid to sell the vehicle for power of attorney. This might cause future problems both for you and for the new owner.
Useful advice
If your scooter put on the account in traffic police, remove it from the register as soon as firmly decide to sell. So you will attract more buyers who will know that I will be able to pick up the scooter immediately after purchase.
Advice 2: How to sell a motorcycle
Many fans of equipment in the garage is an old
bike
, which was the faithful companion of his youth. And then there comes a day when you have to sell it. Selling any equipment, the more expensive, very difficult job. The price may be purely symbolic, and can be quite high – it all depends on the condition and model of the "iron horse". Someone's
motorcycle
is the meaning of all life, and its sale becomes a serious challenge, so this event should be prepared and morally.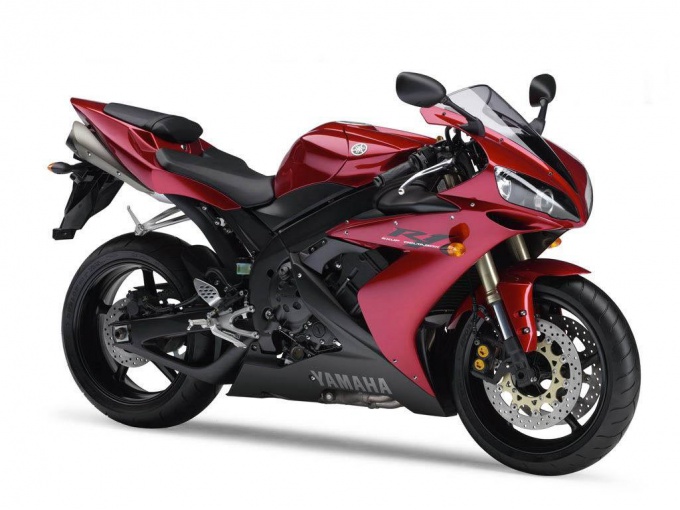 Instruction
Decide on the final price motorcycle. Look on the Internet the approximate cost of this brand, include advantages and disadvantages. Remember that too high a price can scare off potential buyers, and low – would suggest that there are some serious flaws. Assign the price a bit too high, and the buyer make allowances – he is pleased, and you will remain in the black.
Conduct pre-preparation: wash the bike, clean the seat, check the operation of all devices and units. Better fix all the flaws in advance so as not to get into an awkward situation where any shortcomings will notice a potential buyer.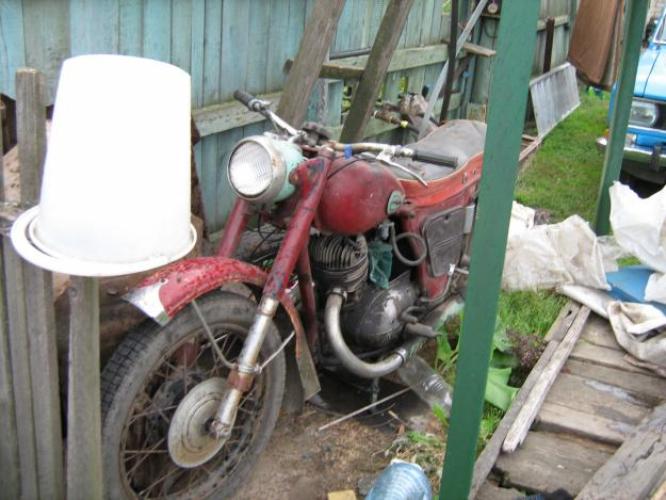 Place an ad. This can be the Internet, printed materials, posts, ask friends to circulate your proposal among friends. Specify the most complete information about your motorcyclee and, if possible, attach it to the ad photo.
Be prepared for the fact that you have to show motorcycle buyers, perhaps some will want to try it in action. When a buyer is found, take the Deposit from him to quietly remove the motorcycle from the register. After all, if the deal falls through, then you money compensate yourself this unsuccessful attempt of sale.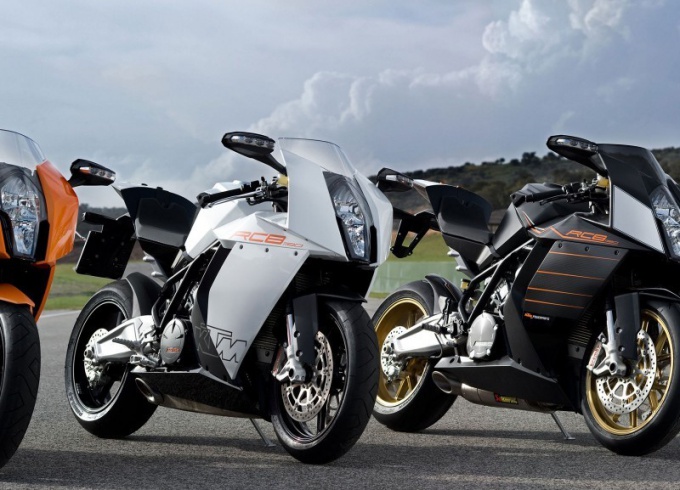 Advice 3: How to improve your scooter
If you are the proud owner of
a scooterand
, obviously, you have ever thought about upgrading your horse. But not so easy to decide what can be improved in the finished design without the cost exceeding the cost of the
scooter
. For this reason there are some tips.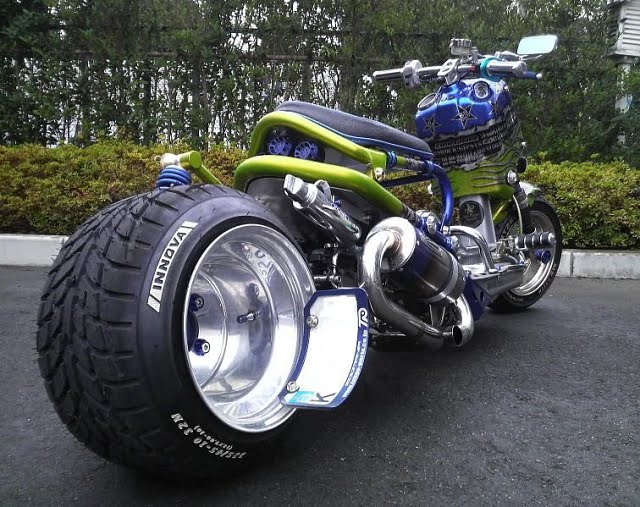 Instruction
Start with the engine. The heart of any moving structure is an engine and it is more powerful and more reliable, the faster will be the scooter. Borrow the engine from the motorcycle. They are similar in design and fit you weight. Of course, we are not talking about the big liter monsters, and about 125 and 250 CC depending on the size of your scooter.
Adjust the body of the scooter. Very often owners of Japanese higher quality scooters regret not bought only for the reason that cheaper models often look better. As the motorcycle plastic scooter can be custom made or buy ready-made option. Visit the online store specializes in your model of scooter or try a search in the city garages. In any case, you will be able to find the option that suits you covering a scooter.
Do airbrushing. Your scooter was reborn, and it is time about it to loudly say. Refer to the workshop by drawing or buy a set of stickers. It is better to choose the first option. You can together with the master to come up with original design that will not be stereotyped and will set you apart from the crowd.
Note
Remember that with the replacement of the engine more than 50 cubic meters, you will have to have the right category.
Advice 4: How to make a scooter
Scooter – type lightweight motorcycle, whose engine is located under the rear seat. This is a fairly common model of vehicle, especially in adolescents and young adults.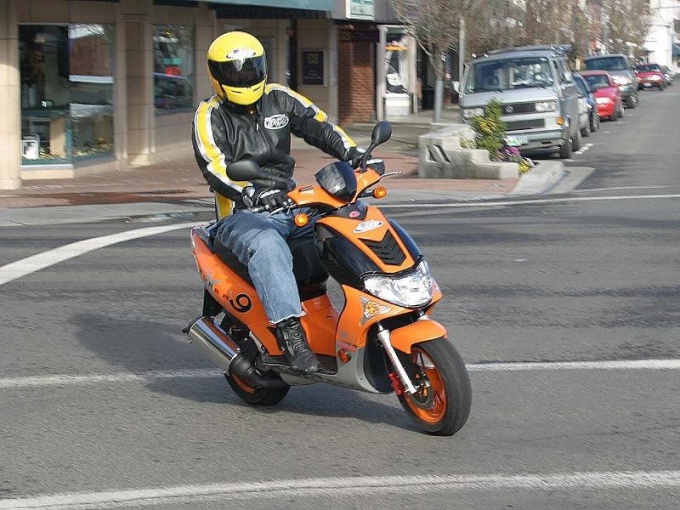 Instruction
Select the model of the scooter. They vary by engine size: up to 50 cubic cm, with a maximum speed of 60 km/h is a low-powered type of scooter. If you don't want to bother with registering the vehicle and obtaining the rights is an option for you. But it's also the most dangerous vehicle, especially on a busy highway. If you decide to choose this type of scooter, feel free to skip the remaining steps in the paperwork for the scooter, as they you will not be affected.- over 50 cubic cm and a maximum speed over 60 km/h.
Making documents, eliminate the possibility of fraud. In the case of a scooter, and any vehicle removed from the register (in the transit room), there is scope for fraud. The cases of fraud, when the vehicle simultaneously is pledged to the Bank and sold by scammers. Also watch power of attorney – it must be only the General, with the right to sell and receive money, certified by a notary. The best option is ask the seller to go with you to the traffic police for registration of all documents.
Will draw up a contract of sale of the vehicle. Now acceptable as handwritten copy, and design in specialized law firms.
Write the statement for statement on the account (if in transit) or registration with a conservation license plates (if the vehicle is not removed from the account).
Visit your scooter in traffic. Check to see if you were ready (the contract of sale, title, application, and insurance) and submit all these documents in a window on registration of motor vehicles and trailers – this often is each of the traffic police.
Note
As you can see, the scheme of clearance of the scooter is quite easy and differs little from the other vehicle. The only difference is that when the cubic capacity scooters up to 50 cm3 special processing is not required.
Advice 5: What scooter is better suited for girls
Motorcycle or scooter today have become a real salvation, especially in big cities. This training for you can easily get to the other end of the city, without spending money on taxis and not pushing on the bus or subway.
In connection with a wide variety of two-wheel vehicles has become difficult to choose the scooter which you would like for the price and design. This problem often faces the beautiful half of the population, since it plays a big role in style scooter.


Features choice

Before you pay from 20 to 80-100 thousand rubles for a scooter, you will need to determine exactly what you would like. You can choose a scooter classic shapes or the same shape. The last kind of scooter looks quite impressive, but poorly versed in the technique of two-wheeled people will think you legacythe on a real motorcycle.


It is not necessary to choose a technique such as scooter, remote — look in online stores or on websites with private ads. First, whatever was externally, scooter, get you through the day after purchase may find that sitting on it is uncomfortable, hands start to go numb quickly, and the capacity is very small. Secondly, if you want to buy such a vehicle from a private seller, it is best to come and view the scooter with a knowledgeable person. Often the owners of scooters in the desire to sell vehicles resort to such tricks, like painting plastic, poor-quality repair of engine components, the change in the mileage records, etc.


The cost of scooters from different manufacturers

To start, you will need to determine your budget. If you want to purchase classics, for example, Japanese scooters HondaDio, HondaLead, YamahaX-Mahi, etc., then you will have to pay a big amount ranging from 50 to 150 thousand rubles. 20-50 thousand rubles you can also buy a decent scooter for girls from companies such as HP, Griphon, Stels or Venta. The only disadvantage of this technique is cheap and plastic wear (in the fall of scooter plastic parts can be formed horrible scratches). Lovers of sporty design will appeal to scooters ForsagePB-14 or YamasakiScorpion.


Why girls should buy a scooter

If you have never ridden a bike or bad keep the balance, then buying a scooter can help in the further development of more powerful techniques. It is on the scooter you can learn to turn, brake, move the weight on the technique, and to drive in heavy traffic vehicles without unpleasant consequences.


A big plus of driving on a scooter is no need to shift gears like on a motorcycle — at this stage of novice motorcyclists is female, there are often problems.
Advice 6: How to paint a scooter
It's nice to dissect the expanse of the city, to feel freedom and independence, to soar above all the fuss, over all the surrounding problems and troubles - that's what gets the owner of the scooter. In an urban environment is very hard to keep his horse, as new, will always be scratches, scuffs, chips. But you can fix it yourself.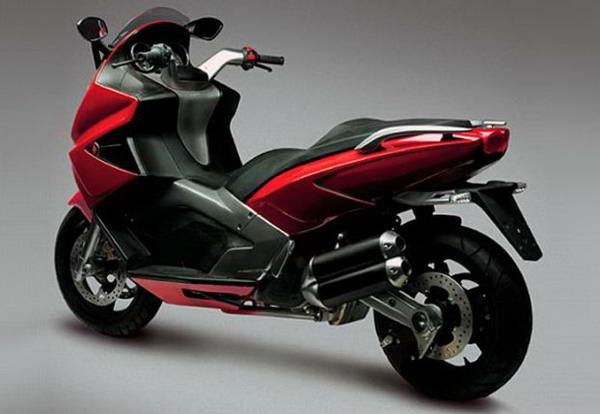 You will need
Spray paint or spray gun, sandpaper, putty, degreaser, lubricant and antistatic agent
Instruction
The first thing you need to wash the bike to remove all dirt, dust, traces of oil and gasoline. If you do not, all your efforts will be in vain, and painting will be poor. Then let it dry.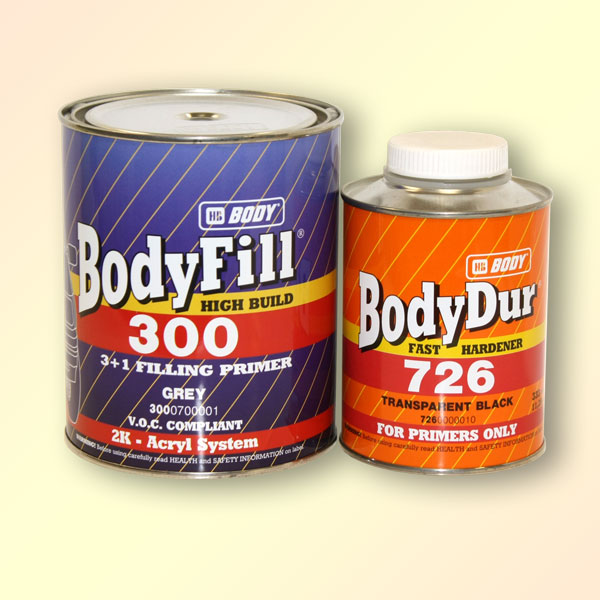 Next, you will decide on method of painting: using spray gun or spray paint. As a spray not everyone has, and buying it just to paint a scooter makes no sense, the best would be to use the container.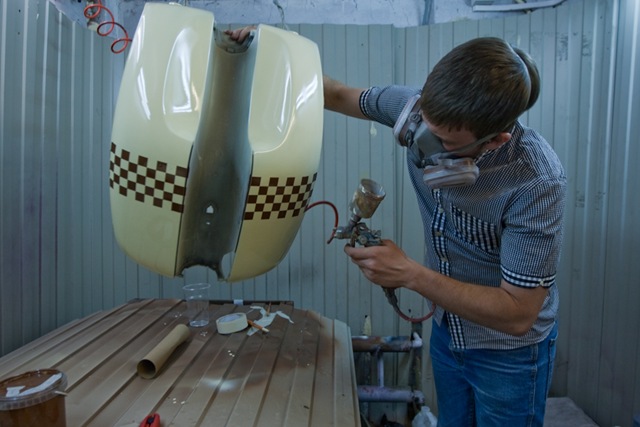 Take coarse sandpaper (usually P60) and in circular motions clean the paint in the damaged area. Next, you need to put a starting putty. Allow it to dry and clean again with emery. The next step will be the application of finishing putty and again sanding. Waiting for everything to dry. Special sandpaper P800 we clean the entire part. Further degrease and remove static charge. Go directly to painting. You need to paint in several layers, usually 3-5. Before moving on to a new layer it is necessary that the old dried up and began to "grab".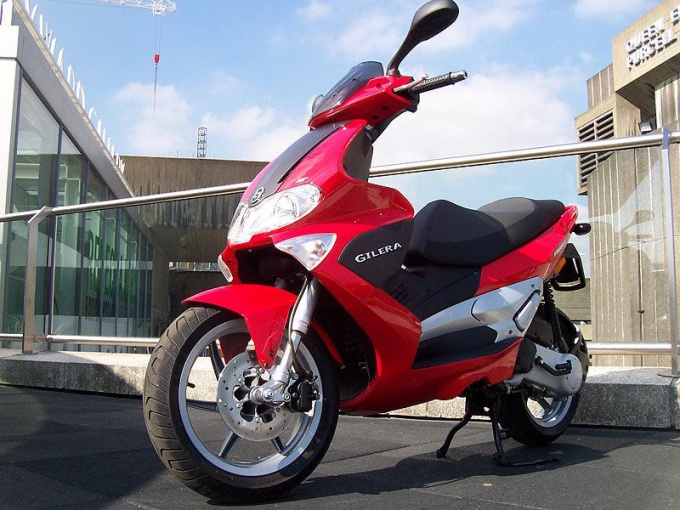 Note
Dyeing is necessary when the ambient temperature is not less than 25 degrees, otherwise stains will be visible and you will not achieve a great result.
Useful advice
For degreasing the surface you can use a special silicone lubricant and the antistatic agent antistatic cloth. All this is necessary in order that the paint was not sailas and it does not stick dust when painting.