Instruction
Remember that going to the Shrine and not to perform the ritual. Believe in miracles, but don't think that came to Matrona, automatically get rid of the problem. Prepare yourself spiritually. Read the life of the blessed Staritsa Matrona, find prayers to her. If you are a Church-going person, take a blessing from the priest.
Matrona's relics are located in the Pokrovsky monastery at the address: Moscow, Taganskaya str. 58. To get there, get to the metro station "Marxist". Go through the transition to the left, climb the stairs on your right. You will be on the street Taganskaya. Go to the right side until you see the image of a Matron.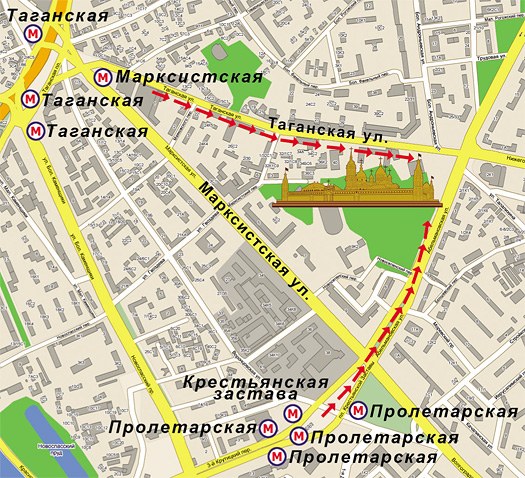 Unable to use public transport. From "Marxist" to the monastery (stopping "Abelmanovskaya Zastava") bus No. 51, No. 74 and trolleybuses No. 16, No. 26, No. 63.
There is an alternative route. Get off at the metro station "Krestyanskaya Zastava" in the direction of "3rd Swag alley". Then through the area Peasant Zastava pass on Abelmanovskaya the street. Without turning, go to the monastery. On the same street you can walk to the monastery from the station "proletarian". Or take the tram (№12, №20, №43).
The entrance to the monastery is allowed from seven in the morning until eight in the evening. Sunday from six in the morning. The visitors, who failed to go to eight, we have to wait for the next day. To come later: protection produces people for a few hours.
There are two temple. On one you will see an icon of
Matrona of Moscow
. In it the relics of a Saint. In another temple committed service. In addition, the right of the gate houses the Church shop, where they sell books and icons.
Go to the temple (without the icons on the wall), buy the candles. If you want, give the note for the health and for the peace. Queue the reliquary with the relics of Matrona.
Note
To bow to the matron, is not always necessary to go to Moscow. Holy relics can be brought to other Russian cities.
Useful advice
Staritsa Matrona was very fond of flowers. Buy them before coming to the temple.