Instruction
Pokrovsky Stavropigialny women's monastery is situated in Moscow, on Taganskaya street, house 58, close to several metro stations - Marxist, Taganskaya, Proletarskaya, Krestyanskaya Zastava, Ploshchad Ilyicha and Rimskaya. The monastery takes visitors on a daily basis, Friday to Saturday from 7.00 to 20.00, Sunday from 6.00 to 20.00. Please note that after 20.00 the monastery operates only on output, and to enter the territory anymore, but you can be on-site to wait for their turn to the icon or the relics of Saint Matrona.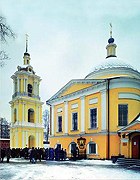 If you are coming from out of town, after arrival to Moscow you need to take any metro and reach the station of the Marxist Kalininskaya (yellow) line. You can also drive to the Taganskaya metro station and take the train station Marxist. At the station the Marxist one exit to the city. Go up the escalator and after exiting the door turn left, then turn right and climb the stairs on Taganskaya street. Next, you can reach the monastery on foot or by public transport.
To get to the Pokrovsky monastery on foot from the metro station Marxist, Taganskaya go along the street to the house 58. On the right side you will see a large red brick wall, this is the Pokrovsky monastery. The walk will take 10-15 minutes. To get on the transport, sit at the bus stop at the underground Marxist on a trolley bus No. 16, 26, 63, 63к bus number 316м or bus No. 51, 74, 106. Get off at the stop "Bolshaya andronevskaya street - Pokrovskiy nunnery", is the second stop from the metro Marxist.

Another option is to drive to the Pokrovsky monastery from the metro station Proletarskaya. From the subway exit on the 3rd Krutitsky lane. You need to cross the area of Peasant Outposts and to go on Abelmanovskaya the street. On the left you will see the red brick wall of Pokrovsky monastery. Also the monastery can be reached by public transport. Near the metro station take tram No. 12, 20, 43 and go to stop "Abelmanovskaya Zastava". Then go back about a minute along the road to the intersection with ulitsa Taganskaya. There you will see the Pokrovsky monastery.
From the metro station Ploshchad Ilyicha get to the monastery by tram No. 46 or 38, the drive to the bus stop "Abelmanovskaya Zastava", the second stop from the metro Area Ilyich. Also from the monastery you can walk parallel to the tram tracks, it will take you 10-15 minutes.