You will need
- drops for animals;
- decoction of eucalyptus leaves;
- the juice of boiled beets.
Instruction
First you need to find out what was the cause of the common cold: the flu, another disease or Allergy. If your kitten was cold or drafty, most likely, the runny nose was caused by flu. The behaviour of pet is almost constant. In this case, the kitten feels well, in General his condition is not worse than usual.
To treat this kind of runny nose use special drops for Pets or children's drops on an oil basis. The duration of taking the drops for 7-10 days. In that case, if the runny nose is of viral origin, the kitten will shake its head and scratch his nose.
Look to the secretions from the nose. With viral disease, they are first watery, then becomes mucous. Do kitten the inhalation of steam from a decoction of eucalyptus leaves. To do this, cover his head and the bow of the kettle with a towel or napkin. But don't burn a little too hot steam, allow broth to stand.
Pour into a small pouch hot sand and attach to the nose area of the kitten. This will warm up the affected area. To do such procedures need two or three times a day. With a strong fever rinse the nasal cavity kitten 0,5-1% solution of zinc sulphate or 2-3% solution of boric acid.
Instead of these medicines can use 1% salt solution. For good result rinse the nasal passages with juice of boiled beets. In each nostril kitten inject five or six drops of economocally, which should be pre-diluted with saline 1 to 2.
Take care of the kitten, keep him warm and keep him on the street. If the temperature of pet increased (40 degrees), take him to the vet, otherwise complications can occur. At the discharge from one nostril you should also show the kitten to the doctor. This can be a symptom of growths in the nasal passage.
In allergic reactions the kitten on something find an irritant, eliminate it. Your pet will have to undergo a special examination, after which the vet will prescribe treatment.
Advice 2 : How to treat a runny nose in a cat
Cats,
like people, can get cold. So you can imagine how bad your pet in this condition. A cold usually goes away by itself in about a week. But you can significantly alleviate your pet's status by adhering to the following recommendations.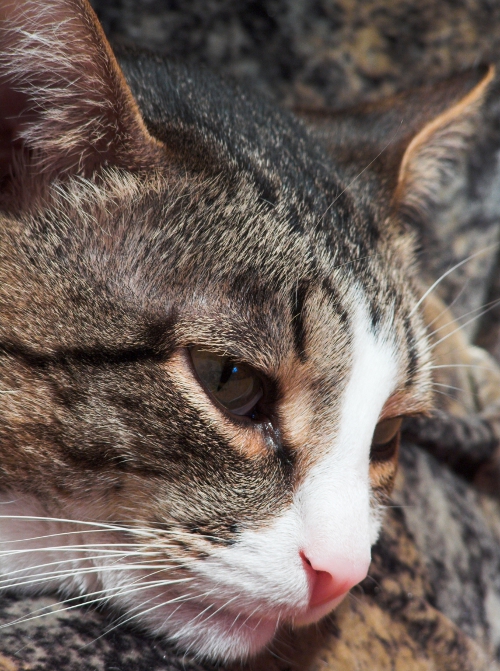 Instruction
If you feed your pet prepared food, you may prefer konservirovannoy than dry because canned food has a more pronounced aroma, making faster will cause the appetite of a sick cat. Try also to feed him small pieces of tuna. When an animal gets sick, it most often decreased appetite. Because the nose is stuffed up, the cat can not feel the flavor of food. It is necessary that your pet be sure to eat well during illness to avoid loss of strength.
In the rooms where your pet is, use a humidifier. The extra humidity in the room will greatly facilitate the breath of your cat.
Always be sure that your pet has a supply of fresh water. To prevent dehydration, it is necessary to frequently drink water.
Constantly clean cat eye with a soft tissue or cotton wool pad soaked in warm water clean from various secretions, to prevent the formation of crusts around the eyes and nose. Rate yourself selection. If they get yellow or green color, the cat may have an infection. In this case, it should immediately show the vet.
Use vaseline or baby oil for treatment around the nose to prevent dryness and formation of crust.
You can bury your cat drops from a cold. On the first day, 1 drop to one nostril. On the second day, 1 drop in the other nostril. So keep putting the drops for 5-7 days.
If you have a home live other cats, protect them from contamination by placing in a separate part of the house up until the sick cat will not recover.
If the condition of the cat does not improve or even worsens after 7-10 days, take him to the vet. Otherwise there may be complications, such as pneumonia, which requires medical intervention.
Advice 3 : How to quickly cure a broken nose
To break the nose during training for the Boxing or martial arts in a street fight at unsuccessful fall, accident, etc. these kind of injuries happen very often. In any case, it is necessary to address urgently to the doctor. Tactics and duration of treatment depend on the severity of the injury.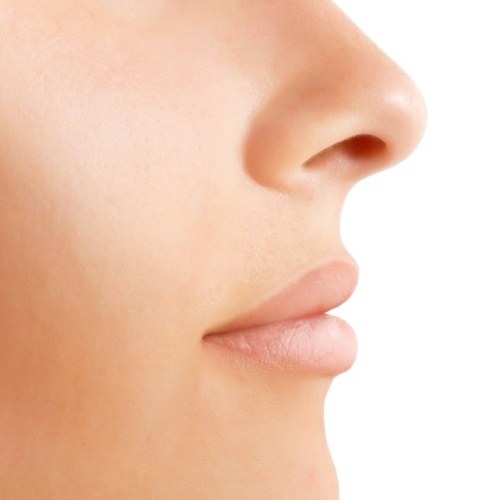 You will need
- cold water;
- plastic bag or gauze;
ice.
Instruction
If the shot hit the front, as a rule, the nose becomes flattened, and "duck". A classic example is the famous actor Jean-Paul Belmondo, in his youth was engaged in Boxing and received such injury. In this case, the nasal bone split into several pieces (quantity depends on the force of impact) and shifted backward and downward, the nasal passages become Suginami and curved. As soon as possible (no later than weeks after the injury) to put the pieces in place. Otherwise, they will begin to coalesce, forming a callus. To correct the deformation will be much harder. Therefore, in no case do not tighten with a visit to the doctor. In the first days after a fracture, the shape of the nose can be restored.
If the blow fell on the side, broken only one nasal bone, and the second bends. Fracture of both bones occurs rarely, i.e. only when a very strong impact. If the blow came from below, in the most severe cases, the bone fragments can get into the brain, and it is dangerous to life. Put on a nose cold object, best if it is tightly knotted plastic bag with ice or cold water.
Can put a large piece of cheesecloth, folded in several layers and soaked in cold water. Injured person should provide full rest and as soon as possible to deliver in a health facility. All the necessary assistance he may have only ENT surgeon. Self-treatment at home is meaningless, and sometimes downright dangerous.
After surgery do not rush to leave the hospital, even if you feel well. The fact that the nasal cavity requires a minimum of a week to regularly clear from the resulting blood clots, etc. to Do it at home, it is hardly possible, besides, there is the risk to injure the septum. If this is not done, there is a risk of complications. So, if you want to quickly and safely cure a broken nose, be patient and stay in hospital for as much time as you need.
Advice 4 : How to cure dehydration in cats
Water for animals is also important and necessary for humans. Its lack can cause serious diseases. Water carries nutrients throughout the body, washes the cells, regulates body temperature.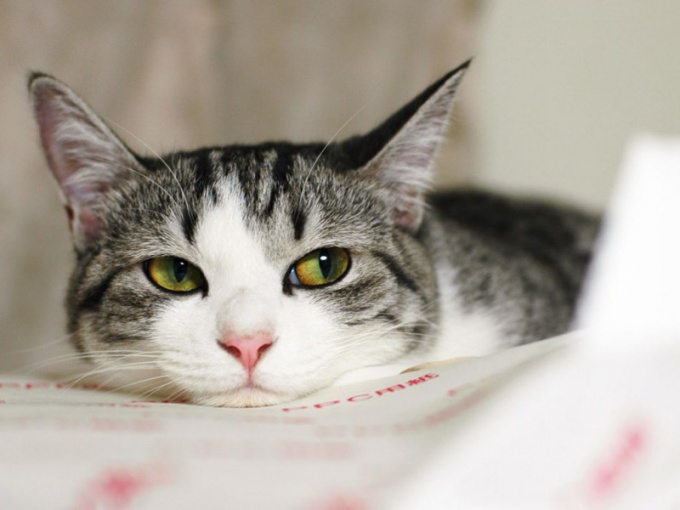 Instruction
The animal body consists of 90% water. And the loss of 10% pet may feel discomfort. Cats drink water to compensate for its loss in the process of respiration, urinary output. In a number of diseases (diabetes, kidney disease) the supply of life-giving water is not fully recovered. The same is the situation with diarrhea, vomiting and in contact with a bacterial infection in the body. When temperature rises, water evaporates faster and becoming dehydrated.
A symptom of the disease is saliva, sticky gums, dropping his eyes, loss of skin elasticity. If these symptoms occur, then the animal should immediately show the vet. The doctor will first examine the cat. Check the skin, mucous membranes and determine the degree of dehydration. To identify the clinical picture will need biochemical analysis of blood. It will help to identify the disease and determine the status of internal systems. Sometimes blood test is not sufficient for diagnosis, in this case, carry out ultrasound and x-ray.
To restore the normal water balance the doctors injected intravenously or under the skin a large amount of saline. The amount and method of administration depends on the degree of dehydration. In severe cases, the pet is left in the hospital to provide daily medical support. Loss of water can lead to death of the animal.
Vomiting and diarrhea are the most common causes of dehydration, they need as soon as possible. This will help homeopathic medicines that are diluted in water. Animal should be forced to drink the medicine until, until it becomes easier.
After the treatment it is needed carefully to follow the diet of your pet. It is best to exclude from a diet of dry food. When injected into the stomach, they pull a large amount of fluid to digest. During this period, more appropriate liquid mixture. Cats drink much less frequently than dogs. And the food for them - the main source of water. If the pet refuses to eat, then you need to make and apply different tricks. Eating better a little warm, then it will be more fragrant that will surely attract cat. If the animal drinks a little, then in a Cup of water to pour a little chicken broth.
Note
If the cat refuses to drink a medicine, it can be put into his mouth with a syringe or pipette.
Useful advice
If the cat drinks little, you can give her ice cubes. Animals love crunchy ice and enjoy his bite.
Advice 5 : How to cure a runny nose folk methods
With this disease like the common cold, experienced at least once in the life of every person. It not only hinders communication, it hinders to work in a familiar rhythm and does not sleep at night, but also causes a lot of discomfort. Most often occurs due to the result of colds and allergic reactions to dust, smoke, chemicals, strong odors. To cure the disease is possible people's methods, without resorting to expensive medicines.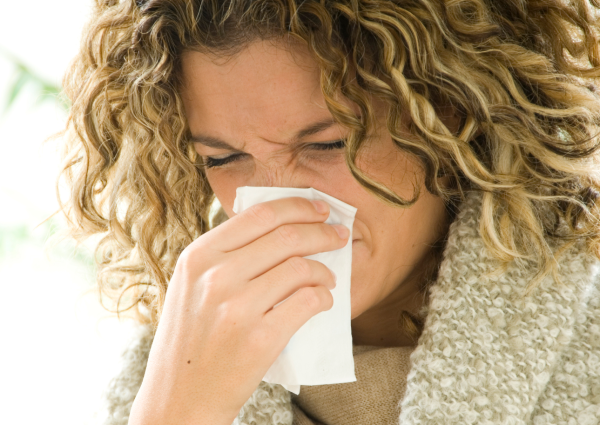 Instruction
To cure runny nose you can use aloe juice. At least five times a day, place 3-5 drops of this remedy in each nostril, pushing your head back. After instillation be sure to massage your nose for a few seconds.
Great folk remedy for the treatment of cold is menthol oil. During the day, bury it 3-5 drops in each nostril, simultaneously lubricating them the same nose, forehead and temples. The effect of this treatment will not be worse if you bury not pure mint oil and mix it with camphor.
Morning and evening, rinse the nose with warm, slightly salted boiled water with added eucalyptus and tincture of calendula. Rinse the nose properly. Pour the prepared solution into a shallow bowl, lean over it and pull in nose remedy inside, releasing his mouth. Wash your nose all poured in a Cup of solution. During the procedure, keep your head down. After rinsing, gently blow your nose.
As a means for washing the nose with a cold can use the drug, obtained by dissolving 5 drops of iodine and 4 teaspoons of baking soda in a glass of warm boiled water.
To quickly cure the common cold, twice a day bury the nose with a mixture of 9 g of vegetable oil and 1 g of rosemary extract, carefully cooked and steamed in the oven.
One of the methods of treatment of rhinitis is a dripping nose special healing mixture. It is composed of: 20 g of fresh juice calendula, 30 g of sea buckthorn oil, 10 g honey, 15 g of melted cocoa butter, and 5 g of propolis. Moisten the tool 2 cotton pad, enter them into both nostrils and leave in nose for 20 minutes.
At night obvorachivanie feet with gauze soaked in alcohol tincture of Cayenne pepper. On top of the dressing put on warm woolen socks and go straight to bed.
Young children with a strong cold is recommended to bury the nose in freshly made red beet juice.
Advice 6 : How to cure a cold in one day the child
Among children's diseases one of the most common is a runny nose. Runny nose or
rhinitis
occurs in kids of different ages very often, and the sooner parents will take measures to eliminate the causes and symptoms of the disease, the easier it will be for the child. In this article we'll show you how to quickly and effectively address the causes of the common cold and to treat him with folk remedies in one day.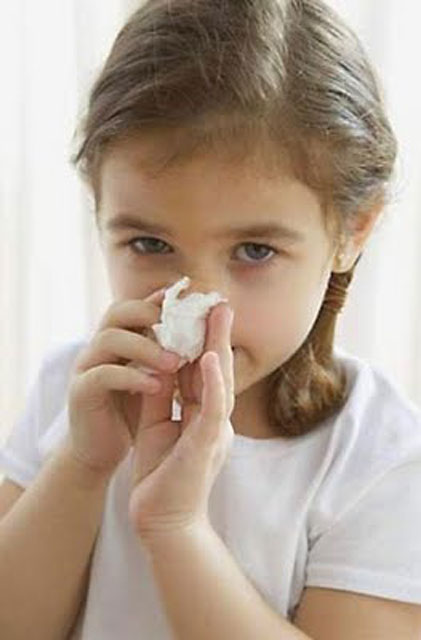 Instruction
At the beginning of the disease hang over the crib of a baby crushed garlic, which will scare away the germs. Prepare a sterile solution of sea salt and drip into each nostril of the child two or three drops with a pipette. This will clear the nasal passage of mucus.
Washing should be done regularly – this will maintain cleanliness of the nose and contribute to the elimination of the disease. If the cavity of the nose swells, causing breathing difficulties, not more often two times a day bury him vasoconstrictor drops, e.g., a Cold or Derinat.
Use a special bulb for sucking mucus from child's nose if he doesn't know how to blow your nose. Only after cleaning nose bury inside drops.
The child should be in a humid environment – regularly ventilate the room and do wet cleaning. Give him more warm drink to replenish moisture in the body. Useful drops "Protargol", which relieve nasal passages from purulent mucus.
The night lift baby pillow to raise his head. This will make breathing easier. Make bedtime inhalation of balm "asterisk".
For nasal lavage saline in addition to use infusions of chamomile, calendula, plantain, sage, marjoram, and oil of sea buckthorn, peach and eucalyptus, which can be added to herbal infusions. The herbs steep in a Cup of boiling water two hours, then cool and rinse the baby's nose using a pipette.
Take two fresh aloe leaf, wash them in warm water and squeeze the juice. Dilute aloe juice with boiled water in proportion 1:10 and instill 3-4 drops of the juice in each nostril several times a day. Aloe Vera allows you to quickly and effectively deal with a runny nose.
Accepted means of treatment for children are the baths for the feet and hands. Do them before bed, then put on baby woolen socks and put him to bed. Prepare for a foot bath infusion of birch leaves and pine needles. A tablespoon of each herb pour two liters of boiling water and boil for five minutes. Steep the herbs an hour, pour into a basin and dilute to a temperature of 30-40 degrees. The child should sit near the basin, putting his foot in it, so that the water reached his knees. Do the bath for 20 minutes, after which the child should be put to sleep.
Note
Before engaging in the treatment of a child in the home, consult a physician.
Advice 7 : How to quickly cure a cough and a runny nose in a child
Weak immunity and close contact in the children's team are the main causes of frequent colds at the child. Often pathogenic process delayed for many weeks, and the long-awaited recovery is replaced with another runny nose and cough. But to avoid giving the disease to be delayed, it is better to start intensive treatment.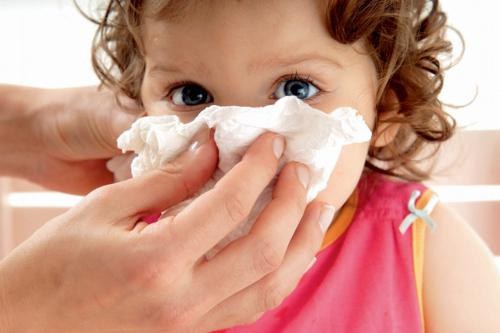 You will need
- mustard plasters, compresses (cotton wool, cloth, bandages);
pharmacy drops for the nose, carrot juice;
- coarse salt to warm.
Instruction
To quickly cure a runny nose and cough in a child, reassess the baby: if you can apply heat treatments, and they are contraindicated with high temperature and purulent inflammation, are there any other questionable symptoms that threaten the life of the child and requires medical supervision. If not, treat yourself and use mustard plasters, hot compresses to the chest, warming the sinuses. These treatments improve circulation, and relieve the inflammatory process in the bronchi and nasopharynx.
To compress, use the normal warm water. Soak a cloth in it, squeeze lightly and apply on the upper third of the chest. Cover the fabric with an oilcloth, wool, and bandage or wrap the diaper crosswise. As you apply the wrap, ensure each layer was 1-1. 5 cm longer than the previous one. Do it for 3-5 days at night. To warm breast use mustard, only those that are isolated in paper. And since children are impatient to pain, apply them to the skin is dry, then they will heat much longer without causing irritation.
Be sure to give your baby a warm drink. To alleviate the cough and thin mucus let the warmed milk with mineral water or with honey and a small pinch of baking soda, and excretion of phlegm from bronchi - expectorant teas, such as licorice root, leaf currant or raspberry.
For the treatment of runny nose in a child several times a day, warm up sinuses. Will rascality in a frying pan large salt, pour it into a 2 bag and tie. So they don't burn on my skin, put on the sides of the nose first, Terry napkins, and bags. Instead of salt you can use hot egg. This procedure is not actually spent in purulent rhinitis. In this case, use the following method.
To cure purulent rhinitis in a child, use drugstore drops, and only after the selection will be transparent – folk remedies, for example carrot or carrot-beet juice, 3-5 drops. However, pre-clean the nose with saline solution. Dilute 1 tsp. in 0,5 l of boiled warm water, dial it in a syringe with a rubber tip and enter alternately in each nostril. So that water does not get into the respiratory tract or middle ear, put the child close to the tub and, holding him with one arm under the chin and slightly tilt the baby's head forward. This procedure is unlikely to appeal to him, therefore, with strong resistance just pump out the mucus with a rubber spray.
If your child's cold is not accompanied by malaise or fever, do not forbid him to walk. Fresh air has a healing effect, and mobility while walking improves circulation, which enhance the treatment of cold and cough in children.