You will need
sour cream;
oil;
greens;
bow;
salt
pepper.
Instruction
Prepare fried
mushrooms
recipe, for which you will need frozen mushrooms, a little butter, heavy cream, salt, pepper, greens to taste. Preheat
the pan
, put the butter. Unzip frozen mushrooms and add them to the heated oil. In the process of cooking they become soft, add salt and pepper. Finely chop the greens and put in the mushrooms.
Pour fat sour cream or cream, boil the mixture, add a little lemon juice. When frying the mushrooms will darken the lemon juice will refresh their color, the mushrooms will look more appetizing. Serve with rice, or potatoes.
Fry mushrooms in oil. Have a not very large etemplate or only hats, pairwise salt in beaten eggs and then in breadcrumbs. Fry until Golden brown. Serve hot with boiled potatoes and mayonnaise.
Use another recipe for frozen mushrooms. Take 300 gr. mushrooms, 200 gr. sour cream, a little salt and pepper, vegetable oil. Cut into small slices and cook in oil. Then add the sour cream, a little put out salt and pepper. All you can bring to the table.
Fry mushrooms with onions. Heat the oil and put first onion, fry it until Golden brown. Then add the sliced mushrooms. Cook until the liquid has evaporated, mushrooms are soft.
Cook mushrooms, depending on what products you plan to use from 10 to 20 minutes. Mushrooms can be laid in a dish in the cooking process or at the end. Canned product is fried quite a bit, 2-3 minutes. Fresh mushrooms cannot be stored for a long time, they formed harmful to human body material.
Useful advice
If you have purchased frozen mushrooms in vacuum packaging to wash and clean them is not necessary. Mushrooms go on sale processed.
Advice 2: How to store fresh mushrooms
Among the most secure varieties of mushrooms are
the mushrooms
that can be easily purchased from any large settlement. However, in some cases, the question arises, how to store fresh mushrooms, to preserve the maximum amount of nutrients and not lost appearance.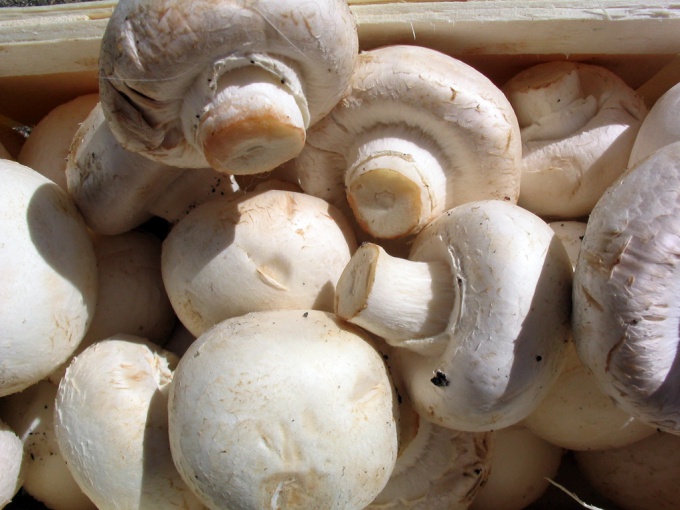 Instruction
The shelf life of mushrooms depends on the chosen method. In the bottom drawer of the fridge for vegetables it is not necessary to withstand the mushrooms for longer than a week. In addition, with too long storage in mushrooms formed the not-too-healthy substances, they become dark and dried. Before you put the mushrooms in the refrigerator, washing them should not be. Otherwise they will be dark almost the eyes. They should be stored in a covered container to prevent drying. If it's a plastic bag, then every few days it needs to be open for ventilation, so that condensate formed during the evaporation did not lead to decay.
Mushrooms that are not protected with polyethylene, can be stored on any shelf of the refrigerator within 3 days. If you sustain them for a longer time, they can harm the health.
If there is no desire before the new year holidays to pay for mushrooms is almost two times more compared to their regular price, it is easier to freeze the mushrooms in advance. This way to store mushrooms, the most simple and universal. It is sufficient just rinse mushrooms from the remnants of the earth, chop into pieces of the desired size, then put in plastic containers or normal bags. The container is placed in the freezer and after freezing mushrooms successfully stored for half a year. To use them for cooking is possible according to the same recipe, and fresh mushrooms. They are good for soup and for meat with mushrooms.
Useful advice
The longest shelf life of mushrooms subjected to preservation or freezing. Recipes the first method of preserving fungi a great many, but is the most simple, allowing for months not to worry about the safety of the product. In order to preserve mushrooms by pickling, wash them, chop into slices, cover with water and boil for 10 minutes with a few stars cloves and a few Laurel leaves. Before you turn off the fire in the water add a tablespoon of vinegar. To store these mushrooms you need in a glass jar in the refrigerator.