You will need
butter or vegetable oil;
salt
pepper;
greens;
balsamic vinegar;
garlic;
bow.
Instruction
Try not to wash the mushrooms, adding them the excess moisture, and clean dry brush. If you still need to rinse, try to do it quickly and then dry the mushrooms with paper towels. For frying you need absolutely dry mushrooms. If you are going to fry the boiled mushrooms, drain the broth and let them dry. But note that this product is best obtained still stewed mushrooms or mushroom spawn.
Pre-heat the pans over high heat. Do not start to fry on a heated frying pan, so you get plenty of fluids and braised in a mushroom broth mushrooms, because they emit water before fried.
If you fry the mushrooms, fry them on a dry pan until, until them has evaporated all the liquid. It takes no more than 2-3 minutes. Then add the oil. In other cases, put it in a pan so butter or oil to the bottom was fully covered.
Put mushrooms on pan in a single layer and fry on high heat until the liquid from them has evaporated. Season the mushrooms with salt and pepper, reduce heat and cook for about 5 – 10 minutes until soft. Pour a few tablespoons of sherry or red wine and allow the alcohol to evaporate. Before you remove the mushrooms from the heat, add the finely chopped herbs – parsley, chives, rosemary, thyme and stir.
You can season fried mushrooms with the following sauce: chopped thyme, mix with several cloves of finely chopped garlic, a tablespoon of olive oil and a few drops of balsamic vinegar. With this mixture you can buy ready fried mushrooms directly in the bowl, not the pan.
If you want fried mushrooms with onions, then add the last after the mushrooms are Golden and you reduce heat. Onions mushrooms cut in small dice.
Advice 2: How to fry mushrooms
Mushrooms are very nutritious, rich in protein, which, however, is very poorly absorbed during digestion. So useful when cooking chop the mushrooms smaller. White mushrooms, aspen and boletus do not require pre-boiling, you can fry them raw. The butter added in the cooking process, gives the dish a richness and delicate flavour.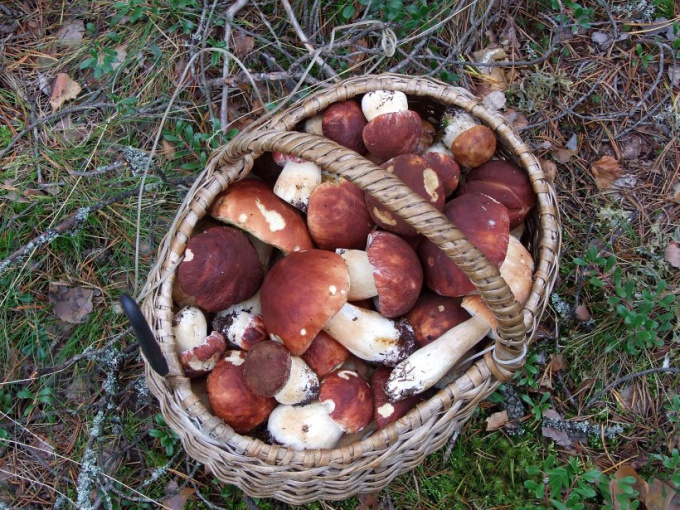 You will need
500 gr. fresh mushrooms (white

aspen
boletus)
50 gr. butter
2 medium onions
50 gr. semi-dry white wine
salt
vegetable oil for frying
Instruction
Mushrooms wash and clean.
Peel the onion and finely chop.
Fry gently the onion in the oil until Golden brown 5-7 minutes.
Add to the onions with butter, mushrooms and sauté until Golden brown stirring all the time 10 minutes.
Add the mushrooms to the wine.
Reduce the heat to low, cover and simmer until tender 10-12 minutes.
Mushrooms ready to be served with potatoes, fresh vegetables and herbs. Bon appetit.
Useful advice
White mushrooms are not cleaned, only clean the earth from the legs.
From boletus and aspen scraped the skin from the legs.
Advice 3: How to fry eggs
Caviar is one of the most nutritious foods. It is rich in lecithin, vitamins A, E, D and b group, phosphorus, iron and other minerals. In the old days the eggs of freshwater fish was valued much more than red and black. The most valuable was the pike caviar. The process of cooking eggs simple. Pay attention to cooking time so as not to dry the dish and make
eggs
hard.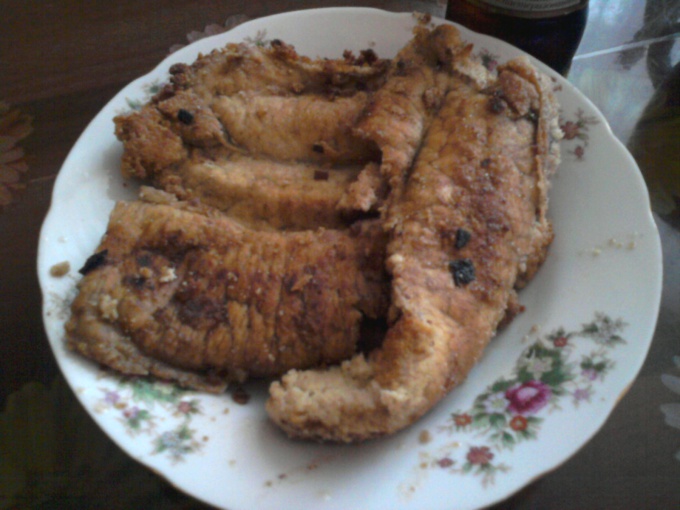 You will need
300-500 gr. caviar (pike-perch

carp
pike
cod)
0.5 cups of wheat flour
1 teaspoon salt boat
0.5 teaspoon black pepper
vegetable oil for frying
Instruction
The film is not removed to preserve integrity.
To the flour add salt and pepper, mix everything.
Coat the pieces of calf in flour.
In a pan pour oil and put on a big fire.
Fry the eggs for 2 minutes on each side in hot oil.
Diminish the heat to low and close the dish with a lid.
Bring to readiness in 10 minutes.
Ready caviar before serving, a little cool.
Served with vegetables and greens.
Advice 4: How to fry mushrooms
Probably no more universal and international mushroom than Agaricus. Moreover, if the traditions of Russian cuisine it has not the first place that cooking is the main component of many mushroom dishes.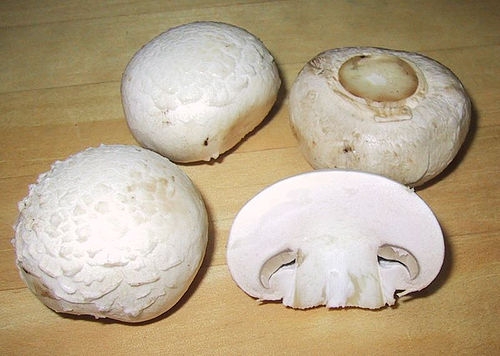 You will need
mushrooms – 1.5 kg;
vegetable oil – 4 tbsp;
sour cream – 250 g;
flour – 1 tbsp;
salt.
Instruction
Prepare
the mushrooms
. If you use fresh
mushrooms
, let them soak for a few minutes in cold water to easily remove any dirt, then rinse under running water and place on towel. Let them dry out. Gently separate the cap from the legs. Hats
cut into
slices, shred the leg circles. If you use frozen
mushrooms
, no additional training is required. But buying
mushrooms
for cooking, buy already sliced
mushrooms
. Otherwise you have to spend time on cutting them after cooking, because to defrost
mushrooms
is impossible.
In a deep frying pan heat the vegetable oil and gently place the mushrooms. These mushrooms contain a sufficiently large amount of water, and the frozen semi-finished – and even more so the first 15 minutes you will be engaged in banal evaporation of water.
Immediately determine the degree of prozirnost mushroom treats. Champignon – grateful mushroom that can be eaten raw, therefore preparing it quickly enough. If you like everything fried and crispy, then after the first 15 minutes of cooking you add salt the mushrooms to taste and serve them up with potato croquettes and a side salad. If you like to feel the texture and softness – add to lightly fried mushrooms sauce.
Add almost all the cream to the frying mushrooms, leave just a couple of tablespoons. To them add the flour, half a Cup of water and mix thoroughly. Then a thin stream pour into the pan with mushrooms and stir to avoid lumps. Let it cook gently for another 5 minutes. Add salt and set aside.
Serve with mashed potatoes, boiled beans, or as a separate dish. The choice is yours!
Useful advice
The mushrooms in this recipe can be substituted with oyster mushrooms.
Advice 5: How delicious to fry potatoes with mushrooms
Fried potatoes with mushrooms – a phrase that can cause appetite! And no wonder, because this dish is incredibly delicious and satisfying, but only if cooked correctly. And methods of cooking, in spite of the apparent simplicity of the dishes very much.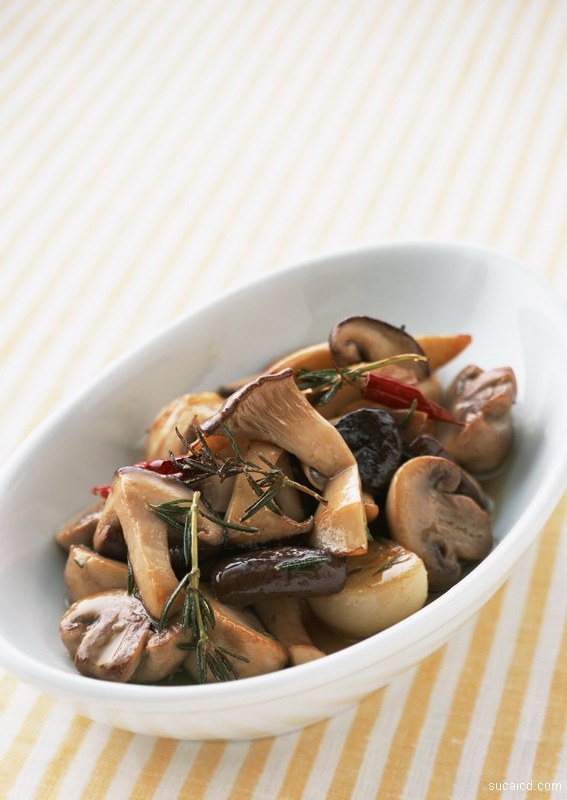 You will need
6-8 small potatoes;
150 g mushrooms;
1 onion;
sunflower oil;
salt
seasonings.
Potatoes for sale:
6-8 small potatoes;
150-200 g of mushrooms;
1 onion;
fat;
salt
seasonings;
green onions.
Potato with sour cream:
0.5 kg of potatoes;
200 g mushrooms;
1 onion;
vegetable oil;
2 tbsp sour cream;
salt
seasonings;
greens.
Instruction
Easy version of Potatoes wash, boil "in uniform", cool, peel and cut into slices. Chop the onion, mushrooms wash and cut into slices. On a heated pan pour sunflower oil and fry the onions until light Golden brown. Then add the mushrooms and simmer, covered with lid. When to separate the liquid, add salt, add black pepper peas, Bay leaf and let out another 10 minutes. Remove the lid and saute until the liquid evaporates. Then add to the pan the potatoes and, if necessary, more sunflower oil and fry all together another 5 minutes.
The potatoes in the bacon Fat cut into strips and fry in a pan to release the fat, then remove it. Peel potatoes and cut into large slices, add salt, pepper and mix thoroughly, then fry on the fat until fully cooked, away from direct sunlight to get crisp. In a separate skillet saute sliced onions with mushroomsas described in the previous recipe, using fat. Then mix the potatoes and mushrooms in the same pan. The finished dish sprinkle with green onions.
Potato with sour cream This dish is prepared the same as above, only instead of bacon it is better to use vegetable oil, otherwise the potatoes will be too oily and high in calories. After you connect the potato with the mushrooms, season the dish with two scoops of sour cream and extinguish under a cover for 5 minutes. Serve potatoes, sprinkled it with finely chopped dill.
You can use not only mushrooms – just making them is the most simple. If you want to cook wild mushrooms (e.g., Armillaria or white), they must first be boiled.
Advice 6: How to fry tasty burgers
Initially, a chop was called a thin piece of meat on the bone cooked in a special way. In Russian cuisine, the dish has evolved and the name "chicken" was applied to dishes of various types of meat. It can be minced meat and fish and vegetable
patties
made from potatoes, mushrooms, carrots,
cabbage
and other vegetables and rice. However, the most traditional still is the recipe meatballs of minced meat.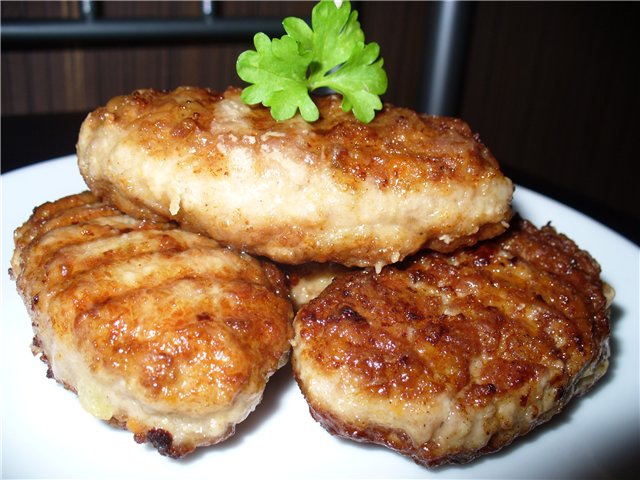 You will need
500 grams of beef
100 g pork fat
2 medium onions
2 cloves of garlic
300 g bread
200 ml of milk
ground black pepper
salt
150 g of breadcrumbs
vegetable oil for frying
Instruction
Break bread into small pieces and cover with milk.
Meat rinse and drain again. If there are veins - remove.
Cut meat and fat into small pieces and scroll through a meat grinder.
Can Procuratie beef again, it will only give the meatballs a softer feel.
Onion peel and very finely chop.
Garlic is clean and skip through the press.
Mince or chop in a blender the soaked bread.
In forcemeat add bread, onion, garlic, pepper and salt. Well knead the minced meat until smooth.
Form of minced meat cutlets and roll them in breadcrumbs.
Fry cutlets from both sides on high heat.
Then close the pan with a lid and reduce heat to low. Bring a dish until cooked 15-20 minutes.
Serve burgers with fresh vegetables and sauce.
Note
Do not RUB the onion on the grater, it will give all the bitterness and the dish will be ruined.
Useful advice
For stuffing you can take beef, pork, lamb, veal or a combination of both in different proportions.
The bread makes the meatballs fluffiness and juiciness due to the fact that the juice secreted by the meat during frying, almost never goes out and collects in the pores of breadcrumbs. Bread is better to take a little bit stale, cut him out of cover. Fresh bread gives the finished product an unpleasant stickiness.
Willingness cutlets can be checked in the following way - if you push on them them with a spoon clear juice thus cutlet is ready. The cut the cutlets should have a gray color instead of reddish.
To make the patties from breaking apart during cooking, meat needs to knead well and to beat.
Do not RUB the onion on the grater, it will give all the bitterness and the dish will be ruined.
In addition to black pepper in the stuffing, you can put different spices to taste hops-suneli, coriander, hot pepper, paprika, etc. In raw minced meat, you can add one teaspoon of prepared mustard. It gives also give the meatballs juiciness and piquancy.
In the stuffing, you can add egg, but keep in mind that the meatballs will add rigidity.
Advice 7: How to fry the beef gently
The softness of roast
beef
depends on the quality of the meat, but, nevertheless, there are many ways to make meat more tender and tasty. For frying more suited neck and tenderloin.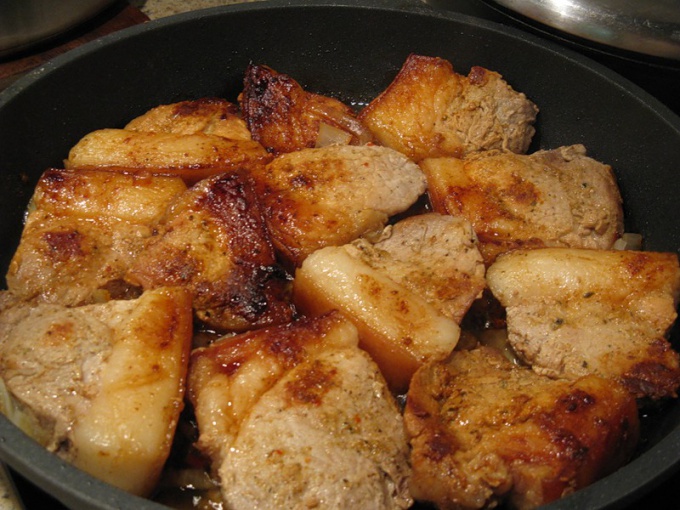 You will need
wine
soy sauce
onions
yogurt
pomegranate juice.
Instruction
Thoroughly clean the meat and tendons, wash it and cut into steaks across the grain. Brush them with mustard, salt, pepper, add finely chopped onion. He will give the juice and the meat will be juicy and soft. Put to marinate in the fridge for two hours.Then fry the steaks for 3-4 minutes on each side until Golden brown, and then put the pan in a preheated 220 degree oven for another 10-15 minutes, but not longer or the meat will become tough.
The meat is tasty, soft and juicy if you soak it for a couple of hours in yogurt or other dairy product. Also very good to add a table wine at the stage of roasting. The alcohol will soften the fibers and the meat will become soft.
You can marinate the sliced beef in spices and soy sauce for half an hour, then fry until Golden brown, and then cover with a lid and bring to readiness on slow fire.
Repel good old steak and put them to marinate in the juice for 20 minutes. After you make a puncture with a knife and put them in finely chopped bacon and garlic. Put the meat into the pan and cook in the oven. Instead of pomegranate juice, you can take lemon juice or vinegar.
Take a neck of beef, cut and a good whisk, and then dip in batter and fry it turns out very tender steak.
Beef, baked in foil, usually always turns out juicy and tender. Pieces of meat with salt and well repel. Put steak on hot pan and fry until cooked. Peel a few potatoes and cut them into slices. Fry the potatoes on both sides. Place on a sheet of foil beef steak and place on top of potatoes. Clean the mushrooms and cut them into small pieces. Fry the mushrooms, adding the cream. Cooked mushrooms put on top of potatoes. All salt and pepper. Then press firmly the edges of the foil. Place on a baking sheet and cook at 200 degrees.
Advice 8: How delicious to fry eggs
Scrambled eggs is a dish that never get tired and the Breakfast is always varied. There are lots of tasty and interesting options for cooking eggs, as, for example, in a rural or shrimp in the oven.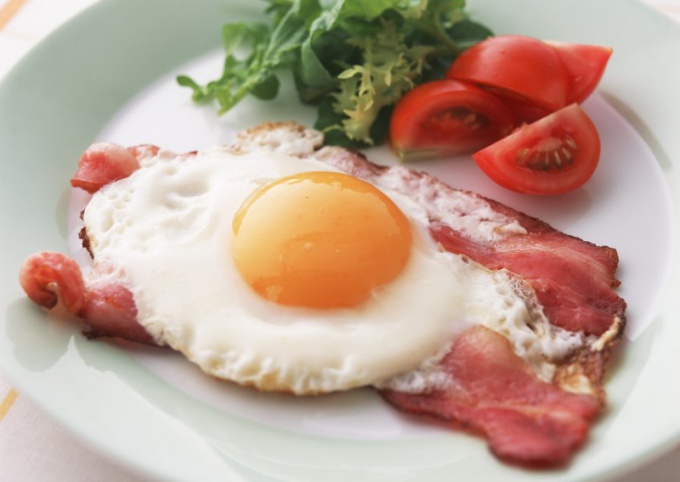 You will need
For Sunny-side up with bread croutons:
-rye bread – 200 gr.
-2 eggs
-1 clove of garlic
-salt to taste
-green
green onions
-vegetable oil for frying
For eggs-mash with tomatoes:
-2 tomatoes
-2 eggs
Sol
-spices
-green
-vegetable oil
For eggs Swiss cheese:
-2-3 eggs
-100 gr. cheese
-vegetable oil
For eggs with ham and mushrooms:
-mushrooms – 200 gr.
-ham – 300 gr.
-onion – 1 head
-2 eggs
-vegetable oil
For fried eggs with eggplant:
-2 eggplants
-2 eggs
-vegetable oil
For eggs in the village:
-100 gr. fat
-2 potatoes
-onions
-2 eggs
For eggs with shrimp:
-300 gr. shrimp
-3 eggs
-butter – 10 gr.
-100 gr. cheese
-green
ground pepper
For eggs in bread:
-white bread
-2 eggs
-salt to taste
For eggs with cottage cheese:
-100 gr. cottage cheese
-3 eggs
-parsley
-spices and salt to taste
Instruction
Fried eggs with bread grenkami. Rye bread cut into cubes and fry in pan adding garlic cloves. Beat two eggs. Fry until cooked, season with salt, garnish with fresh herbs and green onions.
Fried egg mixture with tomatoes. Tomatoes cut into slices and fry in a pan. Two eggs vigorously with a whisk, add salt and spices according to your preference, pour in the tomatoes and cook under the lid until ready. Serve with greens.
Fried Swiss cheese. Eggs stir with a whisk. Soft cheese cut into small cubes. Fry egg pancake with two sides, then put on one side, cubes of cheese and roll omelet in half. Soak under lid for 5 minutes.
Scrambled eggs with ham and mushrooms. Mushrooms wash and cut into slices. A small head of onions cut into half rings. Saute onions and mushrooms in vegetable oil, a little sunflower. Add diced ham and sauté too. Whisk the eggs with a whisk with the salt and pour into the pan. Under the lid, bring to readiness.
Fried egg with eggplant. Eggplant cut into cubes, sprinkle with salt and leave to soak for 20 minutes. Fry the eggplant in vegetable oil with garlic. Break two eggs, add salt and cook until tender.
Scrambled eggs country-style. Fat or bacon fry in a pan on all sides. Coarsely chop onion and fine shredded potatoes. Season with salt and pepper. Fry in lard the potatoes and onion, beat the eggs. Cover and cook until tender. Especially tasty this eggs would work in a cast iron skillet.
Scrambled eggs with shrimp. Peeled shrimp must be fried in butter with garlic. Refractory molds grease with oil, pour in each egg and add shrimp. Sprinkle with pepper, grated cheese and herbs. Bake in the oven for 15 minutes.
Fried eggs in bread. White bread slice and remove the crumb. Fry in vegetable oil on both sides, pour one egg into each slice, sprinkle with grated cheese and greens. Cover and cook until until cheese melts. Garnish with finely chopped parsley and dill.
Scrambled eggs with cottage cheese. Whisk eggs until frothy. Finely chop the green onions and parsley. Cottage cheese mix with eggs, add the herbs, fry for 2 minutes in the pan, then put into the form and bake until Golden brown in the oven.
Advice 9: 5 delicious recipes how to fry potatoes
Young potatoes cooked with onions, what could be tastier? But this dish quickly get bored and want something new. Fry the potatoes in the pan in many different ways, resulting in incredibly tasty and fragrant dish.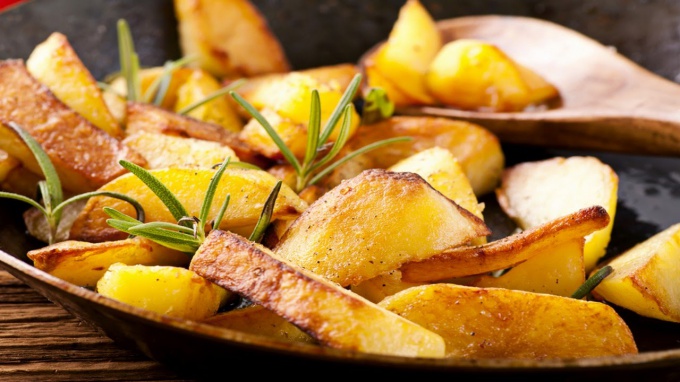 1 recipe - potatoes in the pan with spices
Very simple, but very tasty dish. Will need 1 kg of potatoes and spices - cumin, Basil, coriander - any favorites or those that are at home. You can also use dry onion, dill, parsley, garlic. Potatoes cut into strips and fry until almost cooked, then sprinkle with spices and salt. Cover the pan with a lid. After 5 minutes the dish is ready.
2 recipe - potatoes in the pan with sour cream
Baked potato with sour cream - very hearty dish. For the preparation we need 1 kg of potatoes 200 g sour cream, fresh herbs. Potatoes cut into large slices of sauté until soft without a lid. Then add the sour cream. Leave on for 10-15 minutes, covering the pan with a lid. Before serving, sprinkle with herbs.
3 recipe - potatoes in the pan with the egg
For this dish, the potatoes need to boil. Boiled potatoes cut into large slices and fry until Golden brown in butter. Break into the pan of eggs - 2-4, depending on how many potatoes. Cook until tender (3-5 minutes).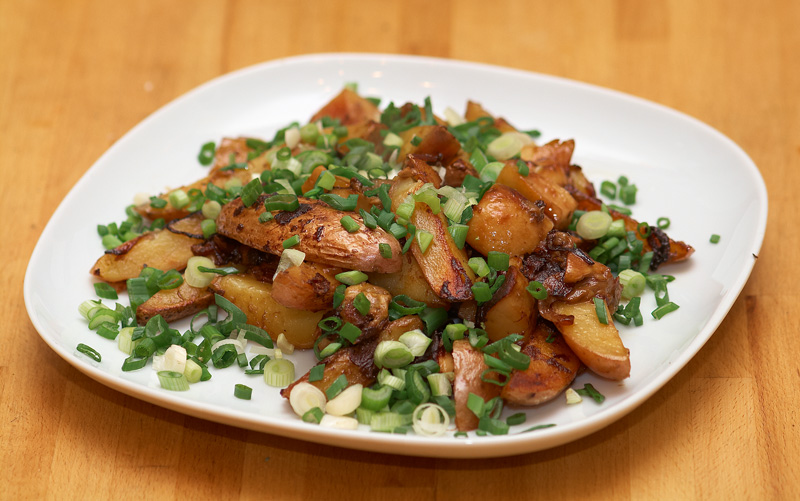 4 recipe - potatoes in the pan with mushrooms
Fried potatoes with mushrooms is a classic dish that never loses its popularity for many years. Potatoes cut into strips and put to fry. Mushrooms boil until cooked. Add them to the potatoes and cover. 5 minutes until ready, pour 200 g sour cream with garlic and fresh herbs. Again cover and leave for 7-10 minutes.
5 recipe - potatoes in the pan with onions
A potato cut the way you like more. In a separate pan saute the onion (it should be Golden). Cook potatoes in mixture of butter and sunflower oil. 5 minutes until cooked put the onion to the potatoes. Stir and cook further without lid.