Ingredients:
25 g compressed yeast;
1 Cup cow's milk;
egg white (for dough) and egg yolk (for lubrication);
3 cups wheat flour;
3-4 tbsp sugar;
1 Cup jam or preserves;
50 g of sunflower oil;
salt.
Preparation:
The first step is to prepare the dough. To do this, heat the milk so it was warm but not hot. It then dissolve all the sugar and add a little salt. Next, put in the mixture the yeast and mix thoroughly.
After the yeast aktiviziruyutsya (this will foam), they osypaetsya pre-sifted flour and the dough is made. Then add vegetable oil and again everything is thoroughly mixed.
Next, the dough should be removed in a fairly warm place. Do not forget to cover it with a clean cloth. Note that for these purposes a package of cellophane is not suitable, as it will not allow the dough to breathe.
Once the dough is ready, it should be thoroughly stirred. Then it is divided into 2 parts, one of which must be larger.
Next, prepare a baking pan, grease it with oil, put into it the dough (part larger). Fit dough on top of jam.
After this is rolled a second part of the test. It should be cut into fairly thick strips. They need to be put on top of pie. From these strips make the grid or any other pattern. After that, the top of the strips should be wrapped around egg yolk.
Then the cake should be cover with a cloth and put in a warm place. There the dough is well rise, as a rule, it takes at least three hours. Next you need to heat the oven to 180 degrees and put the pie pan. It will be ready after 35-40 min. the Finished cake remove from the form, but it should be done after it cools down.
Advice 2: Open jam tart dough
Cake of yeast dough with jam is incredibly simple pastries, the most difficult thing that is required is to properly prepare the dough and select the suitable jam for the filling.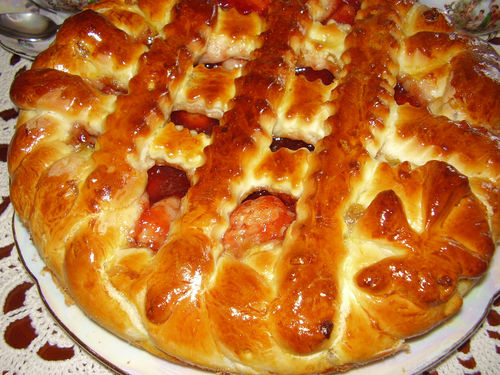 You will need
- 500 grams of flour;
- 100 grams of sugar;
four egg yolks;
- one egg;
- 120 grams of butter;
- 250 ml of milk;
- half packs of dry (quick-acting) yeast;
- 60 grams of raisins;
- 500 ml jam (to taste);
- 1/2 teaspoon of salt;
- a packet of vanillin (optional).
Instruction
First prepare the dough: 250 grams of flour sift into an enamel pan and add all the yeast, pour a little warm milk (200 ml), add a tablespoon of sugar, stir, cover with a cloth and leave in a warm place for 30 minutes.
While the dough rises, melt the butter over low heat, whisk the egg yolks with the remaining sugar in a separate dish mix the beaten egg yolks, melted butter, remaining flour and milk and vanilla.
As soon as the dough rises twice, mix it is just made with unleavened dough and mix thoroughly to a uniform consistency.
Raisins pour boiling water and let stand five minutes, then carefully wash, dry, roll in flour and add to the dough (instead of raisins you can use any other dried fruits, but you can do even without them).
Sprinkle work surface with flour, dump the dough on it and knead to such a state that it became homogeneous, and does not stick to hands (it should be noted that at this stage the main thing not to overdo and not to "score" the dough).
Grease hands with vegetable oil, ebonite the dough, cover it with a cloth and leave in a warm place for another 30 minutes (during which time it will rise in two times).
Next, remove the dough, separate it from 1/3 (she will need to decorate cakes), and the remainder put on a pre-oiled baking sheet and gently spread it all over the form, trying the dough to distribute evenly and create low sides.
Put the dough in baking tray jam a thin layer (about one centimeter). It is better to use a thick jam.
Roll out remaining dough into a thin layer with a thickness of about 0.2-0.3 cm, with a sharp knife cut it into strips and decorate top of the pie with them, neatly folded them in the form of, for example, cornrows, herringbone or grid. Leave the pie to stand at room temperature for 40 minutes.
Over time, the form of pie and place in a preheated 180 degree oven for 35-40 minutes, do not forget to lubricate the surface of the pie with the beaten egg.