You will need
- mushrooms;
water;
Sol;
- sweet bell pepper;
- Bay leaf;
- citric acid.
Instruction
Before you cook the mushroomsfirst, they need to be cleaned. With a knife cut off the bottom, the most contaminated part of the stalk. Mushroom caps clean from various debris. Then rinse each mushroom in cold running water using a colander. Heavy soiling clean with a soft sponge. But if you use mushrooms already opened cap, then you will need to wash them often, as they will very quickly turn black during cooking, even if you've added to the liquid acid. Soak mushrooms in water is not necessary, or taste may be lost.
Small mushrooms, boiled whole. If you have a fairly large mushrooms, then cut them into several slices or slice small even slices. Take the saucepan and fill it with water at the rate of 5 liters per 1 kg of mushrooms, put on the stove. So mushrooms are not darkened, and remained grayish-white color, add salt to taste and 20 grams of citric acid. You can put a couple of peas of fragrant black pepper and Bay leaf.
Place in a pan with the prepared mushrooms, they must be fully submerged in water and bring to the boil. Continue to cook the mushrooms on low heat for 10 minutes until they are soft. Then drain the mushrooms in a colander, wait until they drain all the water. Cooked mushrooms put in a bowl. The mushrooms are ready, they can later be used for preparation of various salads, soups, or marinades are cooked, just need a little salt.
Advice 2 : How to cook mushrooms
The view that mushrooms need to boil necessarily, is not the only true. Indeed, some of the dishes you can use the mushrooms raw, but to imagine a delicious mushroom soup or salads without cooked mushrooms, which are very easy to prepare, simply impossible.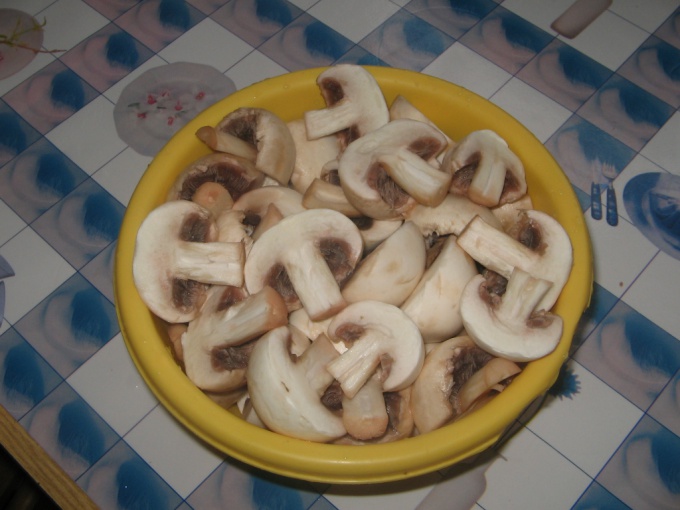 You will need
mushrooms
water
salt
spices.
Instruction
Before cooking mushrooms, they need to be cleaned. From the lower part of the stalk cut off the part that was in contact with the ground and withered after the cut mushrooms in the greenhouse. Each mushroom thoroughly rinse from the remnants of the earth under running water. You can use a small soft brush. Soak the mushrooms in water before cooking otherwise they will lose taste.
If
the mushrooms
are small, you can boil them whole. In this way they will look spectacular in any dish. In that case, if the mushrooms are large enough, cut them into several pieces. Method of shredding on the quality of cooking is not affected, but most often
the mushrooms
cut into four pieces or
cut into
thin slices of equal thickness.
After the mushrooms are ready for cooking, dial in a pan of water and put it on the fire. When the water boils, add salt to taste, a few peas of fragrant black pepper, Bay leaf and submerge it in mushrooms. The amount of water depends on how many mushrooms will cook. The liquid should completely cover them.
Cook mushrooms until tender over low heat. Universal recommendations about how long to cook the mushrooms, simply does not exist. For each recipe its cooking time. If mushrooms will continue to obzhivatjsya or mixed with other ingredients in a salad, cook them longer than 5 minutes, not worth it, otherwise they will give all their taste to the broth. While soup is cooking time can be increased to 15-20 minutes, so it will be more intense.
Useful advice
Boiled mushrooms, which are planned to be used for salads, you need to drain, otherwise they will be too watery taste. To do this, after the end of cooking, they are removed with a slotted spoon from the broth and spread on paper towels which will absorb excess liquid.
Advice 3 : How delicious to cook mushrooms
Beautiful, delicious and useful - these mushrooms cook in the world! Once they were available to few, it was considered a Royal delicacy. But now everyone can enjoy their exquisite and memorable taste.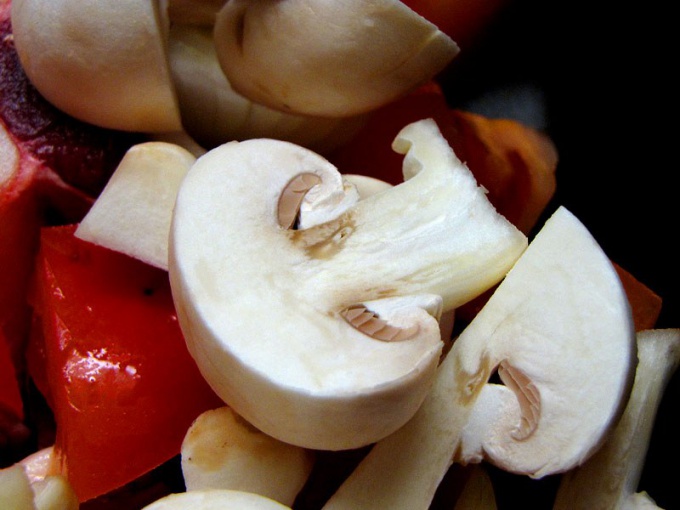 You will need
For mushrooms in sour cream:

0.5 kg of mushrooms;
1 onion;
200 ml of sour cream;
2 tbsp. butter;
lemon juice - optional;
garlic is optional;
salt
pepper to taste;
fresh herbs.
For baked stuffed mushrooms
10 large mushrooms;
1 onion;
100 g salami, or sausage;
2 cloves of garlic;
fresh herbs;
salt
ground black pepper - to taste.
For the soup:
0.5 kg of mushrooms
can small;
3 onions;
1 carrot;
1-2 cloves of garlic;
5-7 tablespoons of butter;
2 tbsp. flour;
1 liter of milk;
1-2 glasses of water;
1 Cup vegetable broth (you can substitute water);
fresh herbs
salt
pepper - to taste.
For marinated mushrooms:
1 kg of mushrooms;
2 cups of water;
50-60 g of 30% acetic acid;
spices: black pepper
Bay leaf
nutmeg;
1-2 teaspoons of salt.
Instruction
Mushrooms can be steamed, boiled, baked and pickled, they are combined with a variety of very different products. But all the recipes begin the same way: wash the mushrooms, peel, and wash again in running water. If you don't want the mushrooms have darkened in the cooking process - soak them in water with lemon juice (0.5 kg of mushrooms and 1.5 l of water a third of a teaspoon) for 5-10 minutes.
To
cook the mushrooms in
sour cream, cut them into thin strips. Put in a pan with heated butter. Finely chopped onion add the mushrooms and fry on a medium heat. Once the onions become Golden and the mushrooms browned - pour in the sour cream, salt and pepper. Bring to a boil, reduce the heat to low and cover. If you want to add garlic, do it in the last turn, for 1-2 minutes before shutdown. As soon as the cream boils away - the dish is ready to eat. Serve with fresh greens.
For baked stuffed mushrooms, you will need only a hat. Make the stuffing: chop the onions and sausage, salt, pepper and mix well. Mushroom caps place in greased with vegetable oil pan "upside down" and fill them with a mixture of onions and sausage. On top of the filling, spread a mixture of crushed garlic with vegetable oil. Sprinkle mushrooms, finely chopped fresh herbs and spices. Place baking sheet in a preheated 200 degree oven, upper level. Follow the process: when the greens begin to darken, lower the heat to 150 degrees and move the baking sheet to the lowest level. Bake the mushrooms for another 15 minutes. Please note: juice must not evaporate completely! If it took 8-10 minutes, but juice is gone off. Serve in a large dish, hot or cold. Pour the mushrooms on top of the remnants of the mushroom juice. Mayonnaise, sauces on request.
For soup, suitable and small mushrooms. Some beautiful mushrooms for garnishing the finished dish. The rest finely chop or mince. Add to the pan, add the butter (2-3 tbsp), coarsely chopped carrot and onion whole. Simmer for 40-45 minutes on medium heat under the lid. Pour a Cup of water or broth and boil. Pending the mushrooms boil for 5-10 minutes in salted water.In a soup saucepan, sauté the 2 tablespoons of flour with 2-3 tablespoons of oil. Hot milk, mix with a Cup of vegetable broth or warm water, while stirring, pour in the flour. Bring to a boil. Stewed mushrooms (without carrots and onions) put in a pot with milk and cook for 15-20 minutes. Allow to steep, cool slightly and RUB all through a sieve. Add salt to taste. Last, garnish the soup separately boiled and thinly sliced mushrooms. Serve the finished soup in bowls, separately butter, chopped fresh herbs and croutons.
Marinate the better small, same-sized mushrooms. In water, add acetic acid, spices and bring to a boil. Washed and cleaned mushrooms, boil in lightly salted water for 5 minutes, then drain in a colander. After the water has drained, place them in the marinade and cook for another few minutes. Put in jars, close immediately and refrigerate.