Instruction
If you find in your house large number of old money that was issued between 1994 and today, you can apply to Sberbank and exchange them for new banknotes, the exchange is far not in all branches of the financial institution. It is best to contact the head office of the savings Bank of the Russian Federation in your city and to specify exactly where and on what conditions it is possible to exchange old money for new.
Banknotes issued before 1993 inclusive, to be exchanged at credit institutions, unfortunately, will not succeed. In this case, it is best to contact the clubs of coin collectors that operate in almost all major towns of Russia. Would be better to clarify the cost of the money that you have, it can be done with the help of Internet portals devoted to numismatics. Numismatists are willing to collect obsolete banknotes and will gladly purchase them from you.
You can sell old money using the Internet. In particular, on the website Ebay.com there is a section dedicated to the sale of banknotes and coins, long out of use. It is noteworthy that it sells not only Russian but also foreign banknotes and coins, so if you have old banknotes of foreign production, you can also implement them.
Old
money can be put in the Museum, which, unfortunately, will not be able to buy them at too high a price, however, the minimum remuneration you can expect. In comparison with collectors of similar organizations pay 70-80% less of the nominal value of the banknotes.
If you will not be able to receive compensation for old money accumulated in your home, they can always recycle them. Your coins will be happy to see in points of reception of nonferrous metals, and paper banknotes can pass as waste paper. Of course, it is worth considering the fact that at the time of old money for processing you will most likely get nothing in return.
Advice 2: Where to recycle old TVs
Legislation of the Russian Federation, do not dispose of obsolete TVs and other appliances to the dump. Although the majority of our citizens still leave on dumping their old TVs, not caring about the consequences. Where to take old TVs?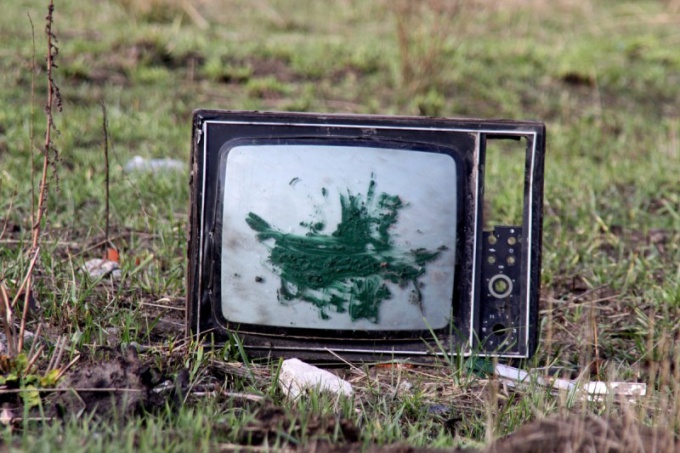 Instruction
Despite the fact that the removal of appliances in a landfill permitted by law, this method is still the only one for a majority of people in Russia. But people don't think about the fact that the technique does not decompose, rot, or that they cause environmental harm. But there are other options where to take your old iron, a TV or anything like that, and the options more successful and even profitable.
If you bought a new TV to replace the old who has not yet served its purpose, can take him to the country, if you have any, of course. There is your old TV will serve many more years. If no garden, often it is enough just to send out a call for friends and acquaintances. Surely someone there who will take your TV for a gift, freeing you from having to puzzle over where to take it.
Give your TV for recycling. There are special areas for bulky wastes, which is passed to the company processing it. There are also firms on various equipment spare parts. Is this method a significant disadvantage – such firms and platforms for garbage not in each city will meet, not to mention the villages and towns.
You can give your TV that you no longer need, since you bought a replacement in good hands. The easiest way to place an ad in the newspaper or on the Internet under "Sell" or "Give" or look for the announcement of the purchase of the old TV. Thus, you can get for your TV a little money, but buyers sometimes have to look for long.
Another option is to take your television in the framework of the action, which from time to time are held by home appliance stores. If the new TV you have not bought, but plan to, return to the store within the stock your old TV and you can get a discount on your next purchase. These activities are carried out in large retail chains, such as "M-Video" and "Eldorado".