Instruction
First you need to meet all physiological needs, otherwise it can significantly distract and prevent easy entry into the state of trance.
It is also important to be a little fatigued, otherwise you can either just go to sleep – if you are tired, or not to relax (for example, in the morning when you are full of strength and energy).
Then you need to pay attention to the fact that you felt more or less comfortable. Take this situation in which the body part will become numb (sometimes much more comfortable to stay in a chair than lying on the bed). Disconnect all external sources that commonly cause irritation: TV, telephone, clock and so on. Don't forget to provide the room a normal temperature.
After all the above conditions are met, you need to try to just relax. Try to make your body as if asleep, but your mind was awake. Substantial assistance will provide relaxation and concentration. Relax your body as much as possible, while in no case do not lose consciousness. To achieve this state of thinking about something, but do not let the thoughts flowed abstractly and vaguely.
An excellent method of reaching the desired concentration is a way of looking at the darkness in front my eyes closed. But it must be fully aware of your intention to dive into a trance and allow the body to relax.
It is important that you maintain a conscious state. If you feel that you start to dream - you need to return to thoughts to the desired direction.
Simultaneously, there is relaxation of your body. At some point you will feel a feeling of heaviness in the whole body that usually indicates the maximum degree of relaxation.
Advice 2: How to enter into a trance himself
There are many forms of meditation and meditative trance. To enter into these States can be different, and they differently affect your sense of self. The easiest way to enter into the TRANS itself will entail relaxation, rest and regain energy.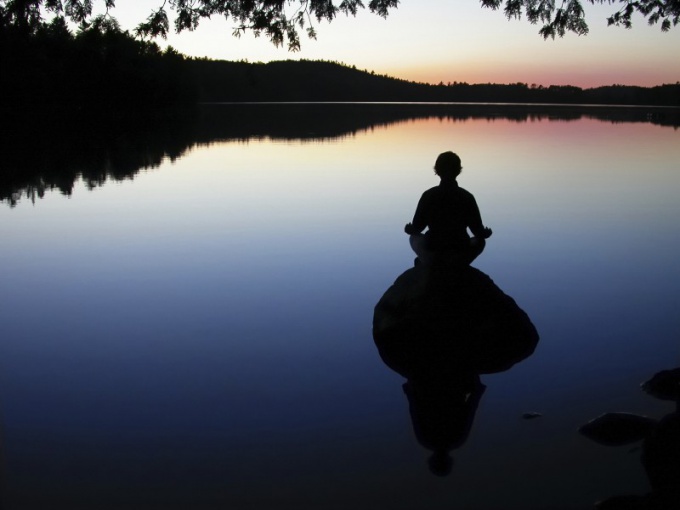 You will need
Peaceful place
Player with headphones
Instruction
To get in trance, get ready. Allow yourself the music with a straight barrel, which will help to achieve the desired state. Will suit trance or techno.
Find a place where nobody will prevent the achievement of trance. For example, a closed room or your house – any place where you feel comfortable, and where there are no distractions like phones or TV.
Relax, take a deep breath and lie down. Make sure that you are comfortable. You don't have to move, or to be in a trance will not work.
Turn on the music and while the first track try to focus on the rhythm and beats. Completely clear your mind of any distracting thoughts. To achieve this, try using visual images. For example, imagine a huge knot you need to untie, stay focused and all other thoughts leave the head yourself.
As soon as you feel that your mind is cleared, start to create new images, using bits of music. In the imagination you can paint flowering plants, which ripen to the beat of your drum beats, or any other process.
Repeat to generate a consistent image in your head. Allow the body to relax and the mind to create. And after some time your thoughts will completely disappear, and your heart rate is equalized in accordance with the rhythm of the music. So you have achieved trance. When you exit this state, you're full of energy and will feel refreshed.
Note
Many are wondering how to be in a trance, because the trance helps to cope with stress, to obtain the necessary relaxation. In addition, TRANS recognized by many people as a healing state of consciousness. How to enter the trance state: tips. Be careful choosing the place, it should be as safe and isolated. For entry into the TRANS need the most comfortable external conditions (temperature, fresh air).
Useful advice
How to enter the trance. Perform a relaxation exercise and clear your mind of all thoughts, focusing on breathing. Imagine that you descend the steep ladder down into the darkness. The first level of trance, when you feel heaviness in the body, in principle, sufficient to implement the projection. I strongly recommend not to force things, trying to get into a deep trance, as long as you are not quite familiar with the trance state per se.