Instruction
The majority of psychiatrists and hypnotists agree that consciously influence your subconscious volitional effort of man can not. But can enter into contact with him and to establish a dialogue that can help clarify previously unconscious irrational impulses. This way you can get rid of many chronic psychological complexes and internal problems.
Ways to get in touch with his subconsciousm there are several. First and foremost it is a direct dialogue with the subconscious, with pendulum or fingers, dip into a trance and automatic writing. Consistently try them all and select the method that you find it easier to use and which gives best results.
First of all, try to establish a dialogue with the use of monosyllabic answers like "Yes" or "no". The easiest way to do this is to use a pendulum. In this case, the pendulum is just a small sinker on a strong thread. Buy it in any store of occult goods or make yourself out of an engagement ring. Choose a time when you have nothing and nobody will bother you at least for half an hour.
Sit in a comfortable position at the table and lean the elbow on its surface. Hold the thread of the pendulum between the thumb and forefinger, then just watch the weight. Decide for yourself what is the direction of motion of the pendulum will mean for you the answer is "Yes", and a "no". Can slightly push the pendulum to get a feel for his movement. Then stop all the stress and try to relax. Then ask a simple question to my subconscious, involving a simple "Yes" or "no". For example, ask whether it is according to talk to you. After a while you will see that the pendulum started to move without your conscious effort. Getting the answer to the first question, continue the conversation. Don't forget that the subconscious does not recognize negative particle "not". Your questions should be simple and unambiguous.
The method of diving into the subconscious with trance reminiscent of traditional meditation adopted by many religions. It is best to carry it out in the evening before bedtime or in the least busy period of the day. Find a quiet, safe place where you obviously won't be disturbed. Unplug the phone and remove all the extraneous noise. Sit in a comfortable chair or upholstered chair. Lying immersed in a trance is not very desirable, because with the weakening control of consciousness you will simply start to fall asleep. Start watching your breathing, gradually slowing breaths. With this technique you achieve a braking nervous system and immersed in a relaxed state.
Once on the verge of sleep and wakefulness, start to imagine that you are immersed in the depths of his subconscious, walking down the stairs or moving down the corridor, smoothly leading into the depths. Try to step back a little and observe the emerging images and symbols. Remember that the subconscious does not operate on verbal categories, that is familiar to us in words. The answers you will get a variety of pictures, symbols, or images. Coming out of meditation, try to record your impressions in a diary, if possible without losing anything of what he saw. If you find it difficult yourself to interpret the seen images, it may make sense to seek the advice of a professional therapist.
Advice 2 : How to enter into a trance himself
There are many forms of meditation and meditative trance. To enter into these States can be different, and they differently affect your sense of self. The easiest way to enter into the TRANS itself will entail relaxation, rest and regain energy.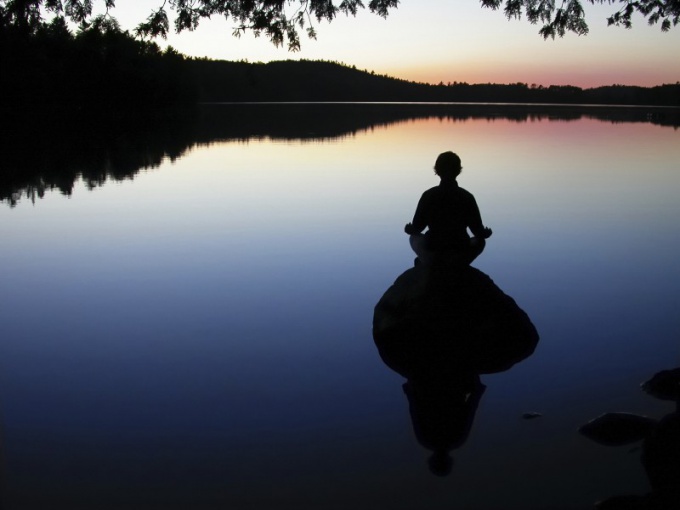 You will need
Peaceful place
Player with headphones
Instruction
To get in trance, get ready. Allow yourself the music with a straight barrel, which will help to achieve the desired state. Will suit trance or techno.
Find a place where nobody will prevent the achievement of trance. For example, a closed room or your house – any place where you feel comfortable, and where there are no distractions like phones or TV.
Relax, take a deep breath and lie down. Make sure that you are comfortable. You don't have to move, or to be in a trance will not work.
Turn on the music and while the first track try to focus on the rhythm and beats. Completely clear your mind of any distracting thoughts. To achieve this, try using visual images. For example, imagine a huge knot you need to untie, stay focused and all other thoughts leave the head yourself.
As soon as you feel that your mind is cleared, start to create new images, using bits of music. In the imagination you can paint flowering plants, which ripen to the beat of your drum beats, or any other process.
Repeat to generate a consistent image in your head. Allow the body to relax and the mind to create. And after some time your thoughts will completely disappear, and your heart rate is equalized in accordance with the rhythm of the music. So you have achieved trance. When you exit this state, you're full of energy and will feel refreshed.
Note
Many are wondering how to be in a trance, because the trance helps to cope with stress, to obtain the necessary relaxation. In addition, TRANS recognized by many people as a healing state of consciousness. How to enter the trance state: tips. Be careful choosing the place, it should be as safe and isolated. For entry into the TRANS need the most comfortable external conditions (temperature, fresh air).
Useful advice
How to enter the trance. Perform a relaxation exercise and clear your mind of all thoughts, focusing on breathing. Imagine that you descend the steep ladder down into the darkness. The first level of trance, when you feel heaviness in the body, in principle, sufficient to implement the projection. I strongly recommend not to force things, trying to get into a deep trance, as long as you are not quite familiar with the trance state per se.