Instruction
For example, there is a very interesting method of decorating wedgies or platforms. Take sandals with wide transparent tape, scissors and a few bills. Slightly crumple a bill and pressed her to wedge, secure with tape. Continue to do this up until the whole wedge is covered with bills, then wrap it with enough tape so that the composition was well fixed. In this case, instead of paper bills can be used and other materials such as candy wrappers, foil or even paper. So your sandals will be not just unique, but also very beautiful.
A very original look sandals with rhinestone embellished studs. Take rhinestones small quantities in such quantity that they can be paste over the entire pin. Rhinestones can be as plain or multicolored. Looks especially beautiful smooth color transition from light colors to darker. In order to obtain this result, take the sandals and begin to glue the lighter crystals from the taps, and then, gradually rising above, attach all the darker crystals.
If your sandals consist of diverse straps, they can be decorated with rhinestones, sequins or beads. To do this, take your favorite sewing accessories and secure it along the straps of sandals. The rhinestones are mounted on transparent glue, beads, sequins and seed beads sewn with a needle and thread. Also for decoration straps, you can use a variety of brooches and hairpins, for example, in the form of flowers. Similar decorative elements are simply attached on strap sandals with lock. If sandals do not consist of straps, and made of solid material, they can decorate by sewing or gluing various decorative Elements: flowers, rhinestones, knitted items, etc.
Also sandals can be decorated with chains of different lengths. This element of sewing accessories can connect or even link a few thongs sandals together. Sometimes the sandals there is an additional strap fixing shoes around the feet. It can be replaced by a chain or bracelet.
Advice 2 : How to update old sandals
By the summer you always want to update your wardrobe, but it's not always we can afford. And you can revive your favorite sandals, which have not lost their form. The easiest way is to decorate them with various decorations.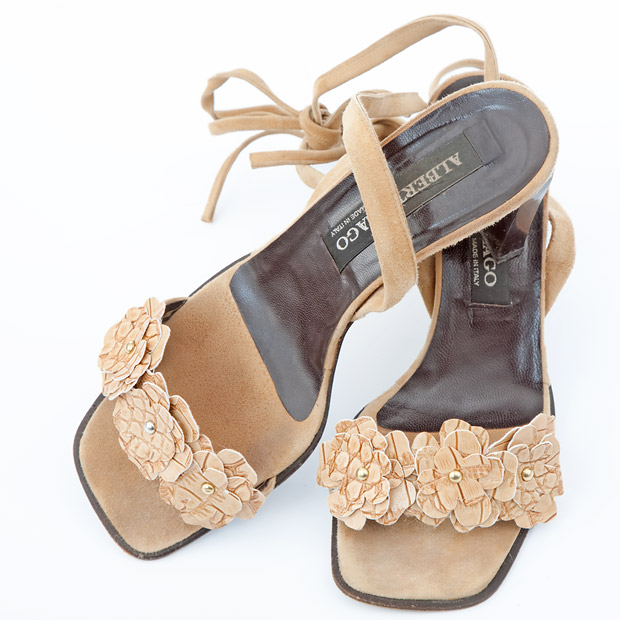 Instruction
Leather, artificial or natural, cut out blanks for colors. One flower consists of three: small, medium and large. Connect them at the center of the metal riveting. Cut from fabric 2 rectangle and glue them on 3 finished flower. Then glue the rectangles on sandals.

The second option is to decorate sandals with fringe and POM-poms. Cut out a small piece of suede or leather 2 rectangle and turning them into fringe. Glue on fringe pompoms and attached to the sandals. You can also make a drawstring to tie the ankle. Cut 2 thin strips of the same suede or leather, glue pompoms on them.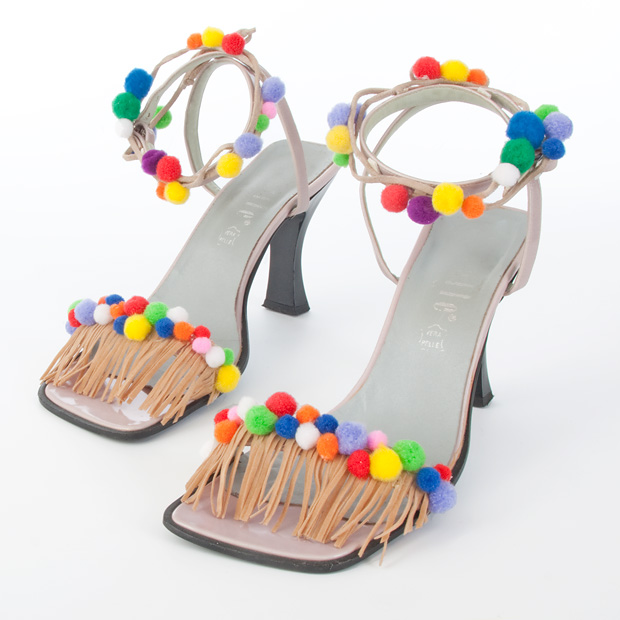 And another very simple method - cut from fabric 2 long strips and processed edges. You can use a long cloth belt from an old dress. Fasten the middle strip on the sandals and tying around the ankle.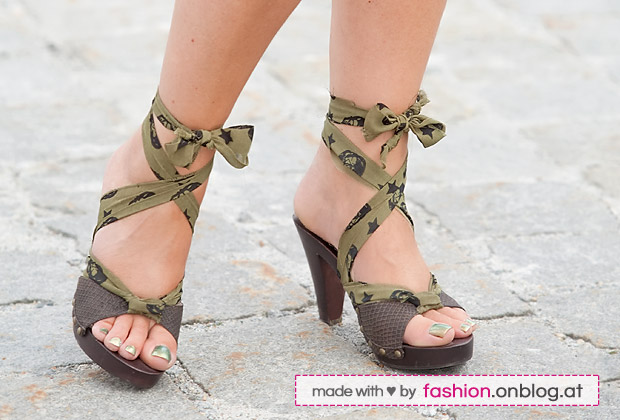 Advice 3 : How to make a decoration for shoes
Such extravagant decoration on the shoes can make leather straps. It perfectly complements almost any shoes, sandals and even flip flops. Perhaps, the only condition - the shoes should be heels.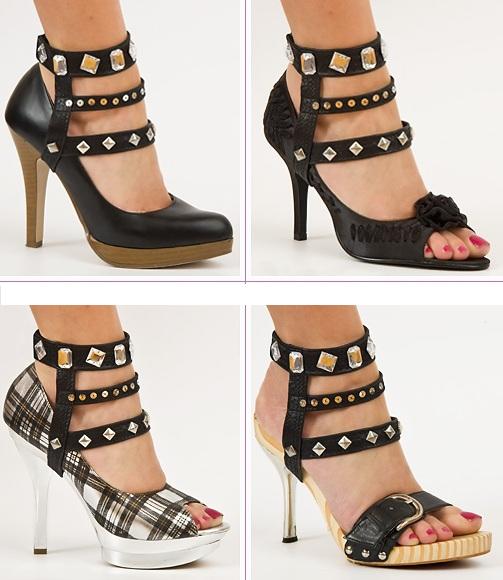 You will need
-long leather strap, or a piece of thin leather
-Velcro
-sequins, rhinestones, studs
Instruction
Cut 4 strap length approximately 32, 28, 24 and 22, see Is for one decoration. For the second cut the same strip. Their length can vary depending on the girth of the ankle, etc. don't forget to try for yourself. The width of the stripes can be both the same and different. If you cut strips from a piece of leather, then you need to bend them inwards and sew on the machine or glue.
Then make a fitting and skalyvaniem the connection of the strips with pins. Remove the straps from the legs and sew all the joints on the machine or manually if your machine is not designed for sewing leather. To the top strap that goes around the ankle, you need to sew the Velcro. Similarly, do the second decoration.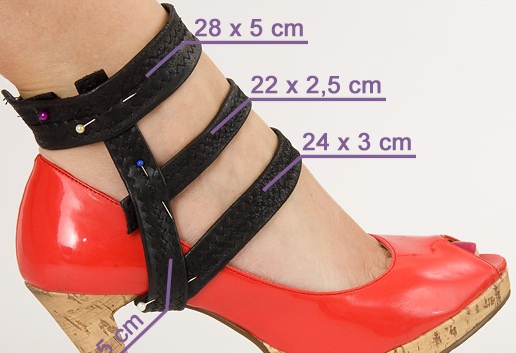 You can now decorate. Sew sequins, rhinestones, attachable spikes or riveting. To the mounting studs didn't karabali the skin of your feet can be stuck on the wrong side of the fabric straps.