You will need
Sneakers, paint (acrylic), pencil, stencil, iron, texture paste, thinners, thickeners and coatings.
Instruction
Choose the sketch and apply it is barely noticeable on the sneakers. If you are not strong in drawing, but crave creative, use a stencil.
Take acrylic paint and paint your masterpiece painting on sneakers.
Depending on what effect you want to achieve, you can use paints, thinners or thickeners, designed specifically for acrylic. Also, in order to make a drawing of the relief, it is possible to use texture paste.
Dry the sneakers. Acrylic dries in average is not very long, just 2-3 hours. If you have used additional funding, sneakers can dry longer.
For greater reliability, the drawing can be clipped, propadu his iron.
Note
If you have no experience in such work, you can buy a cheap model of the sneakers and to practice on them using markers. Acrylic holds very well, and there is a risk to spoil with the help of the sneakers. If you made a drawing correctly, the acrylic before it dries, else it is easy to wash off with water.
Useful advice
The advantage of this paint, like acrylic, is that dealt with it, the picture will not be afraid of water, does not deteriorate from dirt, will not fade in the sun. Sneakers, which are painted with acrylic, perfectly cleaned with a swipe, they can be washed using different cleaning agents. Also acrylic is not flowing and does not leave streaks, it does not need to be fixed.
Advice 2 : How to draw shoes
As a rule, for creation of any drawing is required, at least basic knowledge and skills in this field. But to draw the shoes can even people who is not familiar near the technique of making drawings of this kind. Learning how to draw shoes, you can move on to more complex subjects.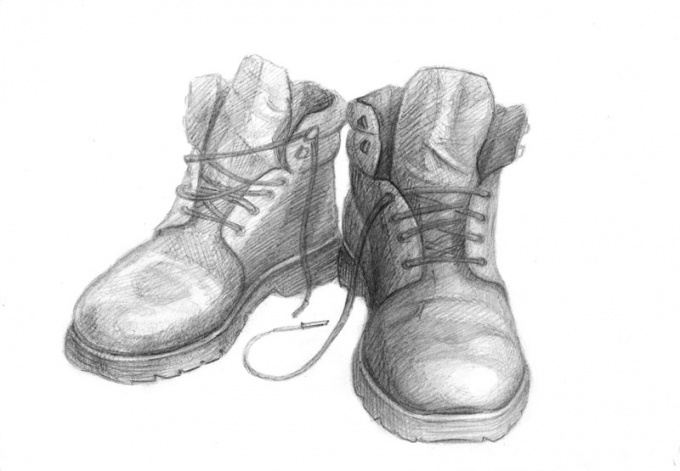 You will need
pencil;
-eraser;
-shoes;
-pencils or paint.
Instruction
Before starting, decide what kind of shoes you will draw. This can be shoes of different styles and colors, shoes summer or winter. Also decide how many pairs of shoes will be your drawing, or it will be one Shoe. Look on the Internet or in relevant magazines pictures, which show a similar Shoe.
Finding a picture you like, print it out, or leave on the screen, to keep it in sight when you draw shoes. Choose a clear picture, the picture which easily conveyed on paper.
Before you start take a good look at the picture, trying to distinguish the main lines and contours of objects. Take a sheet of paper and a pencil and try to transfer the basic outlines to their own pattern. Proceed gradually, slowly. Pay special attention to the study of drawing, with which you redraw the shoes. Next, draw additional features of the objects. At this stage try not to pay attention to various small details.
When the main certane already drawn, once again carefully consider the initial picture and go for applying small details of the Shoe. Here it is possible to dream a little.
The shoes in the picture should be large and bright enough. Use different shades. The neighborhood of warm and cold colors will make the picture more alive and realistic. Do not forget about own and falling from the object shadows. If you work with a brush, apply the brush strokes in different directions, the shape of the object. If the choice fell on pencils, stahujte, focusing on the plane of the Shoe.
Note
Draw feet and shoes. Drawing feet is not scary. First we will look at from any angle this can be done. Finally, the appearance of the front legs also consists of rectangles and trapezoids. All you have to do is to draw the heels and toes. Talk a little bit about how to draw fingers.
Useful advice
Shoes is just a wrapper for the foot. Study pictures of different kinds of shoes will give you ideas. Here we have depicted the modified model army bot the United States. Make sure the sole of the Shoe more than surface of foot, about half a centimeter down. Draw the foot first. This will tell you how to put on her shoes..