Instruction
Leather, artificial or natural, cut out blanks for colors. One flower consists of three: small, medium and large. Connect them at the center of the metal riveting. Cut from fabric 2 rectangle and glue them on 3 finished flower. Then glue the rectangles on sandals.

The second option is to decorate sandals with fringe and POM-poms. Cut out a small piece of suede or leather 2 rectangle and turning them into fringe. Glue on fringe pompoms and attached to the sandals. You can also make a drawstring to tie the ankle. Cut 2 thin strips of the same suede or leather, glue pompoms on them.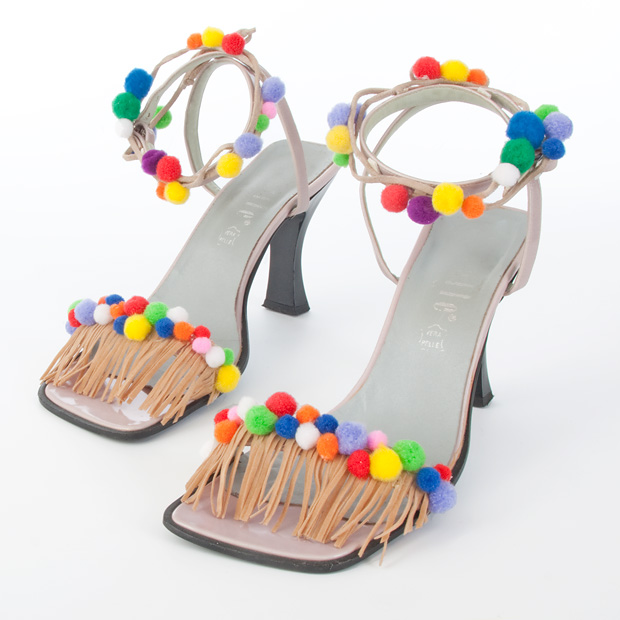 And another very simple method - cut from fabric 2 long strips and processed edges. You can use a long cloth belt from an old dress. Fasten the middle strip on the sandals and tying around the ankle.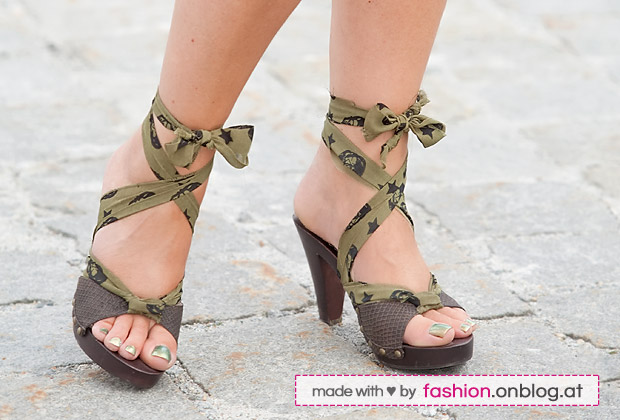 Advice 2: Multicolored summer: yellow sandals
Fashionistas with a wealth of experience we already know that the yellow sandals are now in fashion. Novice ladies begin to wonder what such a bright shoes can be worn. The variety of models allows you to choose different sets for any event. Yellow is the colour of summer and sunshine, joy, light. Different shades of this color combine well with almost all colors.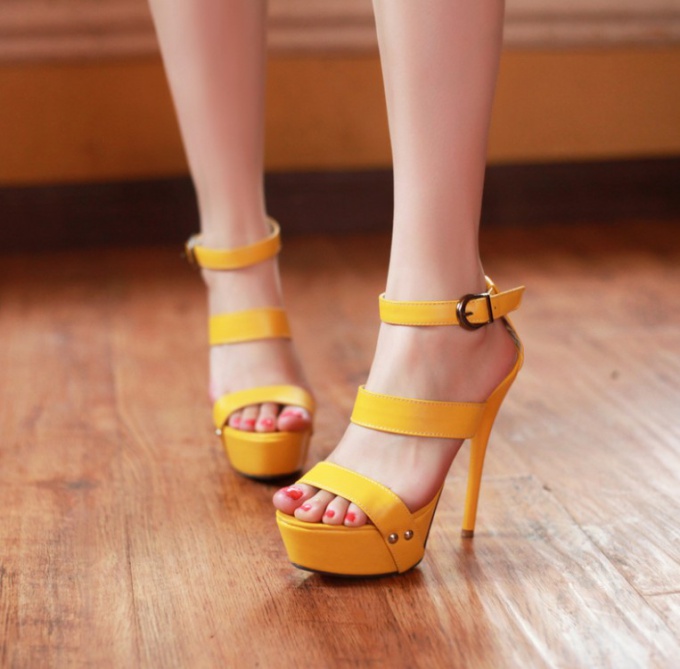 The combination of white and black
Yellow sandals in harmony with clothes of white color. Complete set of narrow white jeans and white t-shirts yellow jacket. Black goes well with yellow. Stunning sandals will look yellow on a platform together with a black dress. This kit will not be superfluous to Supplement a light scarf and yellow jewelry.
Colorful summer
Today stylists recommend fashionistas to use color blocks. The combination of different colors in a single image will allow you to experiment with summer sets outfits. Feel free to combine yellow wedge sandals with a delicate top and bright pink shorts. Harmoniously looks complete with tunic light mint color.
Another interesting option is a light white dress with a floral print and yellow lace-up (always with a heel).
By the way, the combination of yellow and blue reflected in sets with denim. Look for this option: denim shorts, yellow top, and yellow high-heeled sandals. There will be appropriate and denim jacket.
Femininity and elegance
If you like feminine outfits, you'll like the summer sets in pastel shades. Sleeveless blouse with a pale yellow color, pencil skirt ivory light jacket and, of course, the yellow sandals.
Try a harmonious blend of contrasting and pastel colors. For example, yellow with turquoise. White skirt turquoise chiffon top and yellow sandals - elegant and fresh look is ready! In this case the model of footwear can be either: thick heel stable, thin stiletto heel, wedge heel or sandals to go low.
Advice 3: How to update old shoes
Your shoes have not lost its kind, but you seem boring? Let's make them more elegant and festive. Make a fresh touch to the design of your shoes by means of improvised materials.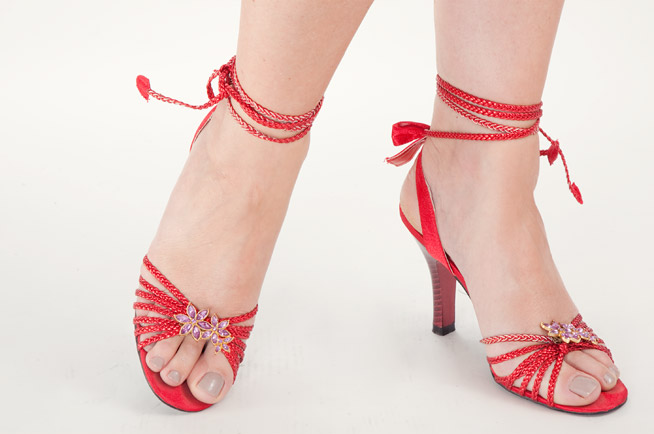 Instruction
The first way to upgrade your shoes to make a detachable ornament. It is very convenient because it can be worn with any suitable shoes. From the two identical hair pins decorated with very pin with pliers, if there are sharp parts, fill them with sandpaper. Glue the decoration to the base for earrings-clips. Allow to dry.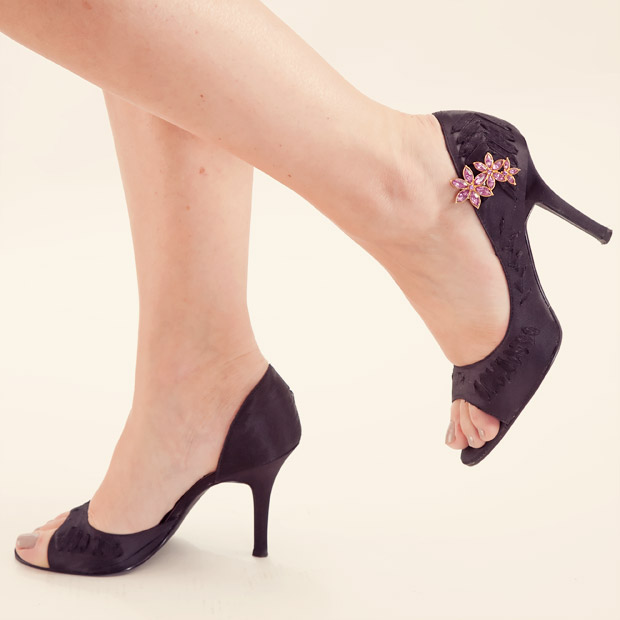 The second way is to make the application. To do this, like shoes made of suede or fabric. Shop for needlework buy thermoapplication. Using the iron glue application on the shoes. Alternatively, you can stick applique glue.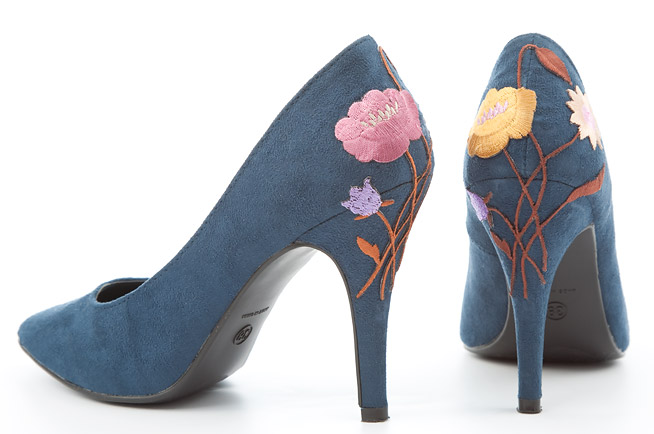 If you have a necklace of rhinestones that you don't already carry, they can also be to decorate your sandals. Just glue or sew it on the shoes.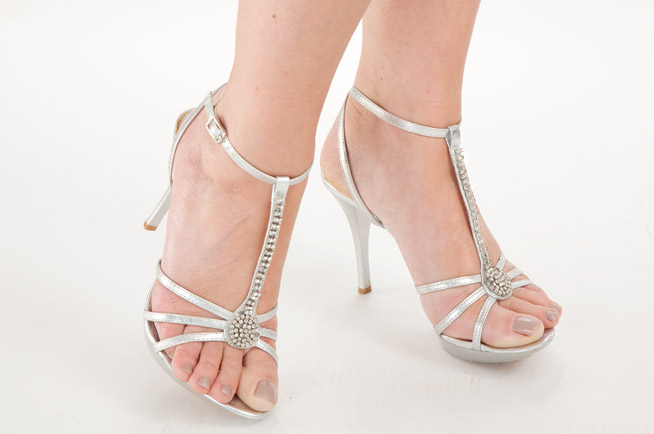 Also shoes it is possible to glue the individual stones rhinestones, as the heel and front. For convenience, it is desirable to use a pair of tweezers.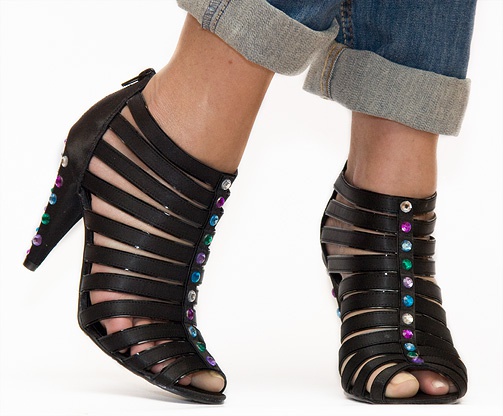 Advice 4: What to wear with turquoise sandals
Psychologists say that turquoise color gives a feeling of balance and inner harmony. This lovely shade has an important feature - it is suitable to absolutely everyone! Just a lot of e depends on the selected hue - from light green to pale blue.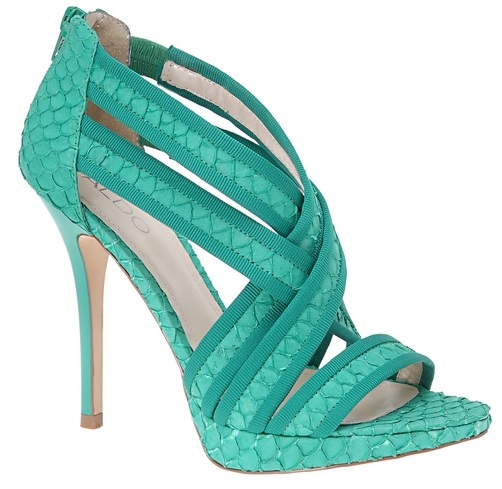 A wide selection of models
The color of the turquoise several seasons is not coming from the catwalks. Designers use it in the collections of clothes, shoes, accessories. In summer, the actual turquoise platform sandals. These shoes are perfect for everyday use, but also during special events would be appropriate.
Among the models of sandals turquoise wedges the most relevant:
- dense tissue, are provided with a cork sole;
- concise options from exotic reptile skin, thick fabric, soft suede leather, provided with a cork sole;
- the Flirty options with all sorts of flowers, bows, stones, buckles and beads;
- sandals, equipped with straps, tying or buttoning around the ankles.
You are the owner of turquoise sandals? Well, it's time to know what to wear!
Shoes turquoise color goes well with wide and narrow pants, light flowing tunics and dresses of different lengths, short denim skirts, tunics.
To sandals turquoise as a color companion, you can choose clothing coal black, blue, white, Golden hue. Look good mix turquoise with pastel shades. Bright turquoise shoes will accent.
Wear turquoise sandals with
a skirt
or dress, emerald, scarlet or yellow tones - will be a spectacular combination!