What you can wear shoes, rhinestone redecorated?
If in the wardrobe there were shoes with rhinestones, you must think, what clothes they can wear? They look good in, complete with evening dress and with a strict monochromatic or black suit and with a nice bright Romper and everyday things. If the clothes are embellished with rhinestones or other shiny decor, it is better to refuse or to reduce the Shine on the clothes to a minimum, so as not to get sarcastic exclamation: "Christmas Tree, light up!". All necessary measure.
The stores there are the various models of shoes are decorated with rhinestones. There are the shoes, partially or fully decorated with rhinestones, heels of different heights on the platform. All these models are perfectly combined with skinny jeans in grey or black complete with top and shorts, stylish skirts. Dressy leggings with a tunic is also able to create an interesting ensemble with shining shoes.
What to wear stylish ballet flats, embellished with rhinestones?
Ballet flats can be attributed to one of the most comfortable and popular types of shoes. Even a few seasons ago they seemed to be the most demanding fashionistas primitive Slippers. Today, designers make flats more elegant, stylish, decorating models of various decorative items, including crystals.
Light glittering ballet flats in white or beige are very popular with brides as wedding footwear. They can go on a romantic date. Such flats the best fit clothing in pastel shades or beige. Although it is possible to look for clothes in bright colors.
This kind of shoes are in demand not only among young girls. Appreciated comfortable ballet flats and grown women, because the model fit to compose virtually any image. As well as high heel shoes, ballet flats with rhinestones perfectly "get along" with tapered pants, jeans, shorts of any length, leggings, wear a pair of t-shirts, large shirts or tunics. Ballet flats are perfectly combined with dresses, especially flared: this outfit is comfortable on the dance party. But the long, narrow evening dress is not in harmony with the ballet flats. In this case, it is better to wear shoes with high heels. Black ballet flats with black rhinestones look great with narrow trousers or a mini skirt coral color.
What clothes combine ankle boots, studded with rhinestones?
Ankle boots with rhinestones – formal variant shoes, perfectly completed with clothing on the way out. Such models are perfectly combined with dark clothing, such as black, brown, dark blue colors. The ensemble looks absolutely luxurious on any figure. With a short dress or skirt is better to wear boots on a high heel. Pantyhose it is advisable to pick a tone to the Shoe that is not visually shorten your legs.
Bad – ankle boots with rhinestone floor-length dress (or cocktail dress). Look good sheen with jeans-stretch or tight leggings.
Shoes with rhinestones will help its owner stand out from the crowd, because shimmering like stars, stones attracts attention to slender legs. In such shoes the most ordinary woman can turn into a charming socialite.
Advice 2: What to wear with coral pants
Pants coral color is the main trend this year. Outfits in this color scheme look fresh and extremely gently. If you have already filled up your wardrobe with coral trousers, I advise you to read what they are best to wear to look not only stylish but also attractive.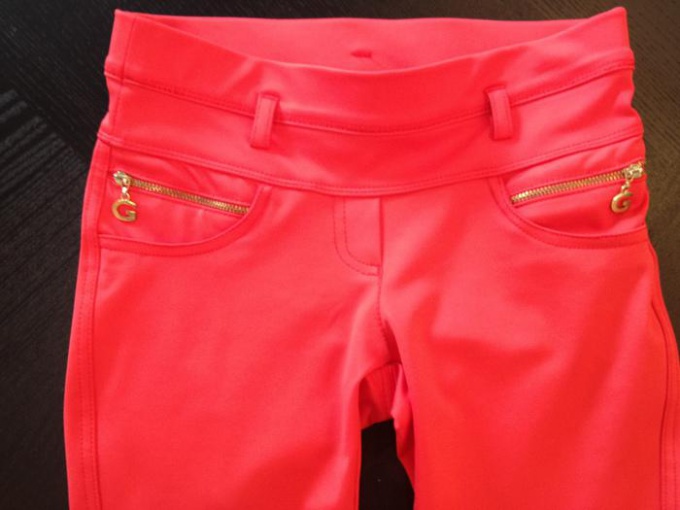 The coral color looks great with a beige shade. To create a light image, coral pants can complement a beige shirt, sandals, and very important to consider and choose those products that do not have "weight" finishes. As for accessories, the preference should be given to instances in brown tones.
In General, the coral color looks very interesting with the brown and all its shades, so don't be afraid to combine coral pants from "riding" chocolate color, "coffee with milk", etc. the Image will look dark, if you combine it with accessories designed for the upper body, in the coral colours. Great options for coral beads, earrings or scarf.
You can't go wrong making a set of white blouse and trousers coral color. In this case, however, it is worth remembering that the makeup must be neutral, should be preferred lipstick and blush in peach tones, beige shades and a brown pencil and mascara.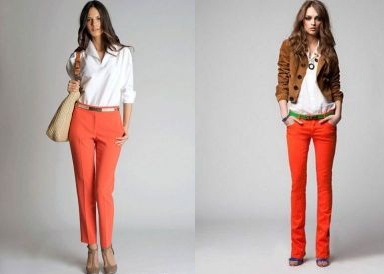 To those who like to look bright, we can advise data bright pant to be worn in combination with a pale green top and accessories in emerald. This way in the style of "casual" is a wonderful option for every day.
It is worth remembering that coral color looks great with many shades, especially blue, blue, yellow and olive, unsuccessfully, he looks complete with lilac and purple.