You will need
Iron, washing powder and softening agent for cotton, towel, bed sheets, thin white cloth or gauze
Instruction
Stretch jeans. If they are dirty, wash them in cool water (40 degrees) with a small amount of washing powder. Denim fade, so use the washing powder for colored Laundry. Rinse the pants in cool water and wring out. Lay them out full length on a horizontal surface in a towel. Hands straighten out the crumpled places on the fabric. To dry your pants can be hung by the belt. Do not tumble dry! Smooth, wet jeans hot iron through cheesecloth. Steamed in this way the fabric will be more pliable and will stretch in length and width according to your desire. To make it even better stretched, dry the jeans after each wash iron. Eventually the cotton will become softer, and you'll need less time to pull your favourite pair of pants.
To stretch knit blouse made of cotton, after washing, first rinse it in smyagchayusche. Then roll up in a clean towel and blot the moisture. Twist jerseys made of cotton during the spinning impossible. Dried so the camisole can be stretched to the desired size and leave to dry on the table, occasionally changing the towel.
Bathrobe Terry cotton fabric can be stretched in a different way. First of all, wash it in cool water with mild detergent. Rinse with softening medium and the press, wrapped in a sheet. Wet Bathrobe can be subjected to stretching by means of an iron at a temperature of 150 degrees. Apply the iron to the wrong side and gently pull back the fabric. When the drying Bathrobe will surely be on the bigger size.
Note
Do not dry knits on hangers. Do not soak the jeans before washing for a long time. Do not dry jeans on myself. It is unpleasant and unhealthy.
Useful advice
If, after washing dry jeans become narrow, try them lying down. After some time, stand and walk. Try to do active movements of the legs: bend your knees, sit down, do squats.
Advice 2: How to stretch clothes
It often happens that a thing is so like us in the store that we close our eyes to the fact that she's a little too small for us. Intoxicated or purchasing, we forget to look at the label and wash thing at the wrong temperature or the wrong way. How it is a pity in such cases that my favorite thing is not suitable for you size. Fortunately, there is a solution.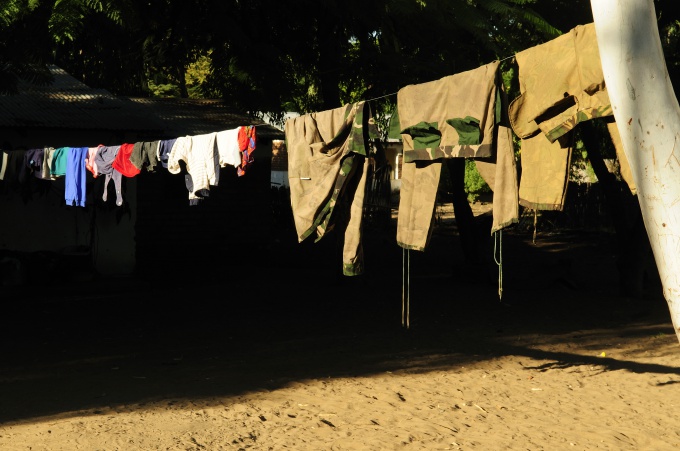 You will need
a basin, water, Ironing Board, spray bottle, iron, gauze, towel, pins, hydrogen peroxide.
Instruction
If the new shirt is small, but you can't wait to show off in front of your friends, you need to wash it in the mode and at the temperature stated on the label. After that, the thing you need to carefully squeeze, put on and begin to lightly SIP it in the desired direction: downward, if you want to extend it in length, left and right, if it is small you wide.
There is another method to stretch the thing out of cotton or linen. Put it on the Ironing Board, sprinkle it with water from a spray bottle, apply the gauze and the iron go to the places that need to stretch, and your left hand pull on the fabric.
Products from the jeans tend to stretch, but if it still happens, then type in a basin of warm water, put it into his jeans, and after 5 minutes, carefully squeeze and pull them. Wear jeans for yourself, lie down on the floor to make it easier to tie them. Then stand up and slowly do 30 squats. Within the hour, do not remove jeans. This simple procedure can be done with dry jeans, but it will not be as effective.
If we are talking about woolen things, you need to prepare a bowl of cold water, then add water to the 2 tbsp of hydrogen peroxide in 12 liters of water, and then dipped in the resulting solution woolen thing that you need to stretch. Wait for 5 minutes and not to damage the structure of the material, gently stretch the clothes in the water. After the done procedure, without squeezing, hang the thing on a hanger and leave it on for 2 days.
There is another way to stretch the wool thing. It is necessary to prepare the basin with slightly warm water, add conditioner, leave clothes in the basin for 15 minutes. Then you need to prepare an old towel on the area exceeding the size of things, put it on the floor, then to get the thing out of the pelvis and put her on the towel. Next, you evenly stretch it out to size and fasten it with pins to the towel at a distance of 2 cm. If necessary, you can use some weight.
Note
On the label of the product always provided, at what temperature to wash it.
Useful advice
Woolen garments is prohibited to wash in the machine. Valid only hand wash at a temperature not exceeding 30 degrees. Dry on a horizontal drying.
For cotton and linen there are 4 temperatures: 30, 40, 60, and 90 degrees. It all depends on the color, quality and degree of contamination of the product. Choose between 30 and 50 degrees, and you can't miss it.