You will need
bowls for water and food, feed.
Instruction
Keep your kitten free access to food and water. Unlike dogs, cats eat frequently and small portions. Your little kitten can approach the bowl of food up to 20-30 times a day. If you decide to feed your Scottish kitten food or canned food exclusively, at least 4 times a day and rotate food in his bowl in the fresh, such as the food disappears very quickly. But if you are feeding dry food, it may be in the bowl constantly.
When natural feeding, every day give your cat meat. It can be beef. Before offering it to your pet, you need to freeze the meat for 3-5 days and give a raw, or slightly boiled. Kittens up to 4 months meat is fed in the form of minced or finely chopped. Poultry (chicken or Turkey) let's just well cooked to avoid Contracting Salmonella. 3 times a week give your pet the offal (both beef and chicken) –
liver
, heart, lung, kidneys, tripe. Let's just offal in frozen or boiled. Liver let 1 times a week, and only boiled.
Fish to cats can be given only seafood, low-fat types. Before you feed your fish Scot, boil it, free from all bones. Do not give your kitten raw or freshwater fish. Do not abuse the fish, let it 1-2 times a week. At constant eating fish (especially raw), the cat may develop kidney stones.
Milk can give kittens only to three months. Further, the body of many animals is no longer to digest. Before giving the milk, boil it. And it is better to replace milk in dairy products: yogurt or sour cream low-fat. Don't let your kitten cream. Even with the low percentage of fat this product is harmful to the liver of the animal. Also don't let and yogurt – usually they all contain sugar.
A few times a week give your pet a porridge made from rice, cereals, wheat. Cook them in water or milk. If you boil water, porridge, add meat, broth from meat and boiled vegetables, mashed into a puree. In porridge, you can add and egg yolk. If eggs are not home, then be sure to boil them. Grind 1 egg yolk in mashed potatoes and add the porridge.
When natural feeding is not forget about vitamin supplements. Before using any vitamins, consult your veterinarian. Seeing the General condition of the kitten and knowing his diet, the vet will help you choose the best for your pet vitamins.

A good vitamin supplements will be grass. But in any case do not let the grass off the street. Purchase at the pet store special grass for cats and following the instructions proustite her.
If you decide to feed your Scottish fold kitten ready to feed, choose a feed "Premium" or "Super premium" class. Never feed your baby cheap feeds, this could be bad for his health, as in such feed very little meat as such, but a lot of byproducts (up to the skins or feathers) and are not well balanced vitamins. At feeding by ready forages, do not add kitten vitamins – enough of them to feed. Choose food appropriate to the age of your cat.
Note
Don't let your kitten: fried, smoked, salty, spicy foods; chocolate and all sweets containing sugar; duck, goose, game, pork, lamb; any legumes and potatoes.
Advice 2 : How to feed the Scottish fold
You have decided to buy
a kitten Scottish fold
. This is a touching and important event both for you and for your future pet. He's got another family, and your little friend and loving companion. Undoubtedly, your responsibility for him as a living being is enormous. Proper care, hygiene, walking, all kinds of vaccinations and of course, nutrition is an incomplete list of upcoming trouble.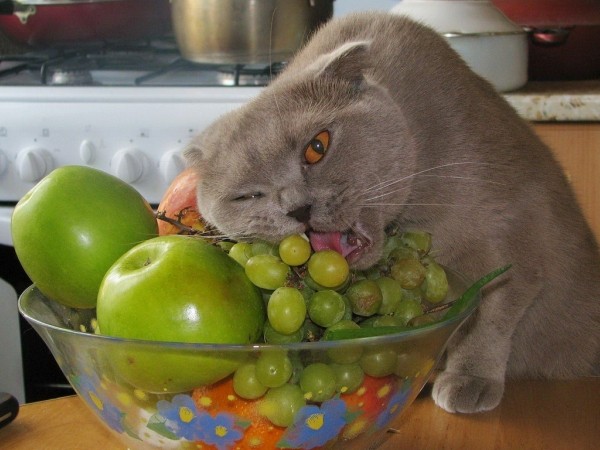 Instruction
Include in the diet of your baby low-fat dairy products. By digestibility in the first place are the curds and the kefir from the baby food. More adult cat can be fed cottage cheese 0% fat. But cottage cheese is not get carried away - an excess leads to an increase in the rigidity of the animal and causes the raising of the ears. But soft plush fur and floppy ears are the main characteristics of the breed of your pet. Whole milk is better not to give at all, it causes in kittens diarrhea.
Remember that the kitten in a separate bowl should always be clean water.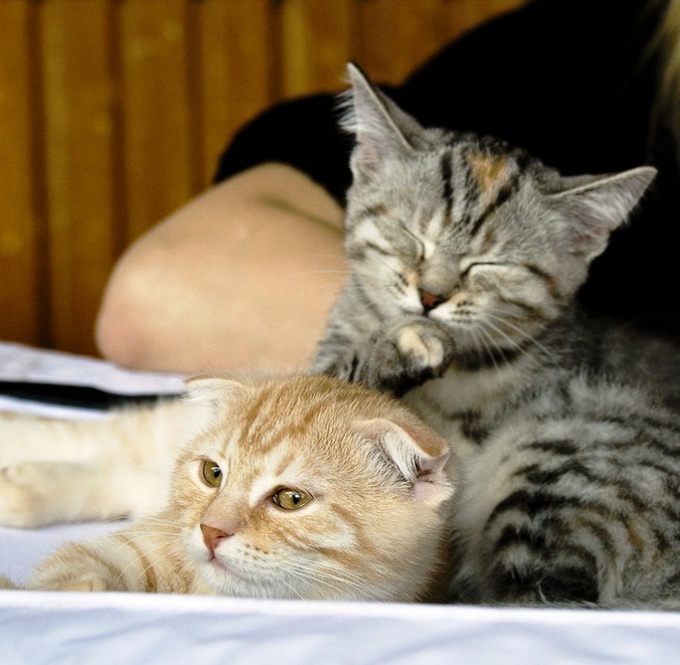 Feed your growing kitten lean meat, such as lean lamb, rabbit, chicken. Before use, boil the meat with boiling water or bring to boil and let cool. So you can be sure of the safety of the product. And eliminate the pork meat as it can lead to fatal diseases of your pet. Also offer your baby boiled offal. But remember that they need not give more than 1 time a week. Buy fish only marine and before feeding your pet, boiled it and liberate from the bones.
Don't let the kitten bones from birds, because they are sharp and can damage the wall of the gastrointestinal tract.
Be sure to cook the cat porridge and boiled vegetables. They contain all the beneficial vitamins and minerals. Add the vegetables vegetable oil for best absorption.
And do not overfeed your pet, because overweight cats can lead to serious health problems.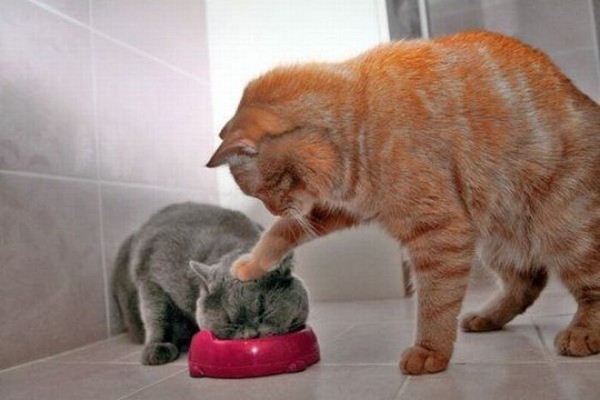 Advice 3 : How to feed the Scottish fold
If you have a Scottish fold, you're in luck: almost all felines are more loyal. Of course, he'll give himself a Pat just in case, if he wants, but this is from freedom and not from lack of sympathy to your address. These warm relations will last at least 12-15 years. Of course, if the cat is properly fed, and he will not get sick.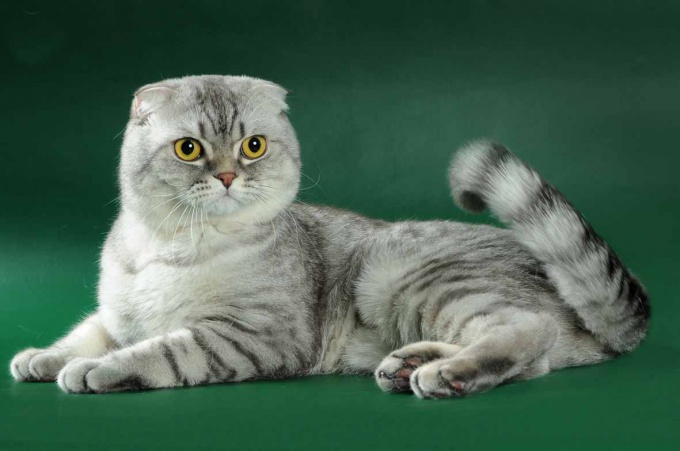 You will need
- chicken breast;
- beef;
- sprouted grains;
- dairy products;
- premium cat food.
Instruction
Work out a meal plan. Scottish-fold from a very early age must be accustomed is strictly at a certain time. Try not to deviate from this mode. For example, if a working day, the morning feeding at 8 o'clock, at the same time, you should get up and at weekends.
With regard to the frequency that veterinarians recommend feeding cats 3-5 times a day. If this is not possible – buy the automatic feeder and leave the daily rate of feed in it. Scottish-fold very quickly learn and benefit without problems. Of course, you leave on your day you should only dry food. Otherwise, the cat food will quickly become worthless.
Select the type of feed. Veterinarians civilized countries broke a lot of copies about which food is best for cats – food, commercial or homemade food. Advocates of the purchase of feed refer to their balance. Opponents – on "chemistry" and the artificiality of ingredients in the composition.
In fact, it is important to choose the right food. The premium group, this product produced exclusively from meat and fish meal with the addition of flour, vegetables and grains - food that is no "crime" in itself do not carry. Remember one fact: they are sold in specialty stores, and feed present on the shelves of supermarkets and hypermarkets, Scottish-foldem better not to give.
Make a correct diet, if you're going to feed your cat homemade food. Remember that this breed of cat are big boned and quite muscular, and therefore in need of increased consumption of protein and calcium. And another important tip for those who decide to feed the Scottish fold home-made food. "Home" is not a synonym of the expression "food from your table. The cat will have to cook separately because many "human" foods to him undesirable.
Optimum for cats is white chicken meat, which should be boiled about 10-15 minutes after boiling in water without salt. If you want to feed the Scottish fold raw beef or beef liver – you can use them only pre-freezing, and then ottaw. However, cook better, of course, fresh meat. As a side dish well suited porridge from sprouted grains.
It's a grain, but with green sprouts and fresh, well give Scottish-foldem as a vitamin Supplement (it helps the conclusion of swallowed hair). Times a day, cats should be fed milk products – fresh, natural and without fruit or sweet toppings. But the fish and milk from their diet should be completely excluded.