Instruction
Decide why you take the kitten. According to the international classification Scottish fold can be a PET class (Pets, usually sold with a mandatory castration, in exhibitions do not participate), BREED class (for breeding and participation in exhibitions) and SHOW-class (with a rich pedigree, parents Champions). The run prices of kittens of different categories is large and can vary within a few tens of thousands of rubles.
Choose the future pet only breeders, even if you're going to take a kitten is not for show, but for themselves. Even if you are a beginner in the breeding of pedigree animals, do not buy a kitten from the hands of the "bird market". Better look for ads in Newspapers or the Internet and then personally visit the retailer. Note the appearance of a cat-mother, feel free to ask questions on the content of Scottish fold cats, nutrition. Ask to see photos of cat-producer, if he doesn't live in the same house. So you will be able to determine the purity of the breed and to imagine what will become of your pet when you're older.
Inspect the vending kitten on the subject of the purity of the breed. The classic purebred Scottish fold from birth should be tiny, tight to the skull ears, long tail, big round eyes, thick body. Do not take a kitten younger than six weeks, if he's still not accustomed to the tray and kittens are not vaccinated or has not passed a deworming (treatment of parasites).
Pay attention to the behavior of a kitten in a familiar environment. Health and development of the Scottish fold should have mobility and playful, be curious and not to digitise strangers. With proper care, the animal hair will be shiny and smooth, eyes and ears clean and their stomach by touching it, without blistering. Cheerleaders, if you've selected Scot comes rare the smell of urine: a sign of bad care and as a consequence, the untidiness of cat.
Focus on your own preferences when choosing the color of the Scottish fold. Today, animals of this breed can boast a variety of colors, ranging from red marble and finishing smoky spotted. But keep in mind that the final period perelini kittens of this breed ends only to four months (not at all). Therefore, to predict what will be grown Scot, is problematic even for professional breeders.
Advice 2 : How to choose a lop-eared kitten
Cats never cease to amaze and delight with its diversity. Very fine choice: it's a
Scottish
fold - Scottish fold kitten. Cats of this breed is characterized by unusual appearance: drooping ears give the cat's muzzle touching and expressive form. What you need to consider when choosing a kitten of this breed?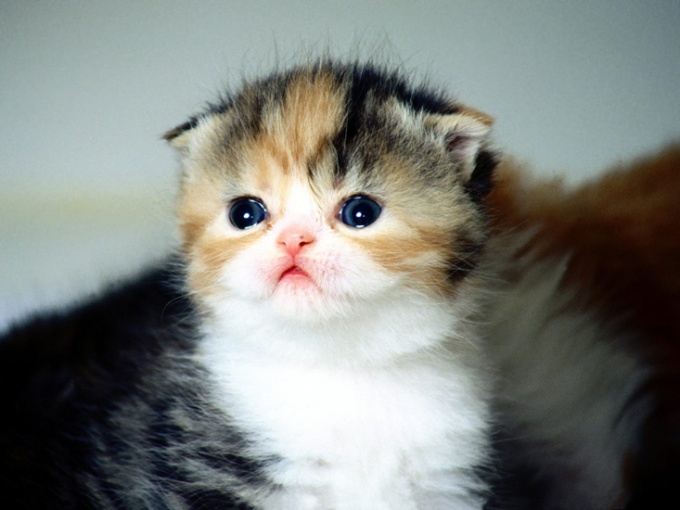 Instruction
The older Scottish kitten, the more chances you have to appreciate it, especially if you choose a future producer. At the age of 1-2. 5 months - all kittens are heartwarming and charming, and assess their strengths and weaknesses is extremely difficult. But the feline teenager at the age of 3 months could be a worthy subject for study. After 3 months, the kittens lose infant charm, stretch, and possible shortcomings are especially apparent.
The perfect Scottish kitten to be a fat chubby face with wide-set eyes. As for the body, the fold "Scot" is distinguished by a broad chest, strong legs, thick and not too long tail. Coat the Scottish fold cats are dense and short. And, of course, a kitten should have a little drooping ears. Remember that ears, the kitten may eventually rise, but to sink - in any case.
Check the spout Scottish fold hump. Visually it is difficult to determine - at a young age spout with a future hump just looks shorter. But this may be done by swiping your finger across the nose of the kitten from forehead to nostrils. If the hump is not expected, you will experience a completely smooth surface. Palpate the tail to check if there are knots and creases. Note the teeth: correct bite should be scissors.
However, if you want to take a kitten as an ordinary family pet and do not plan to participate in exhibitions, you may take any you liked baby around the age of 2 months.
Not to mention all the hallmarks of a healthy kitten. It's clean, dense, thick and shiny coat, bright eyes without discharge. Do not hesitate to look the kitten in the ears and under the tail, to check whether there is inflammation of the mucous membranes, contamination. Note also on the tummy of the baby: it needs to be soft, even if the kitten has recently eaten. Tight and taut belly can be a sign of worm infestation. A healthy kitten is active and playful, curious reacts to everything that happens around.
Note
Do not skimp on the cost of the kitten, if you want to buy a decent exhibition or breeding animal. With decent and good breeder of a purebred kitten, it makes no sense to bargain, trying to persuade to reduce the price. If you are already beginning to offer discounts, it makes sense to be wary: perhaps this kitten has hidden flaws.
Useful advice
There are cases that have Scottish kittens ears rise a little from the heat, so try to do your selection in the cooler seasons, for example, in the fall.