Instruction
Meat and meat products. Raw frozen beef pour over boiling water before feeding. You need to give at least 30 g per day and no more than 500-1000 grams. Boiled chicken breast is allowed to give every day.
Offal (
liver
, heart, lungs, kidneys). Let us only frozen and boiled. Note that the liver can change the coat color kittens white yellowish, it is not recommended to give it in large quantity. All the meat given to the cat raw, primarette in the freezer and pour over boiling water just before feeding.
Chicken egg yolk in cooked or raw form can be given 1-2 times a week. Quail eggs better to feed raw along with protein.
Milk and dairy products. Kittens can make liquid milk porridge. Dairy products try to offer yogurt, cheese, not sour curd can be mixed with cream or chicken egg yolk, giving 3-4 times a week.
Vegetables and fruits let in cheese and in boiled form mixed with meat, in the proportion of 1 part vegetables to 2 parts meat. This will help prevent constipation in your kitty. Same goes for rice. For this cooked meat mix with rice in a ratio of 1 part rice to 2 parts meat.
Water water purified and preferably raw, in any case, not mineral. Clean fresh water should always be freely available for the kitten.
Siamese cats in any case it is impossible to give a number of products: bones of chicken, fish, pork, poultry (except chicken and Turkey). Fatty, spicy, salty, smoked, fried foods. Sausage and canned food intended for people. Sugar, chocolate, candy, cakes and all sweets. Chocolate can even cause death of the animal. Potatoes, beans, salt, spices. Medicines, including vitamins, designed for people. Many medicines safe for humans, may cause severe disorders and even death of the cats.
Note
If you decide to feed your kitten ready food, choose food in accordance with his age. No need to use food of different manufacturers. Select food of the same brand.
Useful advice
Food must be served warm, but not hot. Up to two months Siamese kittens feed on their mother's milk. Therefore it is not recommended to wean a kitten from a cat until they reach 2-2.5 months.
Advice 2 : How to care for Siamese kittens
Breed Siamese cats were bred in Thailand (Siam) and was considered one of the most expensive gifts among kings and nobles. In our days, Siamese kittens can have everyone who loves blue-eyed grace and constant meowing.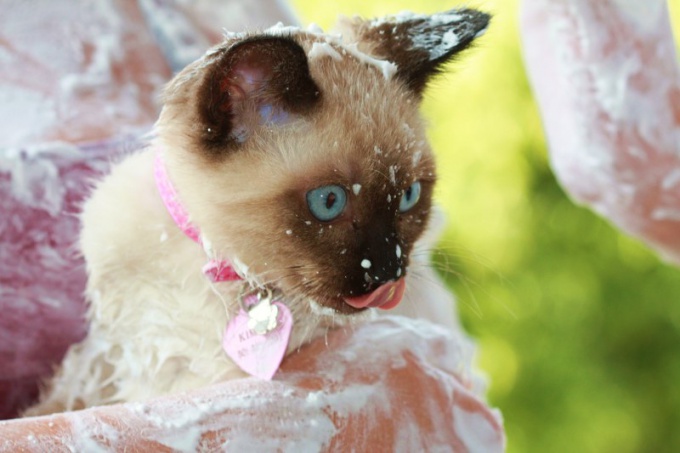 Instruction
Do not take a kitten from the mother if he had not yet turned 1.5 months. Moving entails stress for a kitten of any breed. Therefore a normal reaction of the baby during housewarming is to hide under the bed or the bathroom. Do not trick him, and just leave next to the bird feeder, a water bowl with clean water and a tray. Try not to make noise, the baby realized that he was safe. After a few hours the appetite and the curiosity will prevail, and kitten leave the shelter.
Representatives of this breed differ not only by curiosity, and a strong temperament. They love to play, quickly become attached to all family members, including children. From an early age Siamese kittens begin to ask for attention almost constantly meowing. Thus, the pet tells you it wants to play or asks for food. Don't ignore it, it is possible that he might retaliate.
Siamese cats are a long-lived (living on average 14-16 years), have a good health by nature. For the maintenance of tone and a constant source of energy they need a balanced diet. Composition and diet of discuss in advance with the breeder and vet. Remember that not all food from your table useful for Siamese kittens. In any case do not let them fried, fatty, sweet and spicy.
Siamese cats are short-haired breeds, so caring for their coat is minimal. Bathe kittens only as needed, for example, if there were fleas. Kittens and even adult cat visivite at least 1 time a week. As regrowth of the cut claws. Accustom the animal to this procedure from an early age. Sit him on his knee, gently push down on the cushion of the feet and shear at 1-2 mm from each claw, stroking and soothing the kitten.
Be sure to put or fasten to the wall with a scratching post. They may need a few, like Siamese kittens are very energetic, love to climb, to climb up. For this reason, in the first months of life keep the kitten away from balcony railings, air vents without mesh, wires. In any case do not allow to play with small shiny items: jewelry, caps, buttons, tinsel. Let the kitten be your toy. Representatives of this breed will appreciate the fish-rods, and feather toys.