Instruction
On the eve of his day of birth warn your colleagues. Perhaps it will be e-mailing with a reminder. At the prompt enter the time and format of the upcoming celebration. Your colleagues also need to prepare for the holiday.
Planning the celebration of the day of birth, remember that for the tea party suit dinner time. Feast with champagne, wine and other beverages will be perfect in the end of the day, and even better at the end of the week – Friday.
If you are a great cook, then by all means you will want very tasty to feed their colleagues. At work will appreciate your culinary skills. In a relaxed atmosphere will be an occasion to exchange recipes.
Making a menu, consider the tastes and preferences of your employees. In addition to alcoholic beverages be sure to include a variety of beverages: juice, mineral water, tea, coffee.
Prepare the sandwiches. They will fit a baton or white bread. Fillings for sandwiches may be completely different, depends on your imagination. For fish stuffing – mix one jar of canned fish in oil with onions, pickles and boiled egg. Season with mayonnaise. For mushrooms – chopped fried mushrooms with onion and mix with grated cheese and olives. Black olives pre-cut into rings.
Buy salad tartlets. This is a special of the puff pastry, which is very convenient to take with hands. Fill them with any salad.
Very stylish will look appetizer skewers. Strung on skewers can be products in any sequence. For example, a cube of ham, black olives pitted, red peppers, cheese.
It's hard to imagine your holiday table without a cake. He will be a worthy decoration of your celebration.
Invited staff members should not ignore such events. My colleague definitely need to be congratulated. Don't forget a gift for the honoree. Birthday is such a nice gesture. Usually in groups prepare a gift together. Personal gifts are presented separately.
Your greetings should not contain obscure jokes, double-entendres and innuendo. Take part in a conversation with neighbors on the table. Drink alcohol in moderation, not forgetting that it's your work team, but not close friends.
After the celebration, thank the birthday child and help him clean the plates and Cutlery from the table. Clean up after themselves if you leave before the others.
Take a picture of bright and cheerful moments of celebration of day of birth on work.
Note
Whatever resulted the celebration of your birthday, after all it is a working day! Note that you can have a look on the "light". Someone behind the wall would be to finish an urgent report or to reduce the debit with credit, and your loud songs and laughter can hinder the work of colleagues.
Useful advice
An ordinary employee, it is customary to congratulate closest colleagues, direct superior and those with whom he interacts regularly at work. To give a gift "from himself" is not necessarily to ignore birthday – rude. Employees from other departments to congratulate at will, but you should think about the souvenir, if you want to join the buffet. If this is your first birthday in a new place, ask the old-timers made it possible to treat a colleague, when (at lunch, after work) and what those involved in training.
Advice 2 : How to celebrate a birthday in the office
You are preparing to celebrate the day of birth and look forward to meeting with friends in cafes, home gatherings with family and a romantic evening for two? But what about colleagues at work? They, too, want to congratulate you. Don't be fooled by their expectations – be sure to plan a small celebration in the office.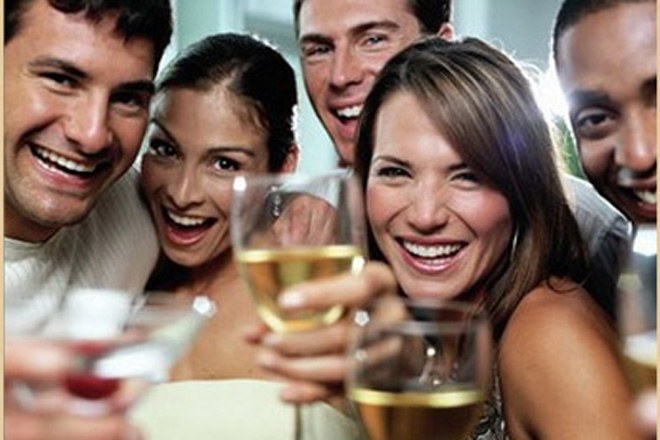 Instruction
Each office has its own rules the celebration of commemorative dates – sometimes tacit and sometimes documented. If you are a beginner, be sure to ask them. It is allowed to gather directly in the workplace or is it better to organize a celebration in the dining room? As the company management applies to alcohol? And how much is customary to spend the holiday table for colleagues? Taking into account all these issues, you will avoid embarrassing gaffes.
Of course, the main "working" birthday festive table. Menu depends on the composition of the invitees. If your team is dominated by girls, stock up on fruit and ice cream. Ladies elegant age prefer cakes and sandwiches with delicious fish. Well, men need meat - at least in the same sandwiches.
Large us pehom in offices uses and homemade eatables – pickles and tomatoes, homemade cakes and biscuits. If you have the ability to treat colleagues such delicacies, do not miss it.
Don't serve too rich – this may be considered inappropriate bragging. If in your office there is no ban on alcohol, buy a couple bottles of wine, white and red. Do not interfere, and a bottle of spirits to use in cocktails. This set is enough for 10 people.
Stock up on paper napkins and towels, and a set of wooden skewers or toothpicks. Purchase paper plates and cups. If you are not satisfied with disposable utensils, buy a couple sets of inexpensive wine glasses – your coworkers will appreciate your contribution to the decoration of office life.
Take care of the musical accompaniment. Background music will add style conservative party. You may even be able to dance. However, please refrain from singing in the office is not accepted.
Please note that if your company accepted the congratulations in the morning or in the afternoon, they should not take more than 40 minutes. If you plan to gather after work, to stay longer. But do not forget that you are in the office. Wishing to continue the feast is to move to the nearest cafe or in the morning your mood may be overshadowed by the showdown with management. Remember – for your holiday are responsible it is you.
Useful advice
You don't have to invite to your celebration of all colleagues. However, keep in mind that even at a private party in one of the rooms they may look. Be prepared to meet them and treat.
Advice 3 : Than to treat a colleague
If you have a birthday, the wedding, the child was born, then colleagues will want to present a gift. In response, set the table and treat them with delicious dishes. You can cook them in haste right in the office or brought from home.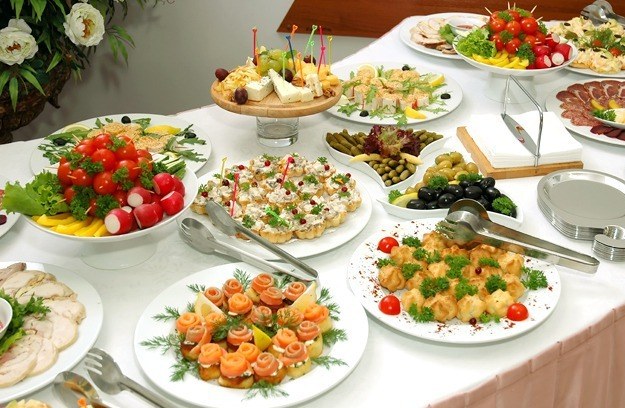 Instruction
If the workplace is not possible to make from brought ingredients, then cook them at home. You can treat a colleague with a meat, berry or fruit pies, cake "Napoleon". All this you will quickly make at home from ready-made frozen puff pastry.
Thaw 2 packages, then expand the dough. It lies in the shape of a rectangle. Slightly roll it to each layer cut in half and it would have happened in each pack for 2 square. Prick them with a fork in two or three places, put on a baking sheet and pop them into the oven which is already preheated to 180oC. Here they will be baked on low heat until Golden brown.
At this time, prepare cream. His recipe is very simple. First take 300 grams of butter from the fridge to lie down for it in a bowl on the table and bought a kitchen temperature. Now pour in a can of condensed milk and carefully whisk in the cream. If you have 100 grams of nuts, then grind them in a coffee grinder or food processor and add the cream.
When the dough has finished baking and completely cooled, take a plate of suitable diameter, cut out 4 rounds. On each spread a layer of cream and assemble the pie top. The remaining part of the baked cakes, chop them and garnish the top and sides of cake.
For cooking pies roll out not thin layer of puff pastry, cut it into small squares. Put sliced apples, nectarines or cherries, pitted, sprinkle half a teaspoon of sugar and roll each Patty in the shape of a triangle. For another piece of puff pastry, prepare the filling of boiled meat and fried onions. Grease pies egg and bake until Browning.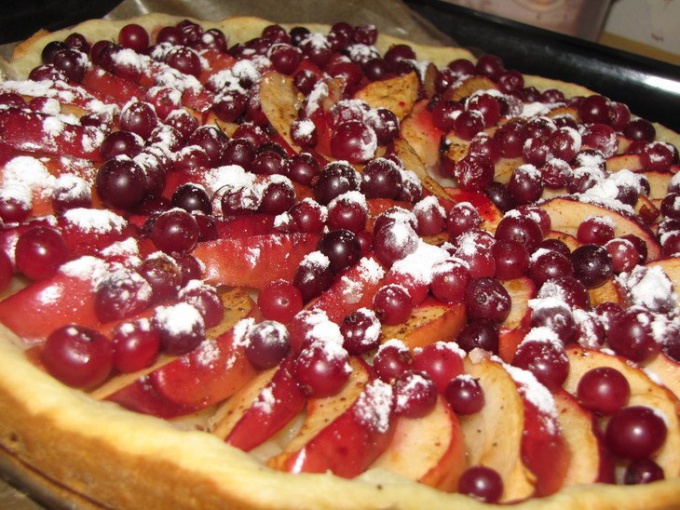 Nafarshiruyte chicken boiled steamed rice and bake it in the oven in the roaster. 15 minutes before end of cooking grease with mayonnaise and depakite no longer under cover. Cut-out paper curlers and put on chicken feet. Two or three salads, juices, meat and fish cutting, and was smart Desk for colleagues.
If you have the opportunity to intercede, mixing brought from home products, treat colleagues tartlets. Buy ready-made tartlets and nafarshiruyte any salad, cooked at home or in the office. You can put in each caviar, and decorate the top with rosettes of frozen butter. To do this, remove a narrow strip, which itself is wrapped in a spiral.
If you bought a salmon, cut into thin strips 200 grams – this is decoration. Chop 3 boiled eggs and 12 crab sticks, add mayonnaise and mix ingredients. Stuff that salad 30 tartlets and garnish with strips of salmon, laid out in the shape of a flower.
You can treat your colleagues with rolls of pita, but for a long time can not be stored as flour-based because moisture eventually fall apart. So cook them just before dinner. Canapés with cheese, ham and cucumber is also helpful.
You can order or make at home sushi rolls and bring them to work. In summer, try to surprise your colleagues with a basket carved from a watermelon into which you put fresh berries and fruit pieces.