Instruction
To celebrate birthday economically, you need to have at least some financial budget. Proceeding from it and from their own wishes, think of how many people you would like to see at the festival. Then recall their eating habits to be acceptable to all menu. If you want to celebrate a birthday at home, there should be a minimum of three dishes: an appetizer (usually a light salad), main course and a dessert, which is normally the cake.
If the budget is tight, and on the street wonderful weather, buy sausages, some vegetables and bread for sandwiches, with whom you can arrange a picnic. Bring warm bedding and some blankets to cover them invited, if it becomes cool. We'll just tell the guests about the idea of the walk in advance, because it is likely that someone may not be ready to leave the city.
Not to wrestle with the variety of drinks, invite each of them to bring a bottle of their favorite wine, etc. And not to put friends in an awkward position, ask for a symbolic gift that would not be burdensome for their wallets (greeting poster, shared bouquet of flowers, a souvenir, a song or a poem, etc.). However, this option is acceptable only if all your guests are old friends.
To make the holiday memorable for a long time and will not turn in the normal absorption of food, in advance take care of the entertainment. Create 4-6 games that would require the least financial cost to the details. Due to the special brochures that you can find in any bookstore, and search online, you will easily be able to make a program of entertainment for the evening. Self-organization of the holiday will allow you to spend your birthday the way you want, and save the money you would spend on the invitation of professional Toastmasters.
Advice 2 : Inexpensive how to celebrate a birthday
The cheapest way to celebrate your
birthday
– not to invite anybody. But if it is too radical, just think carefully about what expenses you have, cross out the excess and focus on what you can realistically draw.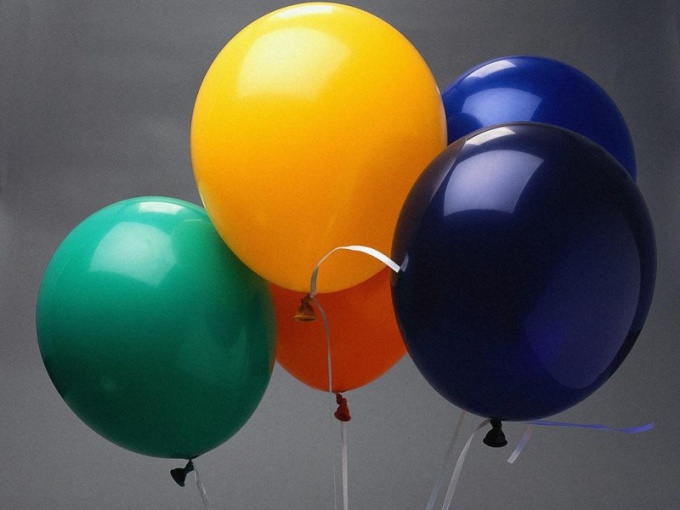 Instruction
Invite guests to the apartment or the cottage, so you will avoid the costs associated with the lease of restaurant or café.
Plan a festive menu. If you are celebrating a birthday in the country, the best option is kebabs and fresh vegetables. The house is perfect pickles, roast meat, potatoes in any form. If among your relatives there are fans to do homework, ask them to allocate for the event several jars of pickles, tomatoes, mushrooms and pepper.
Consider where to buy foods and drinks. Because alcohol is the main expense of any holiday, then visit the retail stores, this will save up to 40% of the cost. Find out if there are any shops in the city stock when you can buy two products for the price of one. With regard to the purchase of meat and delicacies, choose a reliable manufacturer that the celebration is not over in the infectious disease Department. Find out beforehand who invited adheres to vegetarianism to not buy extra.
Prepare basic meals. For example, it is not necessary to order a pizza house, it can be prepared and not very experienced in cooking, people, and savings of up to 60%. If you do not have the skills of cooking, attract someone from friends.
Decorate the room with what you have. You can hang on the walls of your collection of fan scarves or dotting on the shelves of containers with wildflowers. If you wish, you can buy balloons, they are not so expensive.
If you wish to celebrate
a birthday in
a café, study offer various coupon sites. You may be able to find a suitable institution, offering a substantial discount, the savings in respect of such share can be up to 70%. It is important, however, to clarify, what number of guests can be catered for coupon to apply discount on alcoholic beverages, and the hours can take advantage of the offer.
Advice 3 : How to celebrate birthday at home
If you decide
to celebrate the birthday
at home, you have to take care of the many details that relate to the design of your home and the holiday table, beverages, and entertainment so that your guests do not get bored on holiday. Invite guests by phone, however, nicer will receive a personalized invitation to the celebration, which will be written by your hand.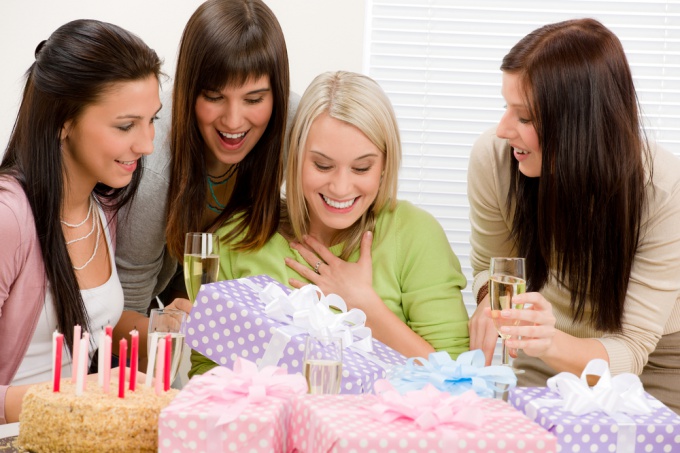 Decorating your house and sending out all the invitations, you can now think about the format of your festive evening. It is better to celebrate birthday at home in the buffet or cocktail parties. This evening will allow your invited guests to feel more freely and without much hesitation to move around the house. You must prepare delicious snacks and sweet treats. Most important there was no shortage of alcoholic beverages and ice. On any festive evening, and the celebration is never too much.

To celebrate the birthday at home and not get out of the way, it is better to put on a festive table with disposable dishes. After all, the question of washing dishes on this special day won't bother you. During the celebration you or your family should have to go through the apartment and collect the empty cups, bottles, plates to your party constantly was clean.

Decorations for an apartment in a birthday suit a variety. No need to think that the colored ribbons, balloons and garlands for holiday decoration thing of the past. They are relevant at any time and at any event. Bright and beautiful birthday enhances the mood of all guests. In the colorful atmosphere of festive parties and fun guests, your holiday will become even nicer and brighter.

Is ready in advance to the selection of music that will sound at a birthday party. You need to think about whom you invited to the party what your guests preferences in musical direction. It is better to organize music mix that includes all kinds of music that will appeal to every guest.

To open the gifts before all the guests. No need to compare them. Always equally bright to Express the happy emotions during the presentation of all gifts. Not worth it to clearly indicate your preference regarding any of the gifts, this may offend your guests.

Following all the advice, your birthday definitely will be a success. The most important thing - you should always smile, the mood of the birthday child will depend on the occasion.


Advice 4 : How to spend a birthday outdoors
When the summer comes, want to spend more time in nature. A good idea to celebrate the day of birth in the fresh air. Children and adults will be happy to have some fun on the grass, and holiday treats are especially tasty.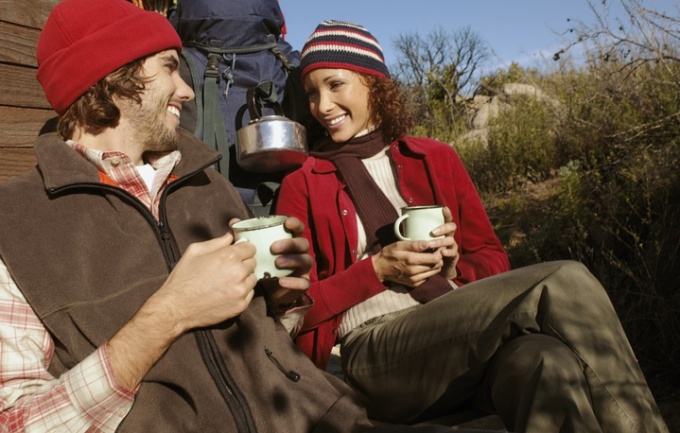 Instruction
First of all, you need to determine the transport and, respectively, with a number of things. If you plan to drive overnight, you will need tents, blankets, personal hygiene items and other useful things. For small day outings you can take only mats or folding chairs and a few blankets in case of sudden chill. Be sure to make enough disposable utensils and napkins and tablecloths.
The perfect treat for nature is the barbecue. It is possible to take vegetables, greens, light sandwiches and your favorite snacks. Don't forget about drinking water and juice, because in the heat so thirsty. Children can eat dry biscuits or dried fruit. Do not take candy: they can melt into the sun and also make us thirsty.
Stay on nature implies a large number of competitions and games. If you take a ball or badminton, to miss this day do not have to. You can organize team games or theatrical performances. It all depends on the preferences of your company. Be sure to prepare small prizes, because to win like everything.
Try to limit your intake of alcoholic beverages - the heat is not conducive to plentiful libations. Better to limit weak wine and water. Have fun is possible without alcohol. Closer to the evening you can enjoy singing with guitar accompaniment and without it. And no matter how well you sing, in the forest and no words to say.
Before leaving, collect all trash in trash bags and take them with you. Along the way throw them in the nearest trash. Leave your footprints at least impolite to other tourists. Spend the day of birth in nature with benefit to themselves and without harm to the environment and don't forget to take pictures. And then this holiday will long remain in your memory as the most fun day of the year.
Note
Birthday nature is a special form of recreation that has a number of significant advantages. It allows you to not waste precious time on cooking traditional treats. For celebrating birthday outdoors will need to stock up on gear for the woods; equipment for barbecue; props for competitions, prizes and music.
Useful advice
There are many options for desserts, but for a birthday outdoors, you can make a cake from sweet corn sticks with condensed milk or biscuits (wafer rolls) with the same condensed milk and don't forget about fruits. Entertainment for guests. Before leaving the city, the gathering place of the entire company need to congratulate a newborn, and stress the importance of this day, at the same time giving guests a festive mood.
Advice 5 : How to make a menu for a picnic for 20 people
In good and warm weather, it is best to get out into nature. And it's not boring, you can have a picnic, inviting family and good friends. For a large company you should carefully consider the menu, so no one is left hungry and at the same time not have to throw away the remains of food.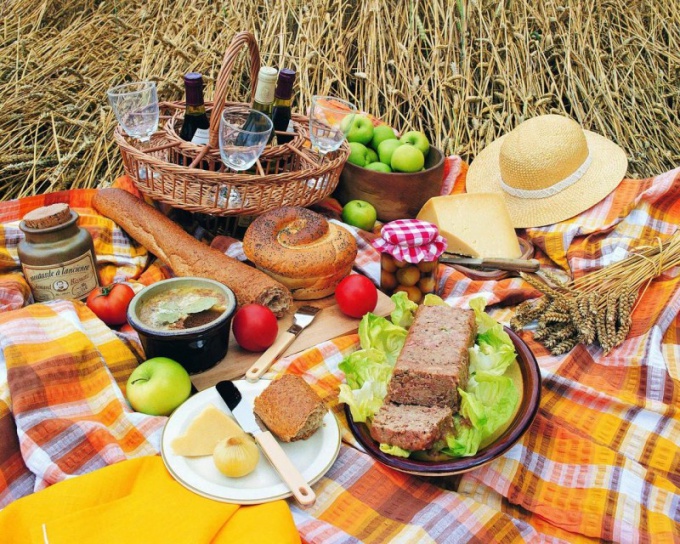 What products you can take with you on a picnic


To feed the full 20 people without any extra effort, it is best to stock up on meat or a variety of meat products: sausages, homemade sausage, sausage links or specatcle. They can be fried at the stake – will be a very tasty, quickly and simply. Meat is pre-marinated. Based on the fact that a grown man is unlikely to be mastered for the entire day, more than 1 kg of food, including vegetables and breads, meat will be enough for 500 g each. But if you will have a range of hearty snacks, the amount can be reduced to 300 g.

In addition to meat products, you should be fresh vegetables in season. Best nature differ cucumbers, tomatoes and radishes. You can also grab some pepper. Well as a side dish will fit the potatoes or mushrooms you can prepare in advance, bake in the ashes, wrapped in foil, or grill on skewers. One person should get at least 150 g of each of the listed products.

In addition, you can bring hard boiled eggs, at least 1 thing for each person, 300-500 g of fat, a little salt and plenty of fresh herbs: dill, cilantro, green onions and parsley. Also should take care of the bread for 20 people is better to take 4 rolls, especially if the company will be a lot of men. You can additionally take a baguette and use it for sandwiches with pate or cheese. And if instead of the planned barbecue nipples is grab for each bun – then we can cook hot dogs.

I should take care of the sauces for meat and meat dishes. It is better to take a couple of bottles of your favorite ketchup and 1 jar of white sauce. You can also grab a bottle of plum sauce or hot Tabasco.

As a dessert better suited to a variety of fresh fruits, hard cookies or pre-baked pie. The last food all ought to buy him a piece. But cakes, chocolate candies or fancy cakes is better for a picnic not to take, especially in hot weather.


What kind of drinks you need to take on a picnic


Care should be taken to a simple drinking water – 1 liter per person. The majority of water bottles have to be without gas, especially if the picnic will be small children. 20 people should also take 5-6 liters of juice or compote. If the picnic will be in cooler weather, use a hot tea or coffee should pour in a thermos in advance. Well, the number and variety of alcoholic drinks depends on the preferences of the parties a picnic, so it's worth to ask them.
Advice 6 : Inexpensive how to celebrate a birthday
The most important day of the year for his birthday. This holiday you accept congratulations from friends and relatives and throw a party in honor of himself. But what if your financial situation leaves much to be desired? Even with the minimal amount of money, you can make this holiday a lot of fun.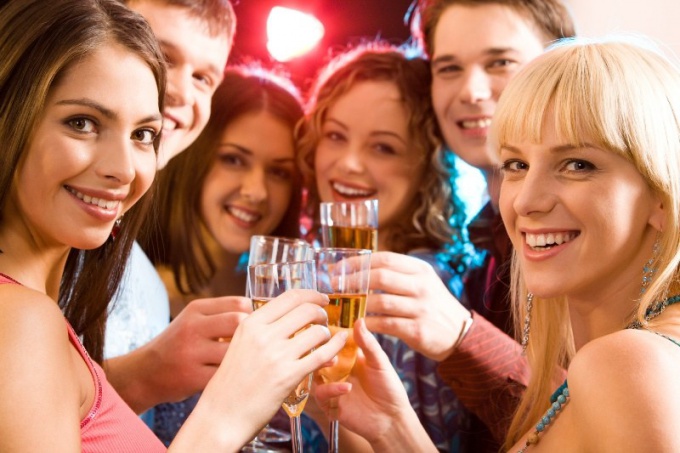 You will need
- sausages or meat for a barbecue;
- disposable tableware;
- beverages
- table games.
Instruction
Mark the name-day in nature. This holiday is ideal for those who are not planning to spend a lot of money to organize the event. The only thing you will have to spend a significant amount of meat, if you want to barbecue. But in this case, you can save, roast on the fire sausages. Camping is available not only to those born in the warmer time of the year. In winter you can also go to the recreation center.
Think carefully about your spending. Create a menu and describe what products you will need. Try to buy food not on the eve of the birthday, and at least a week before. Thus, you can go shopping and choose the one in which prices are lower. The same applies to alcohol. Beforehand check invited what drinks they prefer. So you save yourself from unnecessary spending.
Use disposable dishes. One of the important advantages of celebrating outdoors is that you don't have to do the cleaning at home and washing dishes. Disposable plates, forks and glasses is not expensive, but will save you from unnecessary worries.
Ask friends for help. Real friends will understand your difficult financial situation and will gladly come to help in the organization of the event. Let it be their gift to you on your birthday. Do not have to ask the comrades of financial aid, if you are uncomfortable doing it. You can contact them with a request to prepare some dish for the holiday table.
Consider the program of your celebration. Would not be very interesting, if you'll just fry the sausages over a campfire. If the experience in organizing events you have not, do not worry. You will find a variety of table games, which will amuse any company. Play "Mafia" or "the Crocodile" - these games are loved by everyone and enjoyed great success on friendly. Be of good cheer, rejoice in your feast, because the amount of money is always different, and socializing with friends can not be measured with any cuts.