Instruction
If the workplace is not possible to make from brought ingredients, then cook them at home. You can treat a colleague with a meat, berry or fruit pies, cake "Napoleon". All this you will quickly make at home from ready-made frozen puff pastry.
Thaw 2 packages, then expand the dough. It lies in the shape of a rectangle. Slightly roll it to each layer cut in half and it would have happened in each pack for 2 square. Prick them with a fork in two or three places, put on a baking sheet and pop them into the oven which is already preheated to 180oC. Here they will be baked on low heat until Golden brown.
At this time, prepare cream. His recipe is very simple. First take 300 grams of butter from the fridge to lie down for it in a bowl on the table and bought a kitchen temperature. Now pour in a can of condensed milk and carefully whisk in the cream. If you have 100 grams of nuts, then grind them in a coffee grinder or food processor and add the cream.
When the dough has finished baking and completely cooled, take a plate of suitable diameter, cut out 4 rounds. On each spread a layer of cream and assemble the pie top. The remaining part of the baked cakes, chop them and garnish the top and sides of cake.
For cooking pies roll out not thin layer of puff pastry, cut it into small squares. Put sliced apples, nectarines or cherries, pitted, sprinkle half a teaspoon of sugar and roll each Patty in the shape of a triangle. For another piece of puff pastry, prepare the filling of boiled meat and fried onions. Grease pies egg and bake until Browning.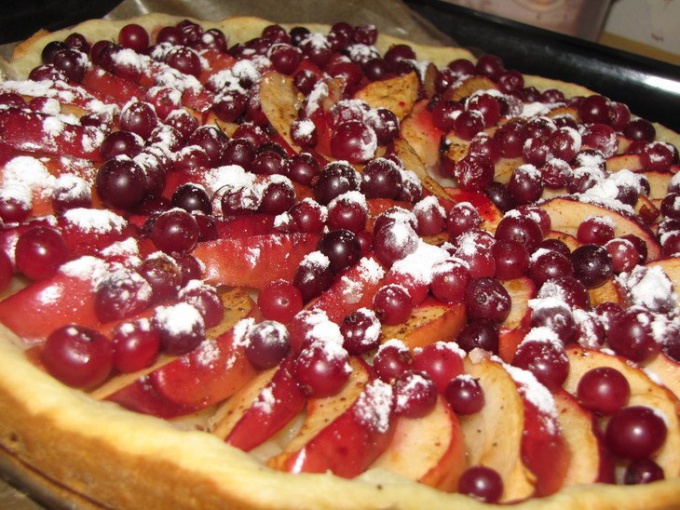 Nafarshiruyte chicken boiled steamed rice and bake it in the oven in the roaster. 15 minutes before end of cooking grease with mayonnaise and depakite no longer under cover. Cut-out paper curlers and put on chicken feet. Two or three salads, juices, meat and fish cutting, and was smart Desk for colleagues.
If you have the opportunity to intercede, mixing brought from home products, treat colleagues tartlets. Buy ready-made tartlets and nafarshiruyte any salad, cooked at home or in the office. You can put in each caviar, and decorate the top with rosettes of frozen butter. To do this, remove a narrow strip, which itself is wrapped in a spiral.
If you bought a salmon, cut into thin strips 200 grams – this is decoration. Chop 3 boiled eggs and 12 crab sticks, add mayonnaise and mix ingredients. Stuff that salad 30 tartlets and garnish with strips of salmon, laid out in the shape of a flower.
You can treat your colleagues with rolls of pita, but for a long time can not be stored as flour-based because moisture eventually fall apart. So cook them just before dinner. Canapés with cheese, ham and cucumber is also helpful.
You can order or make at home sushi rolls and bring them to work. In summer, try to surprise your colleagues with a basket carved from a watermelon into which you put fresh berries and fruit pieces.