Instruction
Denim fabric sits in the wash in hot water. Pour the boiled water into the deep pelvis and lower the jeans for 10-15 minutes, do not add the powder, otherwise the color will fade. While the jeans soak in the boiling water, prepare a bowl of cold water. Quickly remove the pants from boiling water and place in cold water for a few minutes. Then press the thing and dry it out. Typically, the material is very wrinkled and ironed denim effortlessly turn on steam on the iron. Can try on jeans and to evaluate the result, the important thing is not to overdo it, otherwise you just can't wear the thing.
When you need to reduce the size of jeans, for example, after weight loss, the hot water obviously will not help. Decide the desired size and make a mark on the inside of the jeans. Factory welds until asprivate – it can be done later. Sew the marked spot on the sewing machine, better make a double stitch, then dismiss the factory seams. Treat overlook edge of the material so that they are not fluffed up. Wash the pants in warm water and can begin to wear. This method can not only to take in the pants, but also to correct problem areas to the hem in a certain place.
If you are sewing a total stranger, and wash them in hot water I'm afraid - please contact any sewing Studio. You will reduce the size to required, though the work will be done efficiently and professionally. To achieve the same result at home very difficult, because denim fabric is thick and its hard to sew on the machine without skills. But if you are with a sewing machine to "you", it means that you should be able without the help of professionals.
Useful advice
Do not rush to reduce jeans in your size, especially if you recently bought them. Over time they can shrink and without the use of additional methods.
Advice 2 : How to make narrower the jeans
The most versatile piece of clothing today
jeans
. Originally,
jeans
were sewn straight cut, with rough dressing and large front and back pockets. But after this thing has become a mass phenomenon, what form
jeans
just not accepted, and bananas, and pipes, and flared, and tapered. Dwell on the past.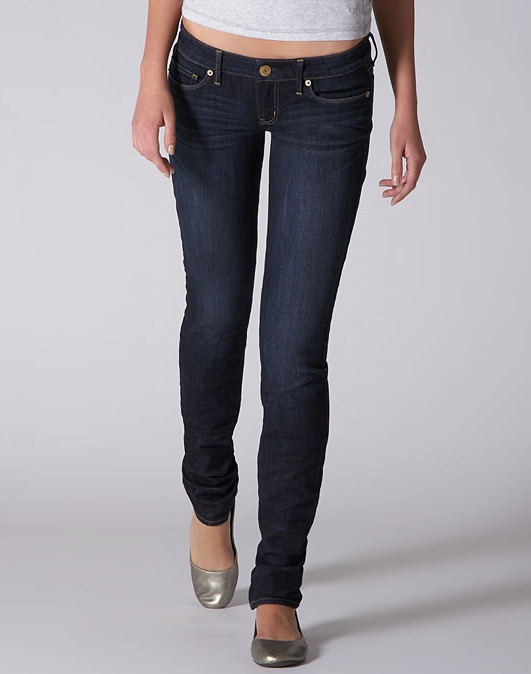 Instruction
Today it is difficult to find someone who would not have had in your closet skinny jeans are tight. This is especially true of young women and girls. But it is sometimes quite difficult to find a suitable model of jeans even in expensive boutiques, not to mention those stores that goes to dress up most of us. Too large, not enough narrow, then something else. There is one option – to do things for themselves and to alter jeans on the figure.
The same goes for those who once bought jeans bell bottoms, and now wants to make them a fashionable style. To jeans sat on your leg is, you need to remove unnecessary width.
Strut Boca jeans, and stepper seams. This is necessary in order to avoid bias. If we remove somewhere, everywhere and on slightly.
To correctly rip the seams need to unpick the waist, then dissolve the bottom, to alter, that is, to make narrower to fit the desired width, then sew again the bottom, to fit the waistband and sew back all that spanking.
Advice 3 : How to make jeans one size smaller
Sometimes it so happens that losing weight turns into a few issues with wardrobe. For example, you had your favorite
jeans
. And suddenly they become big. However, if you lost
size
, then there is nothing to worry about. You can enjoy the slender form and further, because there are a few ways that can save your favorite thing.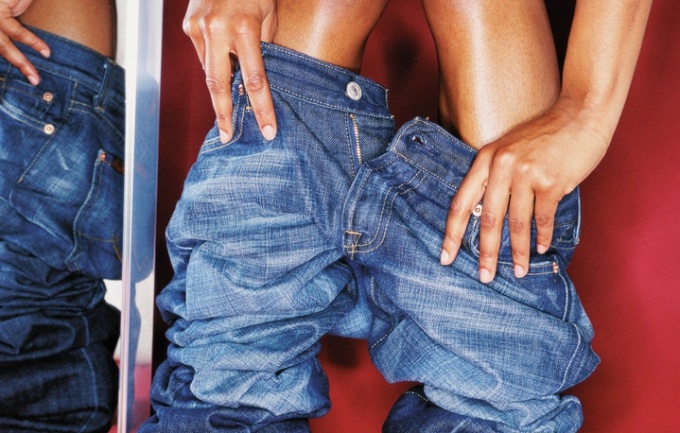 Instruction
The first and easiest is to wash the jeans in hot water. To do this, put them in the washing machine, check the temperature of 95 degrees. After the wash cycle is finished, stop him (before in the car again poured cold water to rinse) and re-run, but without powder or any detergent. After washing, dry the jeans or at a maximum temperature in the drum of the machine, or on a hot radiator or in the steam room of the sauna.
This method has a significant drawback. After a few days socks jeans can again be stretched and return to its original state. So periodically have to wash jeans this way again.
There is also more time-consuming option, but at the same time more effective. It is for those who know how to sew. Jeans can easily take in side or rear seam.
If the jeans you are great in the waist and hips, then take in them have on the sides. This would be easy even for an inexperienced seamstress. Side seams rip, and then say, where a new line and smatyvay thread. Next comes the fitting. If all looks good, then sew the seam again to try and only then cut off all unnecessary.
If jeans are great mainly in the waist, to take them better at the back seam. At first, carefully unpick the back belt loops. After that, the belt is cut strictly in the middle. On each half doing a tuck, which removes excess tissue. The amount of this extra tissue is determined during the fitting. Tuck should not be done too long, otherwise the back pocket will begin to puff up. After the belt is removed all the unnecessary, sew it neatly back to jeans. Belt loops back.
Even one fairly simple way is to pick up the extra fabric in the waist Darts.
Are these Darts along the side seams, so they do not spoil the appearance. This pre-slit finishing stitching the side seams, so it does not interfere. This method is applicable only if the jeans are quite thin - not all home sewing machines can handle multiple layers of fabric.
Useful advice
With these simple ways you can save a decent amount of money. And most importantly – revive favorite things!
Advice 4 : How to narrow jeans
Even expensive and high-quality jeans stretch out during wear, as the denim is made of natural cotton. The only exceptions are jeans stretch that keep their shape well and don't change their size. What do you do if you bought jeans fit, and after some time found that they are great? The answer is simple – you need to narrow jeans.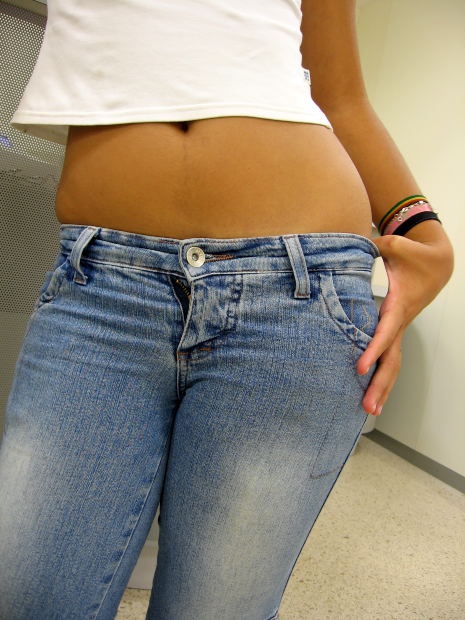 You will need
You will need:
- sewing machine;
- threads;
- needles;
- pins;
centimeter;
- a pair of scissors.
Instruction
The easiest way to narrow down your jeans is to wash them in hot, not lower than 70 degree water. However, the effect of such action would be short-lived: after you walk around in your jeans a few hours, sit down in them a couple of times, they will become wider.
To make jeans more narrow once and for all, just a bit to take in them. This can be done in any Studio, but if you have a sewing machine, and you at least theoretically know how to manage it, try to narrow down your jeans yourself. Pretty easy to take in jeansthat have inseam (walking on the inner part of the thighs) are stitched from the inside. To do this, put on your jeans and see how you need to narrow it. Pull the fabric on the inside seam in the hip area and kill the "tuck" with a pin, not to forget how to take in pants. You can also use centimeters or a ruler and mark on them the desired size.
Remove the jeans, turn them inside out and place on a hard surface on the floor or on the table. Remove the pin, take the thread with a needle and keen seam parallel to the inner seam of the jeans at the desired distance from it. Remove the jeans and try them on, if the size suits you, then go ahead and stitch the new seam on the machine, cut off the excess fabric and make for the edge of the blanket stitch or treat the fabric with a serger.
If the inseam on the jeans decorative, that is quite thick, the fabric is folded several times and stitched two parallel seams, it is not necessary to take in jeans the previous method. To narrow these jeans, you have to strut. Fight back of my pants waistband and strut them on the outer side seams from top to bottom. Cut the excess fabric from both sides again and stitch the leg seam either plain or decorative. Belt you will also have to be reduced. Turn it, fold in half, right sides inside, and make the seam parallel to the fold line. The distance from the seam to the fold line must equal the width you just cut off the extra fabric on each side. This is a more laborious process, but if you do the job carefully and correctly, the result will exceed your expectations.
Note
To take in jeans is a thread of the color that the jeans were stitched originally.
Useful advice
Jeans are not to become suddenly, you are great, buy them tight. Of course, it is not necessary to take absolutely uncomfortable pants that are not fastened at the waist. It is enough if jeans are just a little cramped after a day or two of active wear fabric stretched and they will fit well.
Advice 5 : How to put jeans
With jeans, as with any products made from cotton fabrics, this happens – they can be very stretch. What to do if you bought them quite tight, and after a few months of constant wear got something hanging on the hips and slipping from the waist? Do not despair, there are some proven ways to return the jeans to their original size.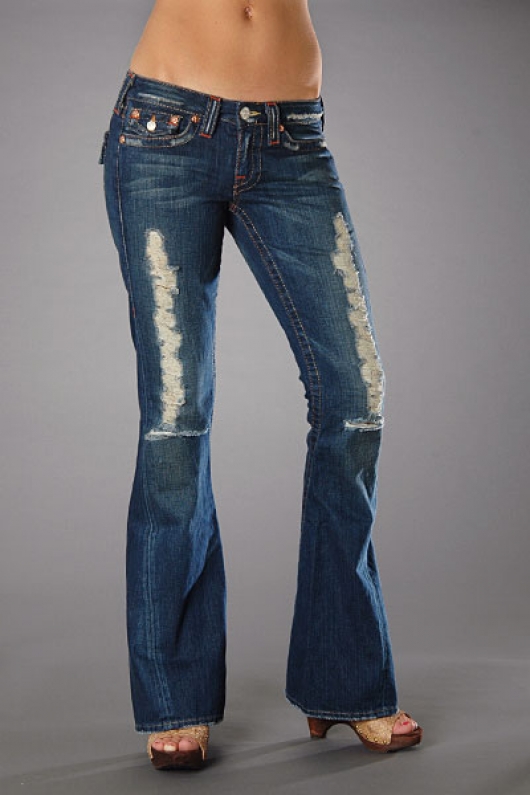 You will need
Jeans, washer, dryer, stove, washing powder, threads, a needle.
Instruction
Wash jeans in the washing machine at high temperature. It is best to use the 90 degrees. However, this method is suitable only for those who have jeans are very highly stretched and their composition cotton 70%. If you have jeans with lycra, such a wash can turn them into panties or absolutely shapeless products strange forms.
There is such a magical thing – the automatic dryer. Now this device is becoming increasingly popular in our country. If even after normal washing, dry the jeans in a machine, their shape will remain for a long time, and the size decreases very much. To buy specially for jeans in the dryer, of course, does not make sense, but if you have it, be sure to use it in order to put them.
Of course, the jeans should be your size. If you make a mistake when buying and become the owner of the pants, which are more several sizes, to fit them to the required volume you hardly succeed. You can, of course, to resort to radical surgery and simply take in jeans at the widest places, but after that their cut and fit will change forever. Try to boil the jeans with a solution of strong detergent in a large pot on the stove. Most likely, after such manipulations they will sit. But be also prepared for the fact that their color may change. If you are ready to wear "varenkov", boiling is better not to get involved.
Note
Look carefully at the length of your jeans before washing at high temperature. If they are not longer than you need to be prepared for the fact that after washing, get a short leg.
Useful advice
Buy jeans which are a bit small. If you take the pants of cotton fabrics, they definitely will soon start to stretch. In case, if the jeans is string stretch, sit they will always be perfect.