Instruction
It is impossible to turn a bike with two asterisks in the sports multi-speed. However, a simple upgrade at home will help improve the speed performance of even the most simple of bike.
Replace the wheel of the bike on easier. Pick a convenient for you lightweight seat. Try not to give up wings. In dry warm weather they are not needed, and the mud and slush you will be able to return the wings into place. These changes will increase the speed of a Bicycle by reducing its weight.
Put in place common contact of the pedal. This will allow you to overclock the bike is not only pressure on the pedal, but pushing the pedal as it moves upward. However, to use these pedals will have to buy special shoes.
The sprocket on the front wheel of the bike try to replace the asterisk with an increased number of teeth and a sprocket of a back sprocket to replace the sprocket with a reduced number of teeth. Usually on a sport bikex forward put the gear on fifty-four prong and back — in thirty-six teeth. When this upgrade is harder to pedal when going uphill, but can increase the speed of the bike.
The diameters of Bicycle wheels vary from 20 inches to 28 inches. Large wheels allow you to increase the speed of the bike, but pedaling will be heavier. In addition, a Bicycle with large wheels are more stable. Large wheels provide better maneuverability, as the wheel can overcome the obstacle of no more than 1/3 of the wheel diameter.
You can go ahead and completely self-assemble a Bicycle, choosing the most suitable to your requirements accessories. It is important to know what bike you want to get a result. Maybe like in the song Dolsky with a triangular wheel from Picasso and van Gogh's provençal bell?
Advice 2: The choice of bike: which is better to choose
The bike is a truly popular vehicle. Almost everything – from small to large, how to drive. But acquiring many a reasonable question arises - what bike is better to choose?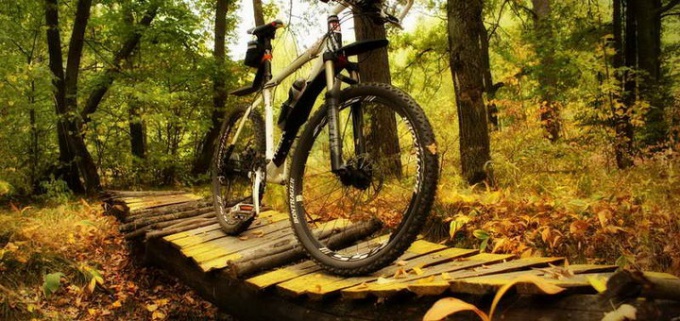 How to choose a bike correctly
To choose a bike you need based on the age, growth, sex of the owner, as well as projected operating conditions. Depending on the purpose of the bikes can be divided into three categories:
mountain bikes – for off-road driving;
city or road bike for short trips on roads with asphalt coating;
road bikes, designed for high-speed driving for long distances on a flat road;
touring bicycles, combining the best of road and mountain bikes;
BMX-bikes – for fans of extreme sports.
What bike is better to choose
What bike to choose for travel in the mountains, in the forest roads, old rough roads with asphalt surface, terrain? It must be a mountain bike. It features a reduced diameter wheel, which greatly increases the maneuverability of the vehicle. The width of the rubber, in contrast, is different from the normal size in a big way. Parameters such wheels are mandatory for the mountain bike.
For traveling long distances with the wind, on a flat road, you should choose a bike category "road". This bike has narrow tires and big wheels and little weight. These features allow you to develop greater speed on a level road. Frame bike made of carbon fiber – lightweight and durable material, hence the small weight of the entire bike. From road bikes are often not provided for mounting to the trunk, so the road will have to get a bag or a backpack.
On paved streets where there may be frequent stops, more comfortable ride on city bike. Simple design and budget price make this bike very attractive. Available in two versions depending on the type of frame, male and female. City bike is not suitable for driving on rough terrain or jumping over obstacles. You can drive on it with feeling, with properly, with deliberation.
For long journeys it is better to choose a travel bike. It is reliable, though not very maneuverable. On the road with a good surface develops a decent speed, but the roads can be conquered with ease. Sturdy aluminum frame allows you to strap the trunk, which is very important for the tourist. The steering wheel can be straight or bent. Despite the high cost, touring bicycles are in demand, especially foldable model.
The choice of bike for extreme riding you need to do depending on riding style (downhill, trial, BMX, street, etc.). These bikes have excellent maneuverability and high reliability. Durable heavy wall frame, low geometry, fat tires provide maximum safety during the execution of tricks.