Why ripped jeans will never go out of fashion?
Sloppy and slightly frayed jeans reveals the knees is a timeless classic urban style that will never go out of fashion. Commitment to ripped jeans due to the following reasons:
Old jeans make the look stunning and sexy. Only a few holes off legs in unusual places, be subject to attraction the eyes of men.
Ripped denim is successfully combined with almost any top: blouse, t-shirt, t-shirt, sweatshirt, jacket, etc.
Make a fashionable holes in any, even the old and worn jeans, which after transformation will turn into a stylish staple.
How to make holes in jeans?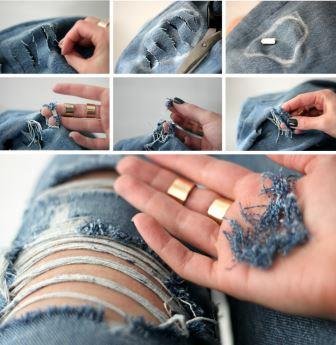 At first glance it seems that to make holes in jeans easy, however, to look like a design idea, not as the trace of the fall, will have to make some effort.
Step by step instructions:
First we need to find the right pants. It is desirable that they were a little worn – normal wear and tear makes the fibres more soft, so easily torn jeans in the right direction.
Next, using chalk, we mark the locations for future holes. Do it better than wearing his pants on his feet.
Placed under the Trouser leg any solid surface (for example, block or wooden Board), and carefully bore holes in the intended locations using a razor knife or scissors. The edges of the hole to be processed an emery paper or a nail file to make them look natural fading.
Do the scuffs on the knees, pockets and edges of the pants – this will give the image of naturalness and integrity.
Then proceed to the processing of the diagonal lines of the material, giving them a worn look using nail file.
Leaky sections, apply the bleach using the brush or sponge. This procedure will give the jeans an aged look. If desired, the chlorine solution can small droplets to cause the entire length of the pants.
Then jeans should be washed to secure the effect of the bleach. This should be done in cold water, using low spin speed.
The last step is the strengthening of the ragged places, which will allow the jeans to last for many years. If this is not done, holes will quickly disperse and lose its fashionable and stylish look. To strengthen enough to make a few neat stitches on all sides and decorative holes.