You will need
Old jeans, scissors, box cutter, soap, or chalk, needle, thread, tweezers, a little bit of lace fabric.
Instruction
Cut the
jeans
to the desired length. To do this, put on a wash, well ironed trousers and put a soap mark denoting the desired length. Turn the jeans inside out and draw a cutting line, it should be 2-4 cm below the previously set mark. Guided by the principle "one hundred times measure, cut once" wear
cropped
pants for the second time and after this try, if need be, shorten the shorts. About one and a half inches need to leave in order to handle the bottom.
With a utility knife, cut two parallel strips of the desired length with a distance of a few centimeters. The cuts should be equal and placed one above the other. Better to start with rear patch pockets, it will help to practice before a more responsible stage of work on the front of the shorts.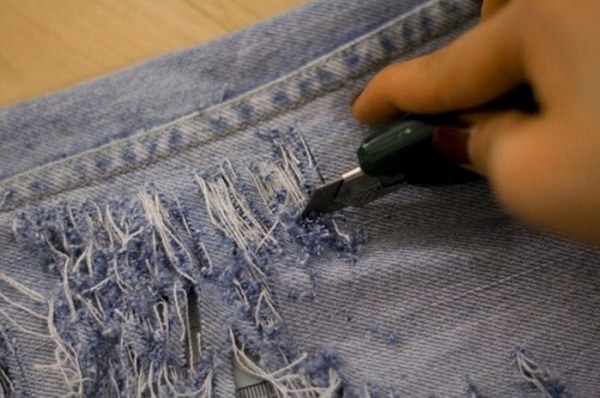 With the help of forceps and needle, pull the thread between the transverse slits are made. Thus, after finishing work on the tissue section will remain only a longitudinal thread of white color.
Repeat the same action in several places. In order for the shorts not too open on the front of the breakdown better to do over the pockets. Optionally, the shorts can be done with a utility knife small square or rectangular slot and fluff up using a needle their edges.
Treat the bottom of the shorts. The easiest way is to put on the edge of the denim "fringe", pulling the required amount of longitudinal threads around the hem. You can make smooth edges, tucked and stitched them by machine or hidden stitch. The edges can also turn out on the outside.
Optional sew small pieces of lace on the sides of the shorts. To do this, fold the product in half, measure and then cut a small corner from the outer bottom edge on both legs. The resulting triangle on the shorts need to "close" lace. This can be done with both external and inner side hidden stitch or with a machine. Shorts can be decorated with rhinestones, metal elements, applications and other ways.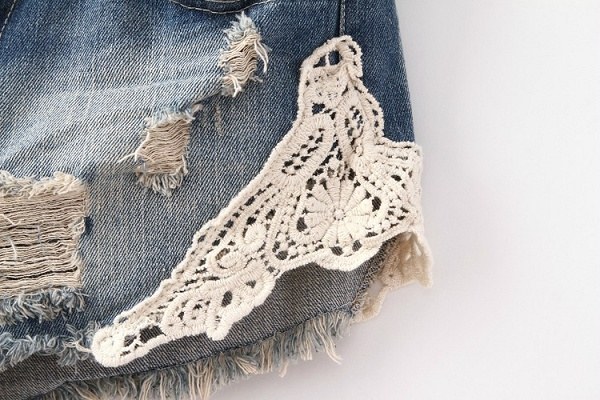 Note
The process of shortening jeans is one of the most important stages of preparation of the product. Too short ripped shorts will look vulgar
Useful advice
To achieve the effect of easy negligence and naturalness of the cuts after the first wash. If then the tears on the shorts seem too big, they can "cover up", sew the lace to the inside.