You will need
- on the stolen phone had been logged into Google Play or just Google;
- computer with Internet access.
Instruction
This method will help you to find the location of a lost phone with an accuracy radius of about 1.5 km on the smartphone included GPRS or Wi-Fi, the accuracy of the location increases. But if the phone is dead or the thief turned it off, with the help of this method, you will learn the latest finding of a smartphone in an active state.
To find your lost phone, follow the link https://www.google.com/android/devicemanager?hl=ru&u=0 and enter the same email and password which were entered on Your smartphone.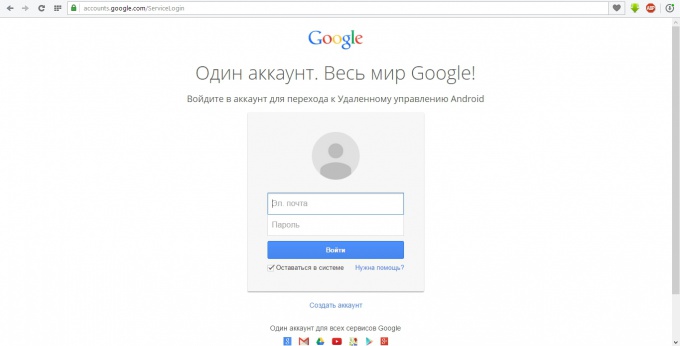 Immediately after the entrance You enter to the page "Remote control Android". Some time to search for a mobile phone. As a result, the program will show where the phone circle. This circle is the radius of the location of the phone. After all, up to 1 m is almost impossible to obtain information about the whereabouts of the phone. In the upper left corner shows information about the date and time of the received data, and precision and possible errors. Besides, the remote control will allow you to find out when was performed the last time the log on to the Internet on the smartphone.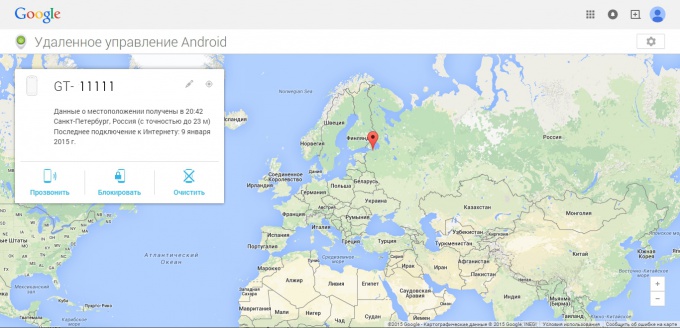 In addition to finding a lost phone, "Remote control Android" has a small number of additional and useful features. For example, you can make phone calls. Clicking on this button, a lost phone will be on for 5 minutes to call with maximum volume. The call will work even when the phone is on silent mode. And you can turn it off is with power button. You can also put a password on your phone via the Internet, but the attacker it is easy to solve or work around. You can also clear all data on the phone with a single key, but it only removes the information from the phone memory. On the card information stays.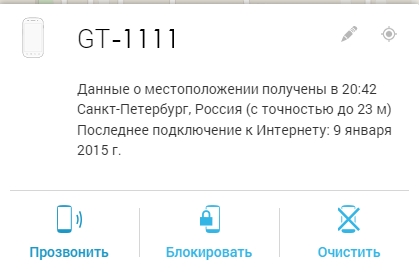 Useful advice
Leave or GPRS or Wi-Fi and then in case of loss of phone accuracy of its location.