How to choose car tires for flower beds
Not every bus will make a good flower bed. To your flower garden was quite durable and will not bend under the weight of the earth, you should choose a winter tire with metal stamped disks. Of course, if there is no choice, you can make a bed out of any tyre.
It is desirable that the tread wear of the tire was strong enough. With such material will be easier to work with. This is especially true of vases with a fancy intricate pattern.
How to make a flower bed from tyres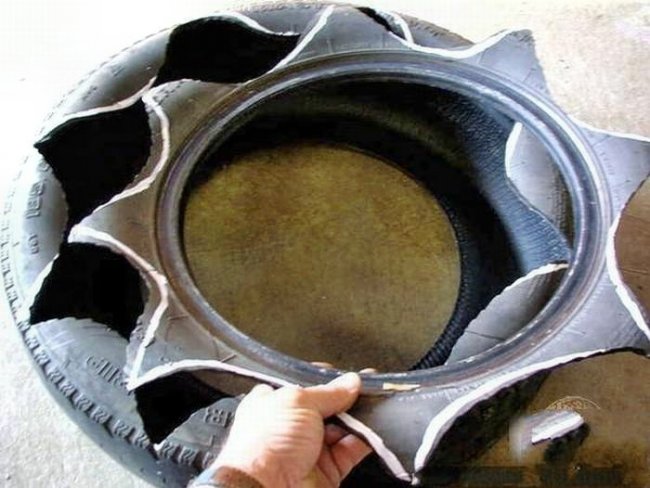 Dirt tires must be removed with water and brush with firm bristles. On the side of the wheel you need to mark the pattern. He can be quite varied – from traditional triangles to complex snowflakes. if you are planning to cut the original figure, then the first to produce cutting ovals or squares.
To produce a crop tyres should be a sharp knife. Perfect for a working electric jig saw. To make complex patterns, you will not have to exert a lot of effort.
The hardest part of the process of making flower beds out of tires – remove the cut product. After cropping a smaller part of the wheel will be the foot of the vase, and for the most part is to accommodate the land and flowers.
After reversing should be to straighten the edges of the flowerbeds, and then you can edit the edge, giving it a conceived form.
To facilitate eversion of the tyre, you need to make between the shapes of the edges of the small cuts at a distance of 5-10 cm from each other.
When you have managed to frame beds of car tires, you can start her decorating. You first need to take care of the painting design. This can be done with any paint for exterior use, pre-clearing the product from dust and abasiri soapy water. To work is also suitable aerosol paint in cans that much easier.
To land in a vase does not overheat on hot days, it is better to use light colors. Notched petals, you can pick out any color from palette of colors. It is advisable to paint not only the outer part of the flower beds, but its inner surface.
Interesting to get the pot out of the tires, if over a base coat of paint to put the ornament a different color. So it looked attractive in the future, you should consider the color of the future buds.
For decoration you can use many other decorative materials. For example, glass pebbles, fringe, strands of beads.
If you made a bed of the tyre with your hands, you can safely install it and fill the fertile ground. Before planting flowers pour the soil and let the pot stand for a bit to land subsided.