Instruction
Before you begin, you need to study the plants that will be making beds. All plants to a greater or lesser extent like the sun. If planted next to flowers of different viability, it is likely the strongest of them will take the sun and weak flowers wither.
For heat-loving flowers include snapdragons, zinnia (annual), violet, pelargonium, fuchsia, palm, Canna (long-term).
Cold-resistant: godetia, pretty, burachok (annual), stock-rose, Foxglove (biennials), delphinium, Erica (long-term).
When decorating, the main thing to choose a place for flower beds. It should not be in the draft, but it needs good sunlight. If you want a colorful flowerbed, it is desirable strip of bright colors to be alternated with more quiet or just white. Otherwise you may experience a feeling of confusion.
You also need to consider the height of the plants. The flowers should be approximately the same height. Or higher to put in the center, and gradually closer to the edges to place low-growing plants. In the center, instead of flowers can you plant a shrub or tree of small size. If the flowerbed adjacent to the house, then the highest flowers should be near the wall and lower at the edge.
To efforts were not in vain, need to have all planted flowers in the same flowering periods. Another option is to choose plants so that the flower bed bloomed all season, ie some are faded, while others bloomed.
The edges of the flower beds, too, should not be ignored, otherwise the plants can grow outside. Around the flower beds need to dig a small ditch and fill it with gravel, broken bricks, bat tiles or sand. The edges can be emphasized,
decorating
their dead with the bricks (in the form of teeth), boards or other building materials. Sometimes even use the tires, painted them any color.
To fooling every year, often on the flower bed planted perennials. And in order to avoid the annual monotony, just plant different annuals.
Advice 2: How to make a fence for flower beds with his own hands from scrap materials
Catching arrangement of a suburban area, any person sooner or later asks the question, how to make a fence for flower beds with their hands. After all, a beautifully decorated flower bed not only gives gardening area well maintained and a neat appearance but also prevents the uncontrolled spread of the plants in the garden.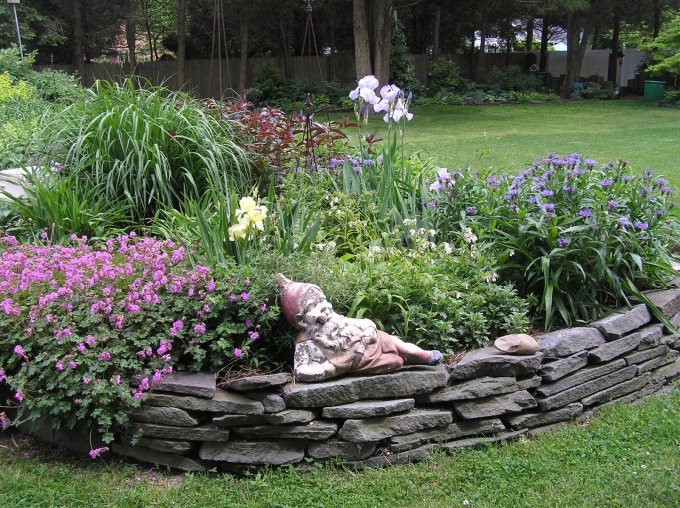 Fence for flower beds with their hands: choose the material
When choosing a fence the first step is to decide what function it will have to perform.
If you want to protect a bed from children or animals, it is preferable to use the fences a bit higher around 40-50 cm In this case will not prevent to take care of its sustainability.
To protect from the spread of roots from the flower bed on the plot it makes sense to dig along the contour of the plastic flower bed border.
If the fence is intended to perform only a decorative function, can make it easy and low.
In the case of the elevation of the beds above the ground level of the site the fencing must be very strong to hold the soil in position.
Often when building a fence uses 5 main materials:
- tree;
stone;
- tires;
- available materials;
plastic.
Fence for flower beds out of wood with your own hands
The most environmentally friendly and affordable material for making fences – wood. Compared to other materials it has 2 advantages:
- decomposition enriches the ground with organic matter;
- perfectly resistant to the cold winter (do not crack and deform).
In addition, wooden structures at the site create a special magic atmosphere. Importantly, do not forget to treat the wood with preservative and water repellent solution.
For creating railings of wood used to Board, log, saw cut, vine, driftwood.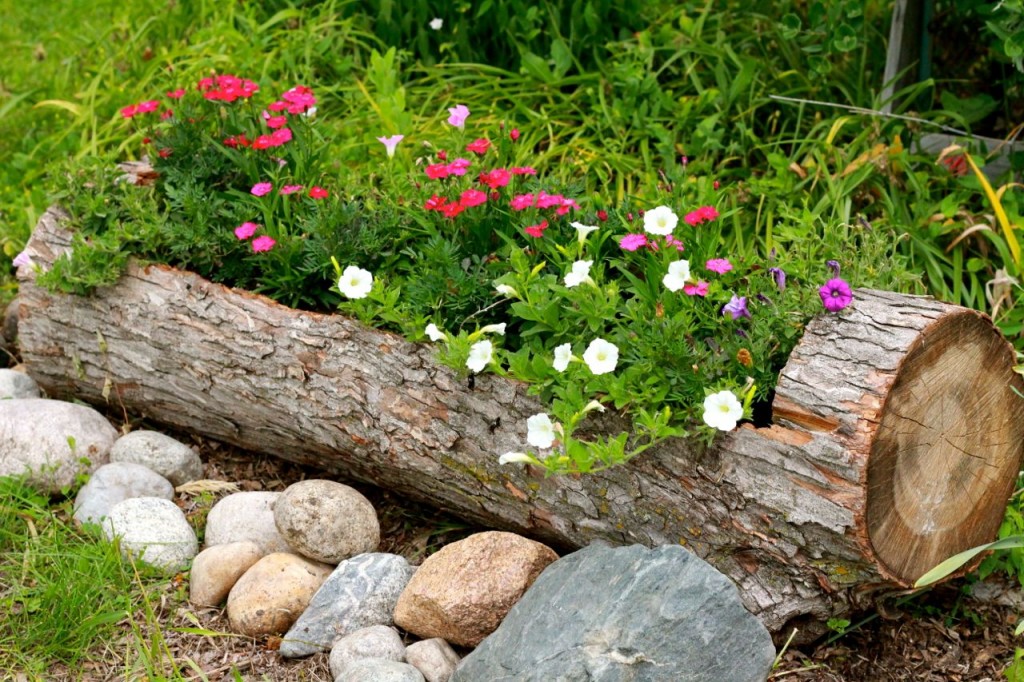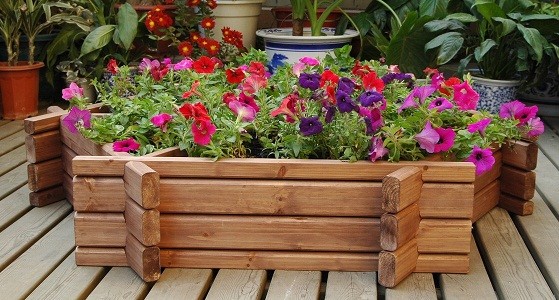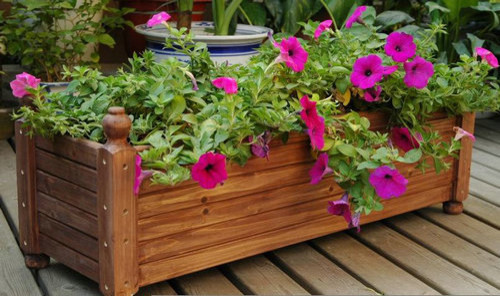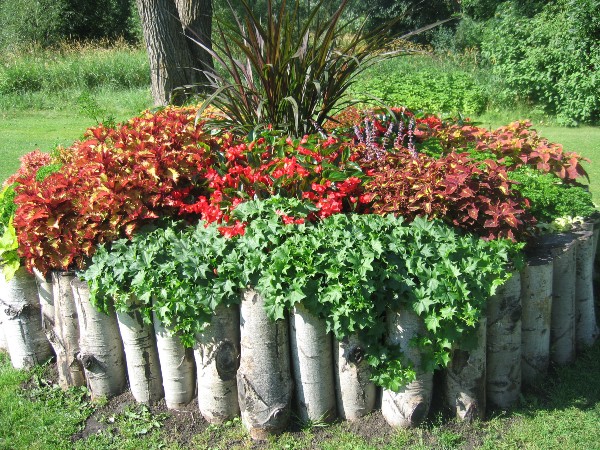 Stone fence for flower beds
Very impressive and looks solid fence of stone. It can be natural boulders or cobbles, artificial stone, brick, paving slabs.
The main advantage of masonry structures is durability.
For high fence or raised beds it is convenient to lay the stones on a concrete Foundation.
The bricks can be placed vertically, horizontally or inclined. For strength is to connect them with a solution. The laying can be conducted in 1 or more layers.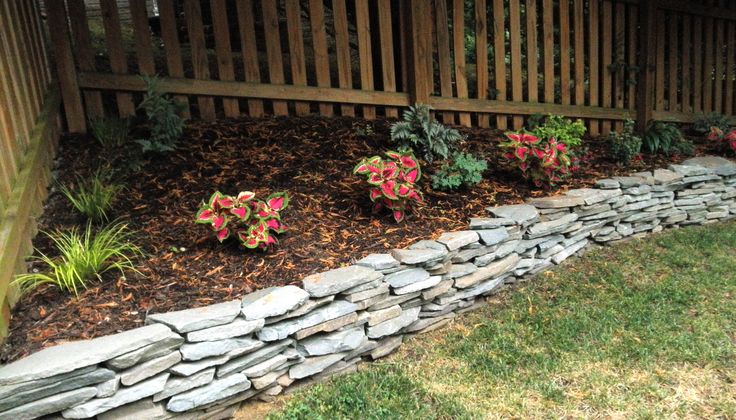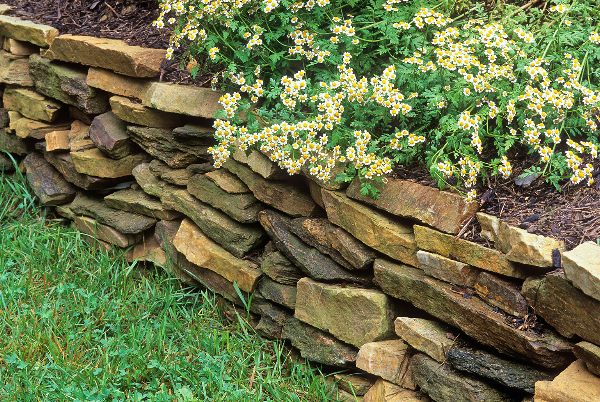 Flowerbed of tires with their hands
Lovely flower beds out of old tires. They can be dug into the ground or mounted on top and filled with soil.
Sometimes they give some form and painted in a desired color.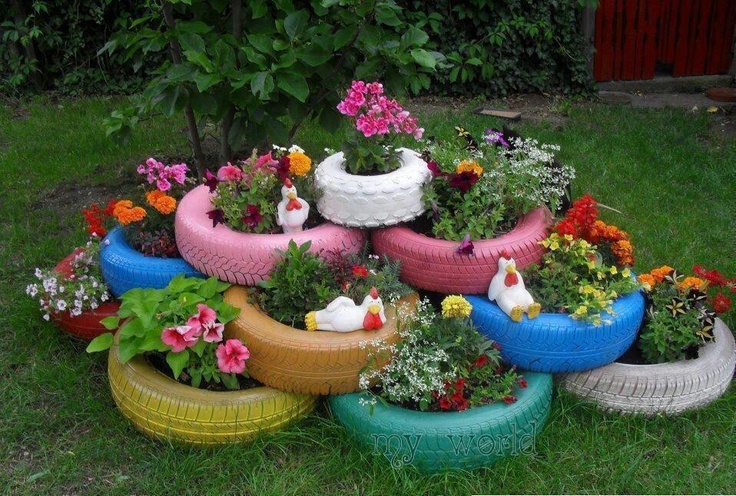 Available materials for flower beds
Often fences are used available materials: bottles, plastic, and glass, tile, slate.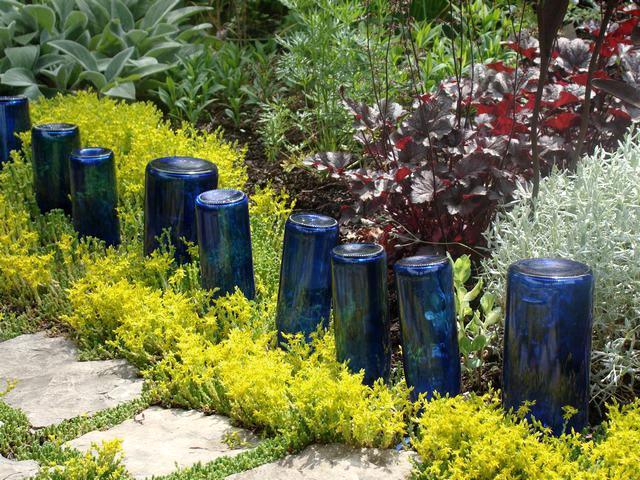 Plastic fencing for garden beds and flower beds
If there is no desire to invent something unusual, you can always use ready-made plastic fences. On sale they are available in a large range.