You will need
markers
- acrylic paint and contours
t - shirt
- a simple pencil
- stencils
- paint for batik
Instruction
Abstraction. Roll the shirt into a knot, into a roll or bundle. If you like it more. Soak it in paint intended for painting. It can be purchased at office supply or specialty stores for artists. When you straighten your shirt, its entire surface will be visible beautiful symmetrical patterns. T-shirt can be tied with cord or tape, the patterns will be more interesting.
The picture, by using contours or markers. With the help of contour or highlighter can be applied on t-shirt clear pattern. For this there are special markers designed for light and dark fabrics.
Acrylic contours are small tubes of paint that you can paint on the fabric. The only contours give way to the handles that push on the tube should be evenly distributed, so that the figure seemed neater.
Before applying the pattern on a shirt, pull it on a flat surface. Select the sketch and set the picture on a t-shirt with a simple pencil. Now it is necessary to outline its contour. If you want to paint a picture, then use acrylic paints.

Stencil. For lovers of pop art is perfect stencils. Sketch on cardboard. Drawing can be anything – it is entirely your fantasy. Remember, the drawing must be solid and not composed of pieces.
Put on a t-shirt the stencil and paint paint the entire piece, then remove it.

Imitation of the costume. A very interesting approach to the design of t-shirts will be drawn a copy of the shirt of the hero of the movie or comic. For example, on a dark t-shirt draw white paint tie, buttons and pockets.
The pattern on the entire shirt. Quite an interesting solution would be drawing stretching across the entire shirt. Don't have to do it on one side. For example, you can draw a cat, its paws on her back and muzzle in front, the tail can be drawn down on the edge of the t-shirt.
Advice 2 : How to paint a t-shirt
Any plain shirt can become a canvas for your experiments. Armed with one jar of paint, Mike can paint, create fabric abstract patterns or apply graphic symbols. To make unique the most ordinary thing, use several techniques of painting on fabric.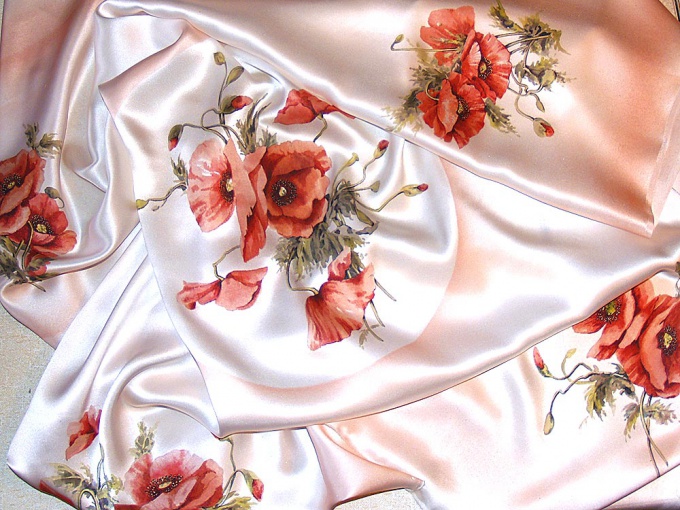 You will need
t - shirt;
- paint on fabric;
brush;
- threads;
- reserve for batik;
- cardboard;
- a pair of scissors.
Instruction
Before you paint a t-shirt, wash and dry it. Pull the other side of the t-shirt will be to paint on a frame for batik or embroidery. Make color sketch of the pattern on the paper.
If you want to make a colorful canvas without clear boundaries with smooth transitions of colors, use loose technique of painting. Spray wet t-shirt, wide brush strokes alternately apply a few shades and let them spread on the surface.
To add to the drawing a clearer form and to limit the spread of color, try the technique of hot or cold batik. In the first case, those areas of tissue that need to remain light, unpainted, impregnated with hot wax (with a brush), the second is a picture drawn by a special reserve which will not miss the paint for the borders. Apply the pattern by referring to the sketch, and moving from lighter shades to dark.
Painting made by one of these ways, you can add surround circuit – it performs only a decorative function and does not replace the reserve.
To put on a t-shirt lettering, use special markers for fabric painting. Previously invented the word or phrase it is best to write with a pencil, then cut around.
You can cut a character, a phrase, or a silhouette out of cardboard, to attach to the shirt and paint over the stencil with acrylic spray paint. Typically, such a composition does not require strengthening.
As stamps for t-shirts it is possible to take half of the vegetables, which in the context are heterogeneous in texture. For example, half of onions can be dipped in paint on a cloth and applied to the shirt. Such patterns can cover the entire surface or only part of it.
There are pigments for fabric, which dissolve in a large amount of water and originally designed for uniform staining of the whole thing. To achieve more unexpected and interesting effect, make the t-shirt a few "tucks", tie them with thread, put the shirt in a tub or basin on top and pour the diluted (as per instructions) paint. Do not wait until the fabric gets wet through, place it on a dry clean surface and allow to dry (you can dry with a hair dryer). Then untie the knots. In these places the paint drips and forms voids that are the result of an unusual pattern.
Useful advice
Natural fabrics hold dye better, however, in recent times produced many compositions which are suitable for synthetic information about it look on the package. The same should be said about the method of fixing the paint. As a rule, it is fixed, iron paving pattern on the reverse side.
Advice 3 : How to paint a t-shirt
Each of us tends to be bright and unique, unlike any other in the manifestations of character, and in this seemingly quite ordinary life as part of clothing. Interesting creative ideas have long been revered in the society, no surprise store-bought clothes, but if you appear among friends in custom t-shirt with an original picture, most likely, not one person will defeat you with questions about how to paint a t-shirt.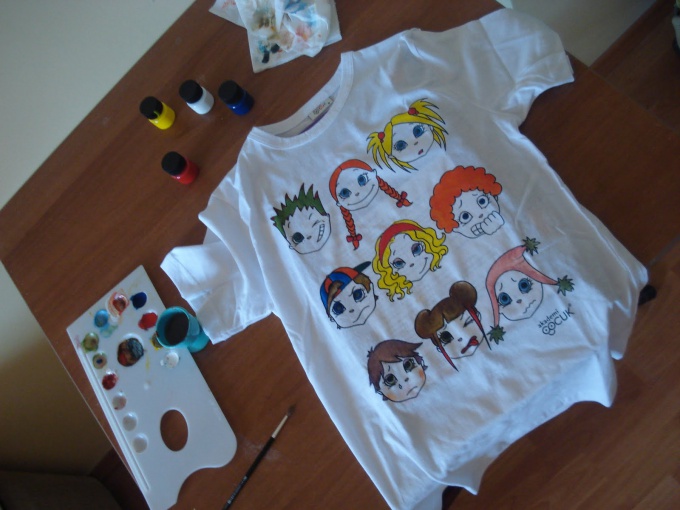 You will need
t - shirt;
- cardboard;
- acrylic paint;
brush;
- the markers on the tissue;
spray for fabric;
stencil on the workpiece drawing.
Instruction
Wash the prepared t-shirt. This also applies to previously used things recently acquired. In the manufacture of clothing often use special impregnation, which subsequently will prevent you evenly apply the paint and not allow it to dry without streaks. After the shirt was washed and dried, iron it for convenience in the further work. If you choose a colored shirt, then pre-test the impact of paint on the fabric - may be that accompanying this process is a chemical reaction will color the shirt is not in the color that you have planned.
Put cardboard between layers of t-shirt: back and front. This is to ensure that the paint is not leaked to the other side and didn't ruin a future masterpiece. The cardboard on top and wrap with foil. Your shirt should be placed on the cardboard then will provide comfort for the work and pattern will be on the shirt exactly.
Prepare a table to work. Cover it with newspaper or unwanted cloth. For convenience, you can attach the shirt to the cardboard with tape to the table.
Start drawing on the t-shirt. If you are not an artist, but more or less proficient in these skills, apply the picture yourself with special tools: acrylic paints, sprays for fabric or permanent markers. All this you can buy in specialized stores or art shops. If you are not confident in your artistic abilities, use the prepared stencil. If desired, apply a figure-soaked sponge, handprint or objects. Your imagination can be limitless. Remember that markers for fabrics are very comfortable to trace all the drawn elements - the outline of the picture will be clear, bright and not blurry.
Leave the painted t-shirt for 24 hours (pattern on the fabric needs to dry out well) and only then remove from the shirt Board. If you want to have a picture and on the back, repeat all the steps, flipping the shirt to the other side.
Advice 4 : How to paint a shirt with acrylic paints
In that case, if a creative streak does not allow you to wear consumer goods and want to decorate t-shirt prints of their own creation, you can not hurry with the visit to the photo Studio. Much more interesting to paint a shirt with acrylic paints on their own.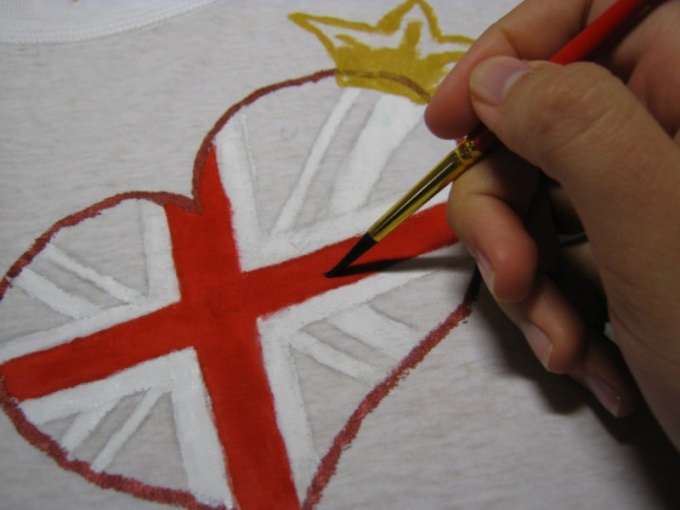 Instruction
Acrylic for such work is the best option. It penetrates well into the fabric, long retains its properties, has a huge color palette, and in addition, many effects. There are acrylic, glow in the dark pearlescent paint and paint with a matte effect, apply some materials, you can achieve interesting effect of cracking of the upper layer of paint while preserving the lower, contrast, intact. When you buy acrylic you need to pay attention to what fabric it is intended and to choose the corresponding composition t-shirt. Brushes will need a few depending on the complexity of the design. It is best to take the brushes with synthetic bristles - they are less fade and the paint to wash them is also easier.
Once selected paints, brushes, drawing and t-shirt, you can begin the process of painting. Between the front and back of the shirt it is better to lay a layer of cardboard or Newspapers on the cardboard to secure the fabric much easier. To secure the fabric not necessarily, but preferably, as in the process of drawing it or start to fidget and pattern can be shifted. Figure easier just to move a soft pencil and then paint.
In that case, if in the process of painting a drop fell in the wrong place, don't worry. To remove this stain is almost impossible now without affecting the main picture, but it is always possible to show imagination and paint a tainted place so that random drop seemed part of the picture.
Often, acrylic paints are too thick, making it difficult to work with them. To dilute the acrylic with water you can even if there is no other way. But it will reduce the quality of the paint and later it will wash off with t-shirts. It is best to use thinner for acrylic paints, it is important that it was the same brand as the paint. A coat of paint on the fabric must be even and not thick, otherwise he can not gain a foothold. It is always better to do 2-3 thin layers than one thick that's thinner. The better the paint will impregnate the fabric, the better and more durable will be the pattern. When mixing colors it is important to do this as quickly as possible, so the colors will be brighter.
The pattern on the shirt should be allowed to dry not less than 24 hours. You can then start pinning. Fix drawing iron, paving it through cheesecloth or cotton cloth on the maximum tissue temperature. Washing and any water is allowed after 48 hours after posting. When washing, use only mild detergent, water temperature should not exceed 30-40 degrees. Long spin at high speed can not be used, painted with acrylic on t-shirts washed, pressed and dried as delicate fabrics.