Instruction
Drink Panangin with laboratory-confirmed deficiency of potassium and/or magnesium, and also to prevent lack of, which can be provoked by diuretics. In the complex treatment take Panangin for the treatment of cardiovascular diseases.
For prophylactic purposes take Panangin 1 tablet three times a day. Typically, the duration of reception determines the physician and is not less than 3 months.
There is another prophylactic regimen of Panangin. If a drug is assigned to you as a vitamin product in the off season (fall or spring), drink it twice a day 2 tablets. The treatment in this case is a month.
After suffering a cold, intense physical activity, when taking drugs for weight loss or to comply with rigid diet, drink 2 tablets of Panangin three times a day for two weeks.
In cardiovascular pathology drink 3 tablets of Panangin three times a day. However, remember that this dose is the maximum and cannot be exceeded under any circumstances.
Panangin drink immediately after eating, squeezed enough liquid (water, juice, tea, juice, etc.).
When adverse symptoms such as nausea, diarrhea, epigastric pain, sharp decline in blood pressure, and allergic reactions (itching, hyperemia of skin, urticaria, etc.), discontinue use of Panangin and consult your doctor.
Useful advice
In severe cardiovascular diseases and in severe deficiencies of magnesium and potassium, consult your doctor for replacement of tablets, intravenous injection of Panangin. In this case, the treatment is usually performed in a hospital.
Advice 2: What Panangin asparkam different from
Potassium and magnesium are important elements that are closely linked in terms of their assimilation in the human body. So to make up for deficiency of potassium and magnesium used drug containing both in its composition both of these. The most famous of them – "Panangin and Asparkam".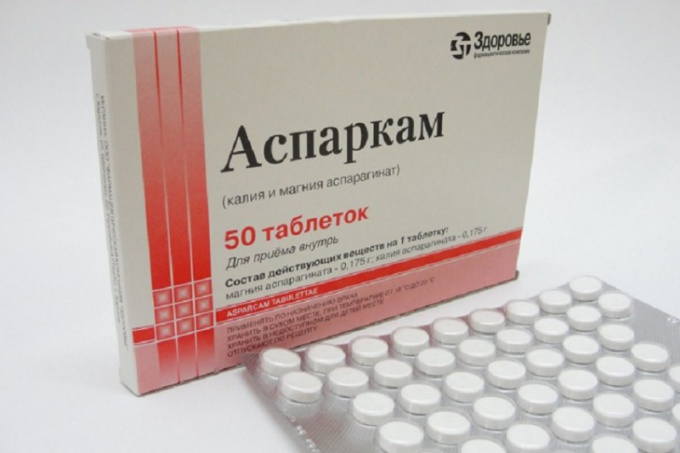 How are "Panangin and Asparkam"
These drugs contain in their composition elements of potassium and magnesium, which are very important for the human body. They are well nourish and strengthen the heart muscle and play a huge role in the prevention of cardiovascular diseases. These medicines – essential "assistants" in the treatment of arrhythmia, angina and heart failure. The "Panangin or Asparcam" we recommend that patients undergoing rehabilitation after myocardial infarction.
In addition, a sufficient number of components of potassium and magnesium in the human body helps to normalize the General condition, to get rid of muscle weakness and reduce the level of excitability of the nervous system.
Medicinal drug "Asparkam" and "Panangin" effective in the complex treatment of withdrawal syndrome (hangover).
Identical to a part of the preparations
Both medications are available as tablets and in solution for intravenous injection. Formulations of both drugs on the number and ratio of potassium and magnesium are exactly the same. Both drugs have the same contraindications, such as impaired urine formation, increasing the content of magnesium and potassium in the blood, destruction of red blood cells and some others.
It should be noted that in the human body magnesium is absorbed only in combination with vitamin B6, so if you use "Asparkam" and "Panangin" and prescribed this drug.
What is the difference between a "Panangin" from "Asparkam"
"Panangin" - original drug which is produced under license by the Hungarian pharmaceutical company "Gedeon Richter". "Asparkam" - domestic analogue "Panangin", which has exactly the same properties. It is considered that the degree of purification of raw materials in prior art are usually lower, therefore, it is possible to observe a significant difference in price between these drugs.
In addition, there are differences in the shape and appearance of tablets. "Panangin" has a biconvex shape, which is covered with a protective shell to prevent irritation of the gastric mucosa. Therefore, in diseases of the gastrointestinal tract the preference "Panangin". And tablets "Asparkam" are normal form and packaged in blister, as a consequence, their use is not always comfortable.
In addition, the packaging of "Panangin" it looks more impressive, more convenient to use and has a holographic protection against counterfeiting.