You will need
Wallpapers;
- oil paint;
- lacquer furniture;
- sandpaper;
- satin ribbon;
- putty;
- primer.
Instruction
Pick a photo or illustration appropriate topic and print it in the desired format on the "adhesive". Similar services are provided by the studios. I love old black-and-white photograph.In the bedroom look great pictures of romantic subjects. The child will look good wardrobe, decorated with images of cartoon characters.
Strip the doors and walls of the old wardrobeand sandpaper. It is necessary to remove the old varnish and possible contamination. After processing an emery paper always wipe the Cabinet with a dry or slightly damp cloth to remove dust.
Fill minor cracks and defects with putty. After drying putty, you are ready to primer the Cabinet. This will allow to obtain a perfectly smooth surface on which any image will look perfect.
The prepared surface is painted with oil paint. The optimum paint color – white.
After the paint is dry you can begin gluing Wallpaper. Carefully remove the protective film and stick the photo on the Cabinet, smoothing from the center to the edges. This will prevent the surface from bubbles of air. If you are not able to stick fairly gently and the bubble appeared, carefully pierce it with a needle and smooth.
Pay attention to the inner surface of the Cabinet. Walls and shelves can be covered with Wallpaper or paint. Rod designed for clothing on hangers, you can wrap a satin ribbon or sheathing an elastic textile.
The final stage of transformation of the old wardrobeand coating of colourless furniture Polish. You can use special spray.
Note
When painting and applying paint provide constant fresh air. Ideally you need forced ventilation of the room.
Useful advice
Before beginning work, remove from the Cabinet hardware - knobs, fixtures, shelves, etc.
Advice 2: How to update an old wardrobe with the help of Wallpaper
The idea is to change the appearance of your wardrobe with Wallpapers is absolutely not new. But to use this idea because the variety of designs that can be obtained in this way, extremely high. And to decorate Cabinet Wallpaper is very simple and inexpensive.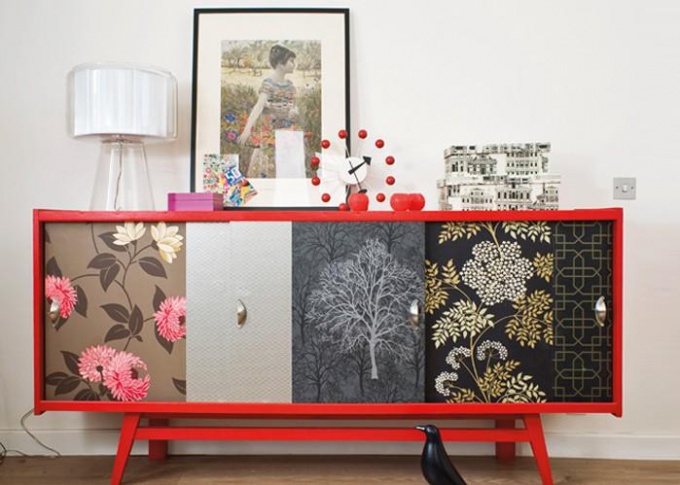 How to decorate Cabinet Wallpaper?
1.If the doors and walls of the enclosure are satisfied, but want to decorate, you can stick a Wallpaper on the back wall of the Cabinet, inside of drawers. I must say that this technique is very decorated wardrobe, and, if the room is spacious enough, not necessarily to choose the same Wallpaper as on the wall, it is better to play on contrasts, or at least pick up Wallpaper-companions. But if the room is very close, use the same Wallpaper for the walls and Cabinet to Cabinet like it was lost in space.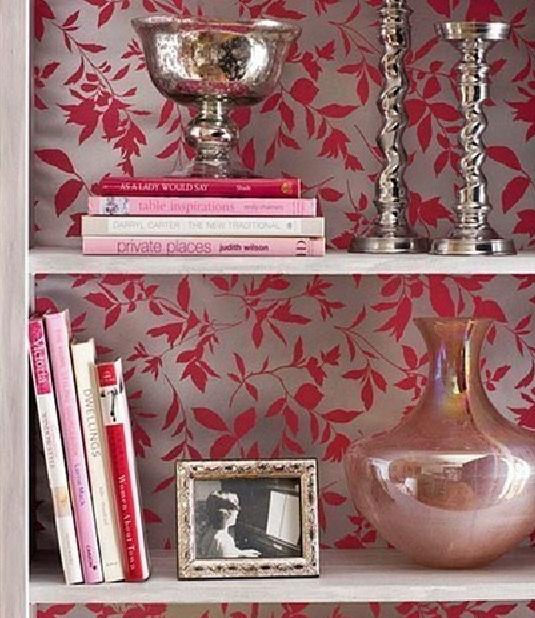 2.On the doors and/or walls of the enclosure, the Wallpaper will also be relevant. For example, it will look like a piece of Wallpaper with a small intricate pattern on the front of drawers or doors if they are originally decorated with a carved wooden bead (this bead can be purchased separately and sticking their hands).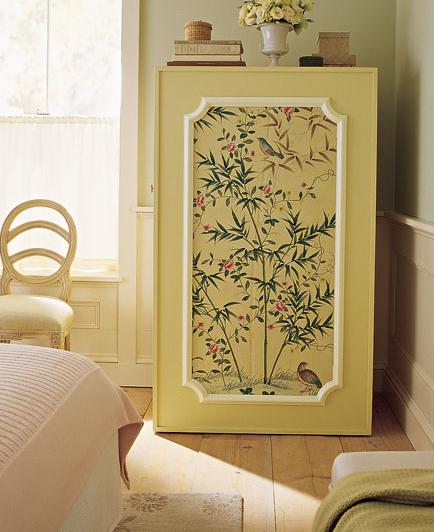 As a variant it is possible not to seal the entire door or wall with a piece of Wallpaper and cut out a silhouette of a tree with leaves cat recognizable historic buildings.
Tip:to glue the Wallpaper, it is enough to use PVA glue, but to make the rack last longer, you can cover Wallpaper the top layer of clear lacquer.
I must say that in this matter is not necessarily limited to Wallpaper. Depending on the material and design of the Cabinet, it is possible to paint acrylic or oil paint and Wallpaper to make bright accents. I note that even the oldest and tortured life of Soviet wardrobe or cupboard with Wallpaper and paint can be turned into a unique thing, delicate and vintage or bright and very stylish.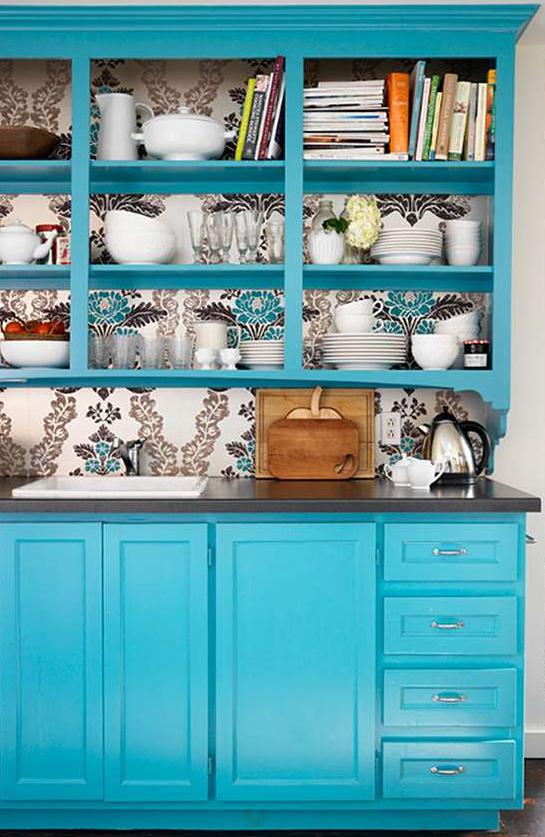 Useful tip:if you like using Wallpaper to beautify kitchen furniture, choose washable Wallpaper or adhesive tape.
Advice 3: How simple and creative to decorate a denim skirt
Every girl in the closet bound to have jeans clothes, such as skirt. every owner always asks the question: "How to make my thing was unique?"
In this article, I'll show you how simple and creative you can decorate a simple denim skirt so that she was fashionable and beautiful.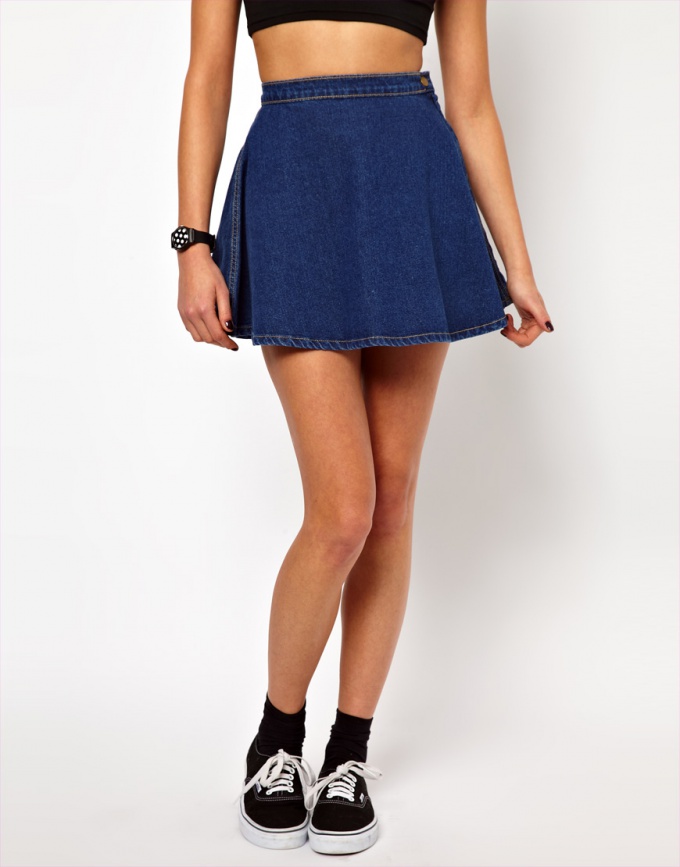 Sew the skirt independently
Sewing the skirt yourself, you will be fully confident in her uniqueness. You can make her scythe, torn or come up with your style. It is easy to do if you have a simple denim fabric. Of course, this stuff is hard to find, but a denim skirt you can make from old jeans material, for example, shorts or pants. They just need to cut in the right places to fit the pattern and sew together.
Denim skirt with lace
As you know, lace is a romantic element of decoration of clothes. Obviously the use of lace as a decorative items in denim skirts that provides a very wide scope to implement their ideas. Skillfully using the color of the lace and the accessories can be created as a gentle, innocent images, and more bold, brash and causing models. Although you can try to form and custom, but still business image.
Old skirt a new life
The biggest problem associated with old UK, is that they end imagepost bored. Even the most favorite skirts after some time I want to change it or at least update. If you throw a pity strange skirts, use the following tips for their trouble.
As you know, the skirt is the only garment, holes which will not look indecent. On the contrary, many owners of the skirts I love to tear the skirt. Surprisingly, holey skirt looks always very stylish.
Decorate dinavu skirt with rhinestones
The first option is the application. Today, there are a huge number of pictures of different structures and colors. Depending on the color jeans, you can choose leather or fur of an application, drawings or just an abstraction. If none of the applications in the store does not suit you, you can safely draw your own or just copy it from a favorite magazine, newspaper. In order for the application was sitting firmly on the fabric, need to stitch it with thread in the color of jeans), or safely stick, walking up the iron on the surfaces on both sides.
The second option is the perfect decoration denim skirt pattern, embroidered thread. It is, of course, is much more complicated first, and is suitable only for those girls and women who love and know how to embroider, because it is necessary not only to translate the pattern on the jeans, but then gently and embroider it any thread. But for the true professional it will be easy – just half an hour of work and skirt Shine with new colors.
And the latest version of the design of denim skirts is, of course, beads and rhinestones. A lot of things today, denim is decorated that way, because the idea is fresh and very original. The skirt is beaded also need to plan in advance the picture that will later be sewn. As for toppers, there are as the whole of an application and a separate "drops". It all depends on your preference and taste.
Butterfly
Butterflies — stylish item prices. One pair of old jeans you can make a dozen different butterflies that you can sew yourself a skirt. It will look feminine and romantic, but modestly and sderzhanno.