Calcium is the main macronutrient that form bone, dental tissue, hair and nails. It is necessary for the processes of transmission of nerve impulses to the heart muscle, blood clotting, muscle contraction. If there is insufficient calcium in the body is disturbed cardiac and neural activity, bones become brittle, hair and nails, disrupted the structure of the teeth. A person may develop hypocalcemia (lack of calcium in the blood).

The female body need for calcium increases during pregnancy because this element is essential for the proper development of the fetus. The number of correctly assimilated calcium affects mental and physical development of the unborn child. This macronutrient is needed and lactation. But if calcium is not to be missed growing organism, the unborn baby may develop rickets.

Lack of calcium is found in the body of the people on prolonged bedrest, patients with tuberculosis, osteoporosis, asthma.

In all these cases, the shortfall of this important macronutrient, a doctor appointed by calcium gluconate. The drug is available in tablets and in solution for intravenous and intramuscular introduction. The dose and method of administration must appoint a doctor. Usually the drug in tablets taken 2-3 times a day before meals or an hour and a half after eating. Adults should take 1-3 g of calcium gluconate, children up to 1 year - 0.5 g, 2-4 years, 1 g; 5-6 years - 1-1,5 g; 7-9 years - 1.5-2 g; 10-14 years - 2-3 g.

The drug there are contraindications. Calcium gluconate should not be prescribed for hypersensitivity, hypercalcemia, kidney stones. It should be used with caution in dehydration and water retention in the body.

Calcium gluconate has the following side effects: when ingested, it can cause irritation of the gastrointestinal tract. May cause nausea, vomiting, constipation. With the introduction of intramuscularly or intravenously may drop blood pressure. Keep in mind that excess calcium is harmful and gives an additional burden on the kidneys.

Prevention of occurrence of deficiency of calcium in the body is daily consumption of certain products. A large amount of this macronutrient contains cheese, cottage cheese, yogurt, milk, bananas, rye bread and nuts.
Advice 2 : How to drink calcium gluconate
Calcium is needed not only for maintaining the strength of bones. It is necessary for every cell in the body for normal functioning. Calcium is found in many foods, but not always good of them to digest. Therefore, to compensate for his deficiency, doctors recommend taking calcium-containing medications, the most common of which is calcium gluconate.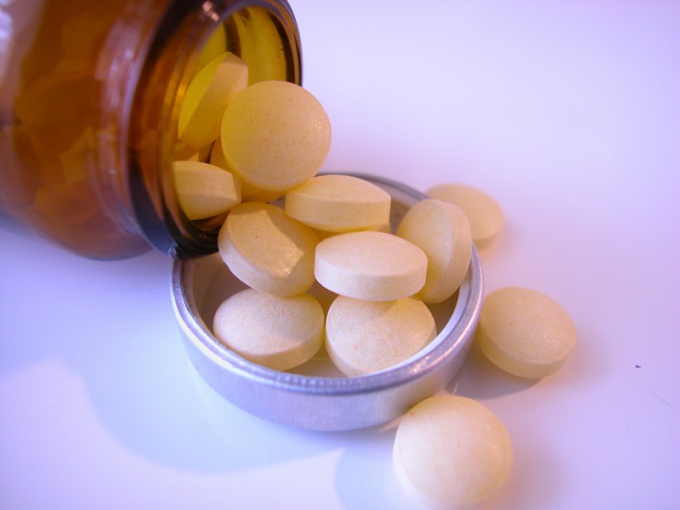 Instruction
Take
calcium, drinking plenty of water. Because of this, the tablet will quickly dissolve and reaching the bowel, instantly absorbed. Pre-grinding tablets accelerate the effect, moreover, to drink powder would be easier than swallowing a big pill.
Drink calcium gluconate immediately after eating. In this case, it metabolizes much faster, so the effect of taking will be noticeable soon after initiation of therapy.
Fraction of the daily dose into several intakes. An excessive amount of calcium entering the body, are excreted by the kidneys, so it is advisable to take it in small doses, which are absorbed completely.
Walk as much as possible. Sunlight helps the body produce vitamin D, which is necessary for calcium assimilation. Deficiency of this vitamin makes taking calcium containing preparations is useless. In the cold season when there is almost no sun, it is recommended that simultaneous administration of calcium gluconate and vitamin D.
Take 2-6 tablets of calcium gluconate three times a day. For infants, maximum single dose is 0.5 g, i.e. one tablet. Children up to 4 years appointed for 2 tablets at once, and preschoolers 3. In 7-9 years, the doctor is likely to recommend take 4 tablets of calcium at a time, and the maximum dose for Teens - 5 tablets. The exact dosage depends on the severity of calcium deficiency, so only a doctor can decide what dose is right for you.
Note
Calcium gluconate is a relatively safe calcium salt (at least less dangerous than calcium chloride). For the home kit the drug can be purchased in the form of powders (with a shelf life of 10 years) or tablets (with a shelf life of 8 years), containing 0.5 g of calcium gluconate.
Useful advice
Calcium gluconate - instructions for use, analogs, reviews and release form (tablet of 500 mg, injections in ampoules for intramuscular and intravenous injection) of a drug for treatment of hypocalcemia in adults, children and during pregnancy. In this article, you can read the instructions for use of the medicinal preparation of Calcium gluconate.
Advice 3 : Calcium gluconate ampoule: application features
Calcium gluconate – a mineral Supplement that is used to fill the shortage of calcium in the body and prevention. The tool is available in the form of intravenous solution in ampoules of 1 and 5 ml. In 1 ml contains 0.1 g of calcium gluconate.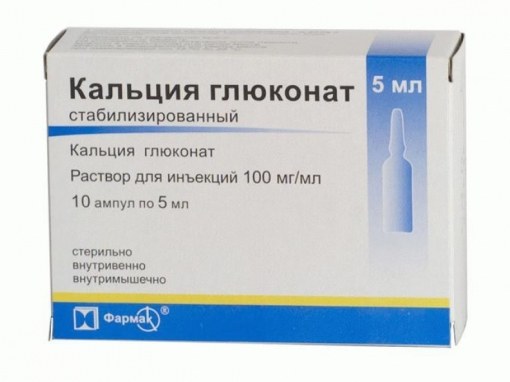 Indications for use


Calcium gluconate ampoules used in the following indications:

- calcium deficiency;

- toxic liver damage;

- parenchymatous hepatitis;

- insufficiency of the parathyroid glands;

nephritis;

- paroxysmal mioplegii gipercalziemicescoy form;

inflammatory and exudative processes;

- skin diseases.

Calcium gluconate can be used as additional tools in the treatment of allergic diseases, including drug Allergy. Also, the drug is prescribed for nasal, pulmonary, uterine and gastro-intestinal bleeding as an additional hemostatic agent. In cases of poisoning by salts of magnesium and oxalic acid calcium gluconate is used as an antidote.


Method of application and dosage


Adult patients the calcium gluconate solution is introduced in a daily dose of 5 to 10 ml every day, every other day or at intervals of 2 days. Single dose intravenous jet introduction should not exceed 5 ml and intravenous drip, it can vary in the range of 5 to 10 ml, Children depending on age appoint 1-5 ml of calcium gluconate after every 2-3 days.

Note that when using calcium gluconate vials in the excitation of the sympathetic nervous system increases production of epinephrine, and there is mild diuretic effect.

Patients with a tendency to the formation of stones in the urine during the period of use of the drug need to increase the amount of liquid.


Contraindications and side effects


Calcium gluconate ampoule not applied with the increased level of calcium in the blood, severe kidney failure, tendency to thrombosis, increased blood clotting and atherosclerosis. Children contraindicated intramuscular solution.

Calcium gluconate ampoule is not recommended to use simultaneously with cardiac glycosides, as their cardiotoxic effects if this combination can significantly increase.

The drug is prescribed with caution to patients with minor renal dysfunction, small or hypercalciuria urolithiasis in anamnesis. The presence of these disorders during the application of calcium gluconate is necessary to control the level of excretion of calcium with urine.

Side effects of calcium gluconate can manifest as nausea, vomiting, diarrhea and bradycardia. In vnutrimyshechnom a possible tissue necrosis.
Advice 4 : How to apply calcium gluconate
Calcium gluconate is appointed by doctors quite often. It is also particularly important during pregnancy. But just buy a drug and take it, following the instructions is not enough. Need to know how to drink the medicine, in order to bring the body maximum benefits.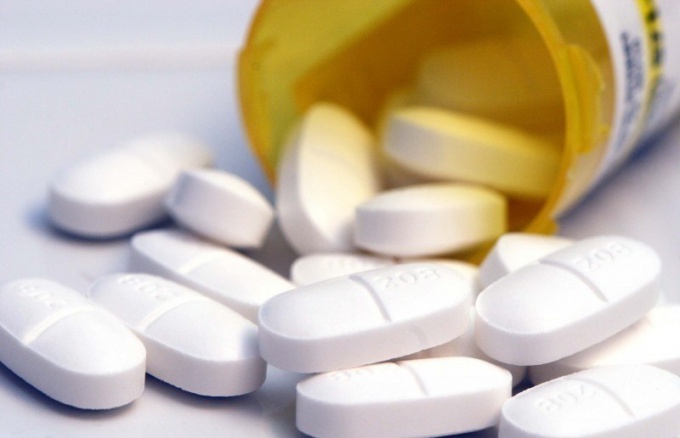 Indications calcium gluconate

Of calcium gluconate is usually prescribed for diseases that are accompanied by hypocalcemia and impaired conduction of nerve impulses in the muscles. It is also an indication for use is the increased permeability of the cell membranes.

In principle, the spectrum of diseases for which treatment is used, calcium gluconate, quite wide. Its use is indicated for disorders of metabolism of vitamin D, hypoparathyroidism, chronic diarrhea, increased excretion of calcium.

In addition, diseases which shows the use of calcium gluconate are allergic diseases, bleeding, dermatosis and different reactions on food and medicines. Also these include swelling of alimentary dystrophy, tuberculosis, bronchial asthma, eclampsia, parenchymal hepatitis, toxic liver damage.

Huge positive effect of calcium gluconate is brings during pregnancy and lactation. As it is often prescribed to women in menopausal period.


The correct application of calcium gluconate

It is best absorbed in the body calcium gluconate, which is ingested in powder form. Therefore, before taking the pill should be crushed. To drink they need for about a half hour before meals or after the same amount of time after. Best of all the drug to drink milk, but, nevertheless, water is not forbidden. Importantly, the liquid was much.

If the doctor had not voiced you any individual scheme taking the medicine, drink it twice a day. In case of serious diagnoses – three.

For the assimilation of calcium gluconate is very important to observe one rule. This drug is absorbed only in combination with vitamin D. If you are taking expensive medication, it is likely to contain the necessary elements. In the case of domestic consumption of pills should drink needed trace mineral Supplement.

Some drugs are categorically forbidden to use simultaneously with calcium gluconate. They are heart drugs and antibiotics. Their interaction may lead to unwanted side effects.

Follow me if taking calcium gluconate. Drink plenty of fluids during the period of his admission. If you have any deviation, e.g., vomiting, diarrhea, tachycardia, or pressure surges, as soon as possible to go to the doctor.