Instruction
Try to use an expensive detergent, it washes well not only jeans, but also protects them from the penetration of dirt deep into the fibers. Wash at a temperature of 40-50 degrees.
If the jeans turned yellow, add two tablespoons of hydrogen peroxide during the wash to the powder. The peroxide can be added to the main compartment for powder in the washing machine, it will not damage rubber elements.
The use of baking soda for every wash lightly bleached jeans. Soda softens the water and powder it washes pollution. Soda is necessary to take 1 h spoon per liter of water, while the drum washing machine can add 1-3 tablespoons of baking soda.
If all else fails – soak the jeans with lemon juice. You can use citric acid. The proportion of lemon juice 1 tbsp per gallon of water. Citric acid you need to take at the rate of 1 h per liter of water.
Use with each wash, oxygen bleach and after a few washings you will notice the result.
Advice 2 : How to make jeans light
Each of us wants to look beautiful, stand out from the crowd and be fashionable. Jeans have for many years included in the wardrobe of each of us. Very much like the bright jeans. And in the wardrobe hanging jeans of dark color. But this is not a problem. Dark jeans can easily make jeans light. Try to figure out how to do it.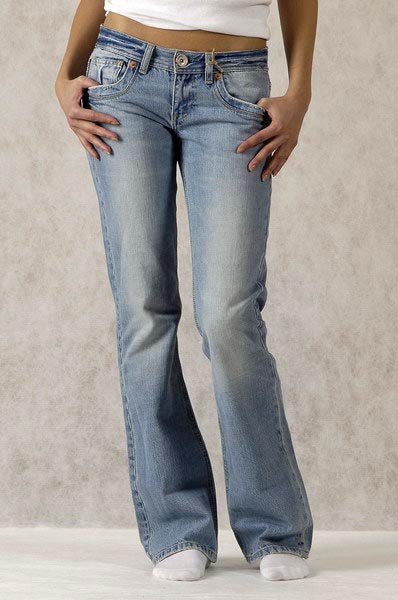 You will need
Dark jeans, glass, bleach or white, metal bucket, ordinary gum (if not, suitable pegs), rubber gloves (preferably), stick a length of 50-60 cm and forty minutes of time. If all you could find, then proceed.
Instruction
Roll up the jeans and secure with rubber bands (figure).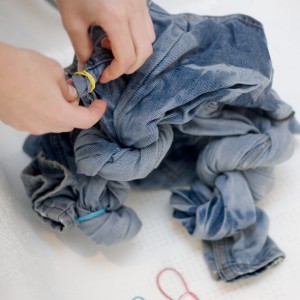 Pour into prepared bucket of water so that it filled 60 percent of capacity. Then place the bucket on the stove and light the fire. After 15 minutes pour into a bucket one Cup of white or solution and boil gradually while stirring the water. After the water in the bucket reaches a boil, put your jeans in the bucket so that they are fully immersed in it.
Put on gloves, take a stick and constantly ensure that the jeans did not rise above the water. The stick is useful to you, not to burn yourself with steam or boiling water. If the jeans after 10 minutes will not change its color, add a little bleach or white and then simmer for another 15 minutes.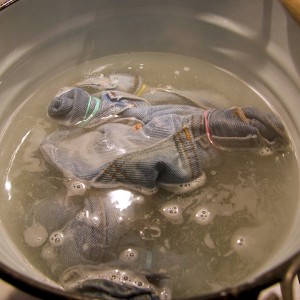 When only jeans will change color gently pull it out, remove the rubber bands (clothespins) and place in cold water. Very good rinse jeans in cold water and hang to dry. So that's how we got trendy bleached jeans with different patterns.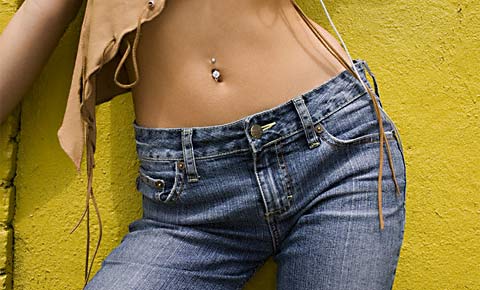 Note
When performing the above steps, you must be careful not to Ambaritsa boiling water.
Useful advice
If you don't want to lighten the jeans completely, it is possible to weld any part of them, for example, of the trousers.
Advice 3 : How to whiten jeans
Worn jeans not necessarily to go to the dump. They still can breathe life with patches, rivets, decorations. Or resort to one of the most popular at all times of ways to whiten them.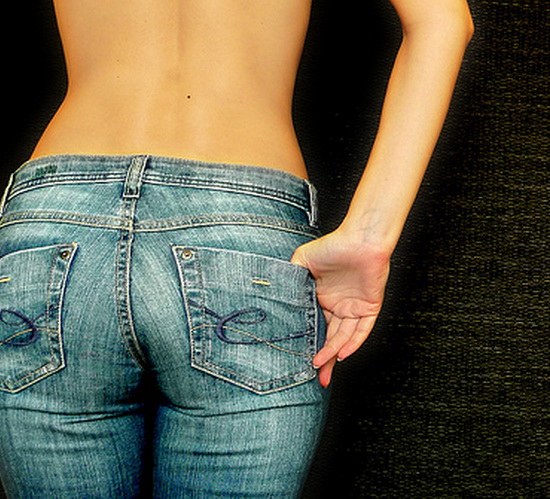 You will need
Jeans, a bucket or a big pan, rubber gloves, bleach, pegs/ropes/elastic bands
Instruction
To start, determine whether you want to get an interesting geometric pattern on the jeans or just make them completely white. For the first option twist
jeans
, tie rubber bands or ropes, hold the clothes pins so, how will allow you your fantasy. If you close the second option, with jeans to do nothing, simply lower them into the solution.
Prepare the solution. For a simple bleaching of the pants, without constrictions, mix the water and bleach. Water should be two times more than bleach. Lower the jeans into the solution and leave them for half an hour. You can omit the jeans not completely, leaving the top edge blue. Related and twisted jeans you can put on the same solution, and can "cook" them by putting a bucket of solution on the plate. Immerse the jeans in the solution after boiling and watch for changes color. The minimum cooking time - 10-15 minutes.
Now jeans should be exempt from pegs and ropes (if they were), and then to wash and dry. Be sure to use rubber gloves! As a result you get a completely new look to your old pants, which the owners of expensive brand-name jeans may even envy.
Note
Updated jeans should be washed separately from other clothing.
Useful advice
If you doubt the success of cooking jeans and use bleach, ask friends, and even better - the parents or their friends as they bleached jeans at the time. Options whitening is not as small as it seems, some do it with citric acid, potassium permanganate and peroxides, other tinder jeans with a brush, dipped it into the solution. But the result in each case looks different.