Classic strawberry jam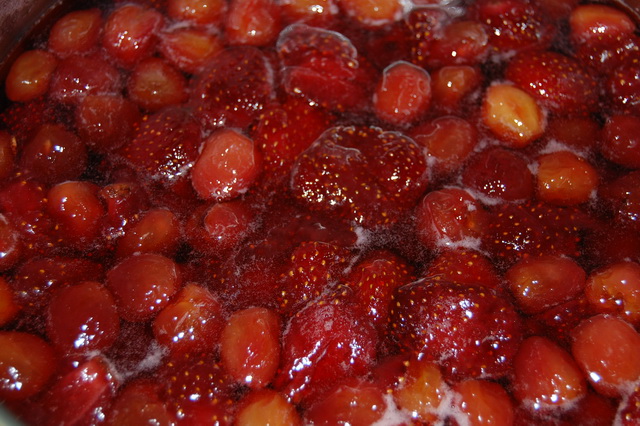 Strawberries with sugar, cooked in its own juice, is the most popular option of strawberry jam. Preparation of this dessert does not require any particular culinary skills, so make it the most aspiring hostess.
Necessary ingredients:
1 kg of strawberries;
1.5 kg of sugar.
Preparation:
Strawberries sort, throwing is not ripe and spoiled fruit, clean it from leaves, and then recline in a colander and rinse under cold water. Spread the prepared strawberries in a deep container and evenly sprinkle the specified amount of sugar. Then leave the strawberries to infuse for 3-4 hours that it has allocated juice.
After the specified time put a bowl of strawberries on the fire and bring to a boil, stirring the mixture with a wooden spoon. Boil jam in several approaches 1-2 minutes at intervals of 4 hours.
Ready strawberry jam pour in banks in hot form, close the lids and cover with a thick towel. Prepared according to the rules of strawberry dessert should have a thick consistency, rich aroma and luxurious ruby color.
Strawberry jam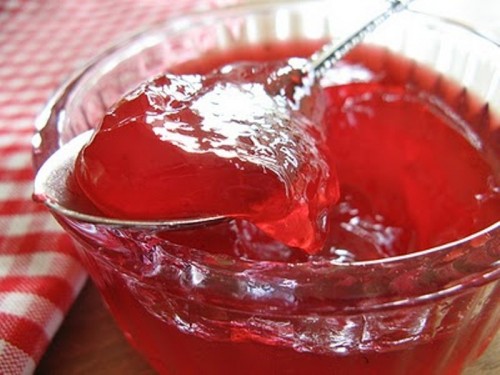 Strawberries can be prepared not only delicious jam, but such a wonderful dessert, as jam.
Necessary ingredients:
1 kg of strawberries;
700 g of sugar;
2 tablespoons of pectin.
Preparation:
Selected and washed berries whipped into a puree using a blender. Mix pectin with 2 tablespoons sugar and add to puree. Saucepan with berry mixture, put on fire and bring to a boil, without ceasing to interfere. After boiling, diminish the fire to low and cook the lot for another 3 minutes. Ready-made jam from strawberries filled jars, tighten the lids and leave to cool upside down.
Strawberry-peach jam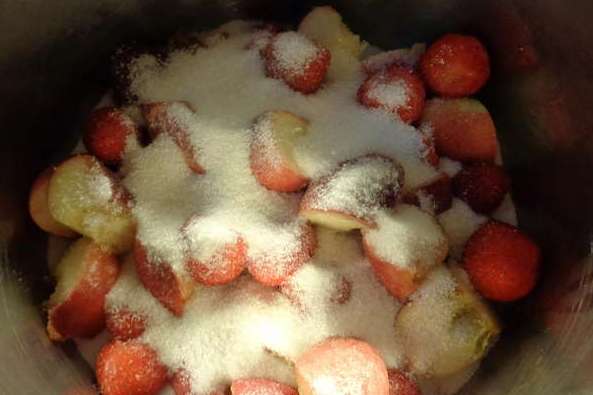 The combination of strawberries and peaches gives the jam juicy summer taste and exquisite aroma.
Necessary ingredients:
500 g strawberries;
500 g of peaches;
500 g gelling sugar;
50 ml of water.
Preparation:
Clean strawberries from the stems and wash under running water. My peaches, remove the seeds from them and cut into small slices. Prepared berries and fruits put into a deep enamel container, fill produced sugar, add water and leave to infuse overnight. In the morning, put the mixture to boil on a small fire. To prepare the dessert should be until boiling plus 10 minutes.
Hot jam put in blender and whisk until smooth mass. The resulting mixture is again put on the fire and wait for boiling, then leave it to harden for 30 minutes. In the process of freezing the jam 1 mix again (at 15 minutes). After the specified amount of time, stir again dessert and distributed it on pre-sterilized banks.
Strawberry jam in a slow cooker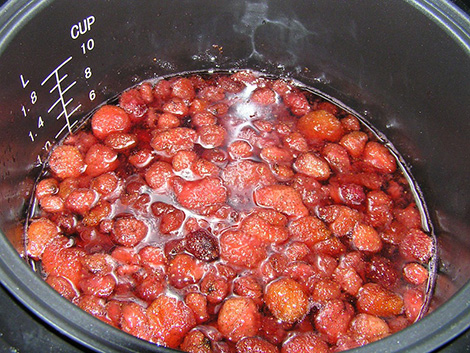 To cook a delicious strawberry jam and can in a slow cooker. This recipe is suitable for all slow cookers with a "Control".
Necessary ingredients:
1 kg of strawberries;
1.2 kg of sugar.
Preparation:
Berries sort, clearing them of leaves and other debris. Selected fruit is put in a colander and rinse several times dropping in a container of cold water. Washed strawberries pour into the bowl multivarki, to fall asleep sugar and leave to infuse for 10-12 hours. The next day included multivarku mode "Control" or "Jam", set the temperature to 160 degrees and prepare the dessert for 30 minutes, stirring occasionally and skimming.
Jam jars should be carefully washed, and heated in the steam for 2-3 minutes. Ready strawberry treat is poured into the prepared banks, close caps and remove for storage in a cool and dark place.