You will need
deep enameled pan;
- stainless pot with a thick bottom;
- sieve.
Instruction
To jam has turned thick and not overcooked (prolonged cooking, the berries become hard, lose vitamins), you need to remember a few simple rules. Using them in practice, you will always be able to cook very tasty and healthy jam from any fruit and berries.
Prepared berries wash and sort. Plums, cherries (any stone fruit), remove the bone. Pour the berries with sugar and leave overnight. The amount of sugar depends on the type of berries. The more acidic varieties you use, the more sugar needed. For example, in the strawberries, put sugar in the ratio of 1:1, and in currants, cherries, plums of 1:1.5. If jam is made from fruits, peel them, cut into plastics and also cover them with sugar overnight.
During the night the berries will give the juice and the sugar in it will partially dissolve. If juice is too much, carefully discard it and boil the syrup without the berries for 10-15 minutes. After that, pour the fruit of boiling syrup. Allow to stand for 2-3 hours, repeat the boiling. Do this until the syrup thickens (usually 2-3 times).

Once the syrup has thickened and the berries are soaked in sugar, put jam. It also should not boil for long time is 3-5 minutes, and then leave to stand for a few hours. The gaps between the cooking must be at least 2 hours (until jam has cooled).

Boiling repeat this 3-4 times (depending on the berries). Hot jam pour into sterilized jars. If the juice is produced not so much (for example, from apples), drain it is not necessary. Start out gradual cooking preserves.
Now on sale there were many thickeners for cooking jam. It's a matter of taste. However, the question is why sagomate artificially, if you can jam any consistency. A little razmerchik berries in a blender will do the same way with jam or marmalade, not vivaria water for hours.
And your liquid jam is quite possible to fix – drain the syrup and boil down it to the desired consistency. Fill it with boiling berries, bring to boil and pour into banks.

If the jam turned out delicious, and its only drawback – liquid consistency, pour part of the syrup. They, for example, can also be sprinkled on ice cream or use for cocktails.
Useful advice
If the fruit you use for jam, too sweet, podkislit him lemon. Squeeze out the juice, and the lemon will cook together with jam.
Advice 2: How to make jam from pears
Pear is one of the few fruits that retain almost all vitamins and minerals after heat treatment. In addition, the pear goes well with any other fruits and berries that allows you to cook delicious and unusual jam.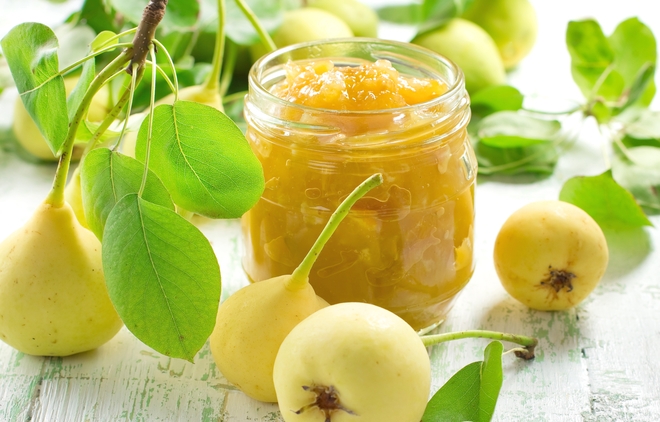 Classic jam from pears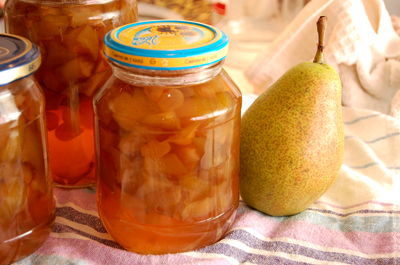 This is perhaps one of the most common cooking pear jam. Dessert, cooked on the classic recipe has a wonderful taste and excellent amber hue. Jam from pears can be used not only as a standalone dessert, but also to use as a filling for any pastry: pies, rolls, pancakes, etc.
Necessary ingredients:
800 g of pears;
1 kg of sugar;
200 ml of water.
Preparation:
Pears and peeled, stems and seeds, then chop them pieces of arbitrary shape and thickness. Sliced fruits are put in an enamel bowl, place sugar and leave for 4-5 hours to let the pear juice. If after that time the fruit has allocated insufficient amount of liquid in the pot, add water. Put a bowl of pears on low heat and bring to a boil, then in the throes of jam for 1 hour in the same mode. During cooking the jam periodically stir to settling to the bottom of the fruit pieces are not burnt. Ready pear dessert bottled in sterilized jars and close with lids.
Honey jam from pears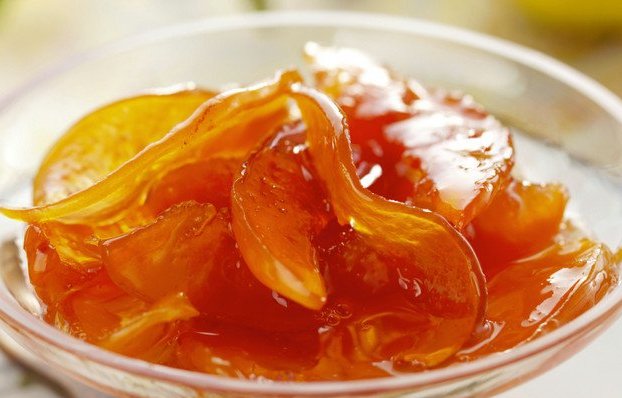 The uniqueness of this recipe lies in the absence of sugar in the composition, so this jam will especially appeal to adherents of a healthy diet.
Necessary ingredients:
1 kg of pears;
30 g poppy;
100 g of liquid light honey;
vanilla;
the seeds of cardamom.
Preparation:
First we need to prepare the fruit to be washed, cleaned from skin and cut into small pieces. Put sliced pears into a bowl and adding the honey and ground cardamom seeds. Put the dishes on a small fire and cook the mixture until then, until all the liquid is evaporated (about 20-30 minutes), stirring constantly. The readiness of the jam, you can check the following method: place the jam into a wet saucer, if it does not spread, so it can be removed from the fire. In hot pear jam, add the poppy seeds and vanilla, carefully parasivam and let cool to room temperature, then spread on banks and preserve.
Pear jam with grapes and lavender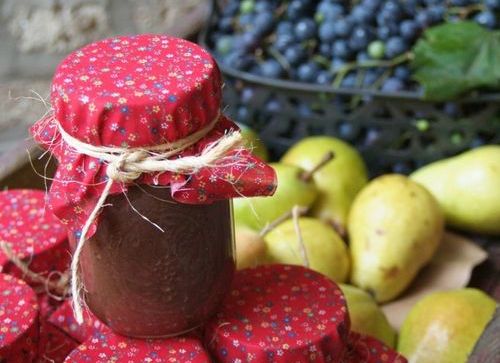 Pear jam prepared with this recipe has an amazing taste and unique aroma. It combines the sweetness of pear and a specific flavor of grapes, and a sprig of lavender gives the delicacy a wonderful flavor of Provence.
Necessary ingredients:
1 kg of pears;
150 g of sugar;
350 g of grapes;
150 g of dry wine;
10 grams of cinnamon;
1 sprig of lavender.
Preparation:
In an enamel saucepan pour the sugar, pour his wine, mix thoroughly and put on to cook on a weak fire. During the syrup preparation it is necessary to stir constantly. Pre-washed pears peeled, core and seeds, then cut into neat slices. The prepared fruits together with grapes and cinnamon put in a pan with the syrup. Proverjaem fruit to simmer for 10-15 minutes.
Remove the cookware from the heat and allow the mass to cool, then put on fire and bring to a boil. In the process of re-cooking add in jam a sprig of lavender, pre-wrapped it in gauze fabric. After boiling, the mixture should cook for 5 more minutes. Again pear jam cools to room temperature and repeat the procedure of cooking. At this stage, the jam must be removed from heat immediately after boiling. Get a sprig of lavender from the finished jam, and then pour it on a pre-prepared banks.
Pear jam and cranberry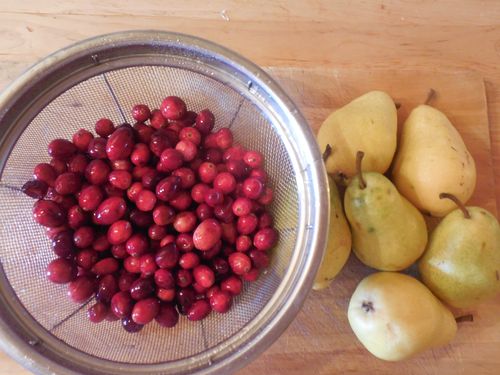 Since the consistency of the jam should be very thick, to make it suitable not for all fruits and berries. Pears when cooked give the desired degree of viscosity and density, are therefore considered ideal for making jam. This dessert has a pleasant sour-sweet taste and amazing aroma.
Necessary ingredients:
1.4 kg pears;
1 kg of sugar;
700 g cranberries;
1 lemon;
300 ml of water.
Preparation:
For starters clean pears, cutting off the rind and removing seeds. Peeled fruit cut into small slices and put in a deep enamel bowl. Lemon pour over boiling water, peeled and squeeze the juice. Pour the pears with lemon juice and give them a good soak, leaving the fruit to infuse for 30-40 minutes, then add in a container of cranberries.
In a separate container, combine pear peel and lemon zest, put the mixture on the fire and bring to a boil. After boiling, cook for another 20 minutes, stirring occasionally. Remove the mixture from the heat and allow it to cool, after which the contents of the bowl should be transformed into a homogeneous consistency, rubbing it through a sieve or chopped using a blender.
The resulting basis for jam in a bowl add the pears and cranberries, pour the sugar and carefully mix everything. Put the jam on the heat and cook 30 minutes on low heat, removing appearing on the surface of the foam. Ready delicacy spread on banks and preserve.
Advice 3: How to cook jam from zucchini
Jam zucchini is a wonderful option for those who are tired of the mundane winter preparation of foods and want something unusual and original. Jam, boiled zucchini, it turns out incredibly tasty and useful.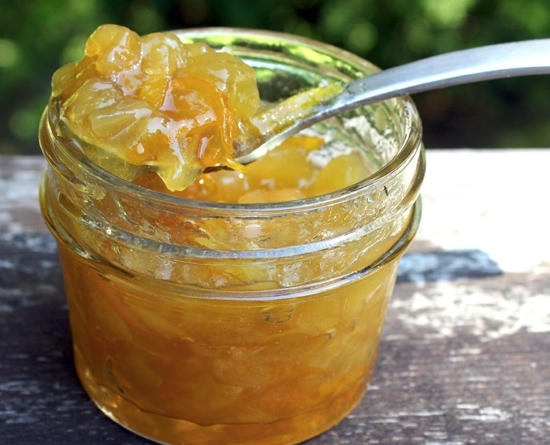 Jam zucchini with lemon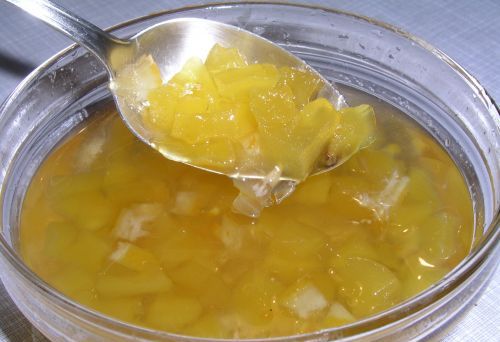 Due to its neutral taste of the squash combines perfectly with almost all fruits and berries. Especially delicious jam, made with zucchini and lemon. In addition to the unusual taste, this jam has a rich supply of vitamin C, which helps to resist viruses in the cold season.
Necessary ingredients:
1 kg zucchini;
1 kg of sugar;
1 lemon.
Cooking
My zucchini, peeled and seeds, then cut into cubes of medium size. Lemon pour over boiling water, cut into small slices and remove the seeds. Put the sliced ingredients in a saucepan, place sugar and mix well. Give the mixture to steep for 2 hours and start cooking. Bring lemon-kachakova mass to a boil, and then cook it another 2 minutes. Cool jam to room temperature and repeat the procedure of cooking another 4-5 times. Every boiling squash jam becomes more transparent hue and rich aroma. When a treat becomes thick, it can pour into banks and roll.
Jam zucchini with strawberries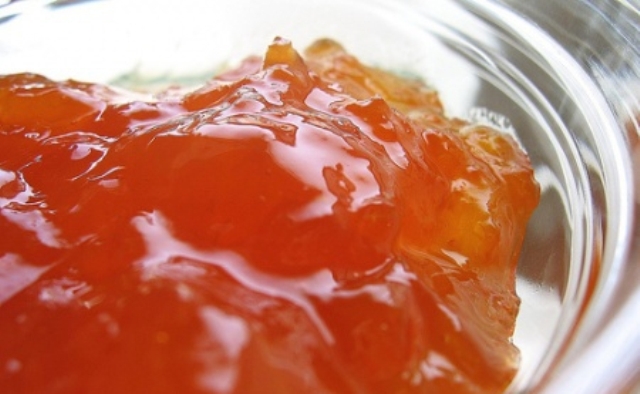 Jam zucchini with strawberries is another option tasty and flavorful treats. Preparing this jam is pretty simple and fast.
Necessary ingredients:
1 kg zucchini;
1 kg of sugar;
1 kg of strawberries.
Cooking
Zucchini clean from the skin and seeds, then puree them using a blender. Wash the strawberries under running water, cleaned from the leaves, then put it in the blender, and turn it into purees. Squash-strawberry mixture put in the pot, fill with sugar, stir thoroughly and give the mixture a little brew. Put the saucepan on the fire, bring the mass to boil and tormented for another 2-3 minutes, then turn off the fire and cool the jam to room temperature. Then repeat the procedure of cooking 3 more times. Ready jam from zucchini and strawberries Packed up on the banks, roll up and wrap it up with a warm blanket.
Jam zucchini with raspberries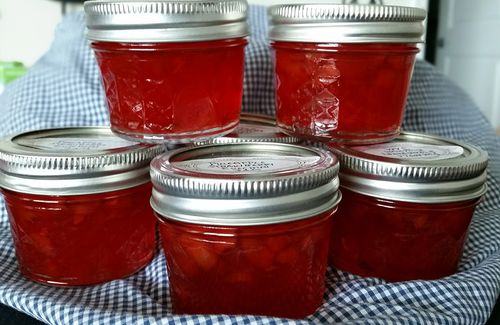 This recipe is perfect for lovers of sweet jam. Thanks raspberries, squash jam takes on a beautiful pale pink color and unsurpassed flavor.
Necessary ingredients:
1 kg zucchini;
1 kg of sugar;
1 kg of raspberries.
Cooking
Opolaskivaniem zucchini under running water, cut away the peel and remove seeds, then cut into small cubes. Raspberries iterate, rinse under water, put in a saucepan and presses to speed up the cooking process. To the berries add the sliced courgettes and sugar, then mix thoroughly all the ingredients. Allow the jam to stand for hours and put on to cook on a slow fire. Bring mixture to a boil and cook another 10 minutes. Remove the pan from the heat and cool the jam to room temperature, then repeat the cooking process in a similar mode 4 more times. When the jam will become thick and homogeneous mass, it is possible to roll.
Advice 4: How to make jam in a slow cooker
The first ripe fruits and berries, and Housewives tend to prepare them for winter - cook
jam
. A small amount of fruit and berries can be cooked in a slow cooker is convenient and fast.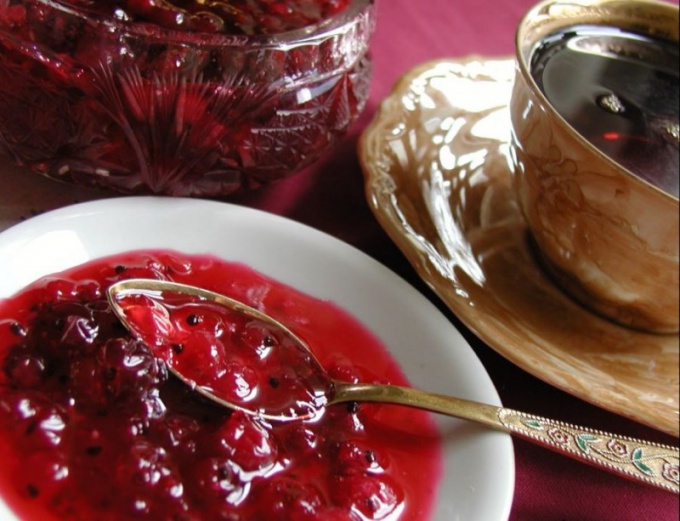 You will need
berries or fruit;
- sugar;
- the slow cooker;
- jars and lids.
Instruction
So how to make jam in a slow cooker need with the lid closed, the moisture will not evaporate and the syrup thickens. So the jam will turn out runny, but with whole berries as jam. If you want thicker try to cook for 2 approach.
Do not put in the slow cooker, lots of berries, otherwise the jam just "run away" so remember the proportions. 2 litres capacity - no more than a pound of fruit or berries. Let's see how much you have multivarka, and calculate how much of what you will need.
Wash fruit or berries and let them dry, because the extra liquid in the slow cooker useless. Mix berries with sugar. If you make jam in a slow cooker from apricots or strawberries, sugar take in equal amounts. For sour berries, such as currants, sugar need more.
Before make jam in a slow cooker, be sure to remove the steam valve. Lay the berries in a container, close the lid and turn mode "Quenching" for 1 hour. Meanwhile, prepare the banks. They need to be sterilized. This can be done in several ways. Put a jar on a special stand over a boiling pot in the water, bottom down . After 3-5 minutes, remove. And you can just fill the cans with boiling water, cover with boiled lids and hold for 10 minutes, then the water carefully drained. Or to put the jars into the steam cooker and sterilize them.
Jam in multivarka ready. Open it and put it in the jars. Immediately, tighten their lids because the jam liquid and the microbes may eventually begin to ferment. Place the jar bottom up and cover with a blanket or something. Let the jam will be hot longer.