You will need
deep enameled pan;
- stainless pot with a thick bottom;
- sieve.
Instruction
To jam has turned thick and not overcooked (prolonged cooking, the berries become hard, lose vitamins), you need to remember a few simple rules. Using them in practice, you will always be able to cook very tasty and healthy jam from any fruit and berries.
Prepared berries wash and sort. Plums, cherries (any stone fruit), remove the bone. Pour the berries with sugar and leave overnight. The amount of sugar depends on the type of berries. The more acidic varieties you use, the more sugar needed. For example, in the strawberries, put sugar in the ratio of 1:1, and in currants, cherries, plums of 1:1.5. If jam is made from fruits, peel them, cut into plastics and also cover them with sugar overnight.
During the night the berries will give the juice and the sugar in it will partially dissolve. If juice is too much, carefully discard it and boil the syrup without the berries for 10-15 minutes. After that, pour the fruit of boiling syrup. Allow to stand for 2-3 hours, repeat the boiling. Do this until the syrup thickens (usually 2-3 times).

Once the syrup has thickened and the berries are soaked in sugar, put jam. It also should not boil for long time is 3-5 minutes, and then leave to stand for a few hours. The gaps between the cooking must be at least 2 hours (until jam has cooled).

Boiling repeat this 3-4 times (depending on the berries). Hot jam pour into sterilized jars. If the juice is produced not so much (for example, from apples), drain it is not necessary. Start out gradual cooking preserves.
Now on sale there were many thickeners for cooking jam. It's a matter of taste. However, the question is why sagomate artificially, if you can jam any consistency. A little razmerchik berries in a blender will do the same way with jam or marmalade, not vivaria water for hours.
And your liquid jam is quite possible to fix – drain the syrup and boil down it to the desired consistency. Fill it with boiling berries, bring to boil and pour into banks.

If the jam turned out delicious, and its only drawback – liquid consistency, pour part of the syrup. They, for example, can also be sprinkled on ice cream or use for cocktails.
Useful advice
If the fruit you use for jam, too sweet, podkislit him lemon. Squeeze out the juice, and the lemon will cook together with jam.
Advice 2 : How to cook raspberry jam
Raspberry jam is extremely tasty. It can, but the can of tea. It is served with pancakes and used to make fillings for pies, cakes and other desserts. It is clear that one standard recipe raspberry jam does not exist, as each family has its own tricks and secret ingredients that help make raspberry jam more delicious. But still the main components in this delicacy are milk and sugar.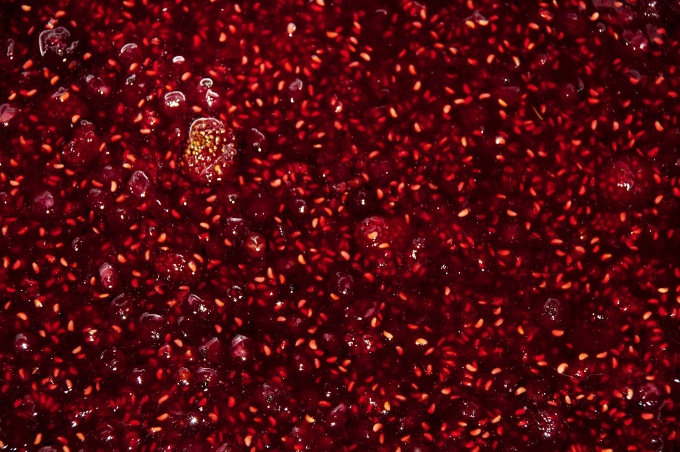 You will need
1.5 kg of sugar
cookware for jam
banks for the finished jam.
Instruction
One of the recipes raspberry jam 1 kg washed and enumerated berries take 1.5 kg of sugar. Raspberries put in a pan in which then you cook the jam. On top sprinkle the berries with sugar. In this state, leave the berries to infuse for 8 to 10 hours in a cool, dark place. Then put the jam on the heat, bring to boil and simmer 20 minutes.
Of course, the most beneficial is the fact jam, which was subjected to heat treatment, as it retains more vitamins and other nutrients. Different this jam is called the orientation meeting. To prepare it, take 1 kg of raspberries. Carefully rinse it, being careful not to damage the berries. Pour the raspberries and sugar for 5 hours, and then pour out the syrup. Boil it for 10 minutes on high heat. Then reduce the heat and add in syrup raspberries, bring to a boil and simmer for 5 minutes. After 8-10 hours again bring the jam to a boil and boil for another 5 minutes. Ready jam pour in banks.
The third method of preparation of raspberry jam is that once the raspberries will be covered with sugar, after 3-4 hours you will need to drain the resulting liquid. The resulting syrup boil for 5 minutes, and pour over the raspberries. Simmer the berries on low heat until tender.
Useful advice
In addition to its taste, raspberry jam has healing properties. In raspberries, raspberry jam contains acids that prevent the formation of cancer cells, and substances in its effects similar to aspirin. Therefore, a cold tea with raspberry jam helps to reduce the temperature. In addition, these substances thin the blood, this is especially true for people who have problems with blood clotting.
Advice 3 : How to make jam in a slow cooker
The first ripe fruits and berries, and Housewives tend to prepare them for winter - cook
jam
. A small amount of fruit and berries can be cooked in a slow cooker is convenient and fast.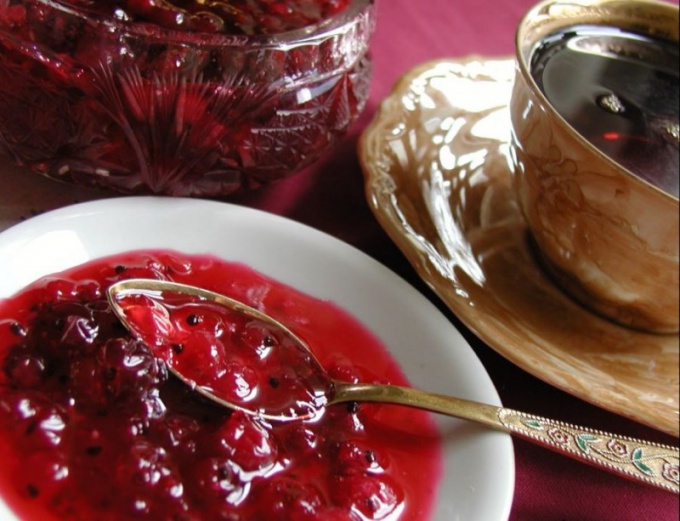 You will need
berries or fruit;
- sugar;
- the slow cooker;
- jars and lids.
Instruction
So how to make jam in a slow cooker need with the lid closed, the moisture will not evaporate and the syrup thickens. So the jam will turn out runny, but with whole berries as jam. If you want thicker try to cook for 2 approach.
Do not put in the slow cooker, lots of berries, otherwise the jam just "run away" so remember the proportions. 2 litres capacity - no more than a pound of fruit or berries. Let's see how much you have multivarka, and calculate how much of what you will need.
Wash fruit or berries and let them dry, because the extra liquid in the slow cooker useless. Mix berries with sugar. If you make jam in a slow cooker from apricots or strawberries, sugar take in equal amounts. For sour berries, such as currants, sugar need more.
Before make jam in a slow cooker, be sure to remove the steam valve. Lay the berries in a container, close the lid and turn mode "Quenching" for 1 hour. Meanwhile, prepare the banks. They need to be sterilized. This can be done in several ways. Put a jar on a special stand over a boiling pot in the water, bottom down . After 3-5 minutes, remove. And you can just fill the cans with boiling water, cover with boiled lids and hold for 10 minutes, then the water carefully drained. Or to put the jars into the steam cooker and sterilize them.
Jam in multivarka ready. Open it and put it in the jars. Immediately, tighten their lids because the jam liquid and the microbes may eventually begin to ferment. Place the jar bottom up and cover with a blanket or something. Let the jam will be hot longer.