Can I wash converse in a washing machine
Washable chucks both manually and in a washing machine. Oddly, the second method not only saves manpower, but also makes it easier to keep shoes: hand-washing sneakers they are often long soak with detergent in warm water, with the result that the chucks can fade.
However, if you wash Converse sneakers in the washing machine, observing all safety precautions, the shoes don't lose their quality, will retain their color and not deformed.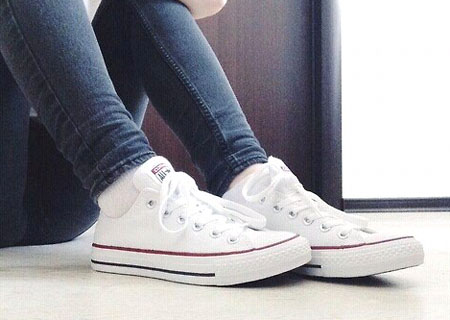 Training sneakers wash in the washing machine
Before washing you need to take out the insole and to unlace converse – laces and insoles are washed separately, otherwise the insole may warp, and the lace at the points of contact with metal grommets – rust.
After that you should clean the shoes from contamination: thoroughly wash the sole with a slightly damp sponge or soft clothes brush to clean dirt from the fabric top.
To wash the sneakers Converse better by placing them in a special net bag for washing. As a substitute of a bag you can use a pillowcase.
Laces better separately hand-washing – when machine washing them can tighten the drum, resulting in breakage of the washing machine. But if the converse is erased in a bag – shoelace can be folded several times to be tied up and put in a bag.
When washing the sneakers, you can add in the drum of the washing machine some small textile things – this will soften the inevitable blows on the soles of the drum.
How to wash Converse in a washing machine
Wash the converse on any program of short wash. But it is better to choose a program for delicate washing drum in this case, will rotate more smoothly. Shoes should be washed at low temperatures of 30-40oC. Colored converse should be washed at 30 degrees, otherwise they may shed. White sneakers can be washed at 40oC.
For washing colored chucks in the washing machine better to use special powders that are marked as "Color" or shampoos for washing colored fabrics. White chucks washable universal powder, white. If the sneakers is very dirty – can be added to detergent oxygen bleach or optical. Bleaches containing chlorine, for washing you can't use the converse shoes can turn yellow.
Sneakers normally wash no spin. But sometimes (for example, if there is no time for long drying) you can use a mild spin of 600 revolutions.
Dry your converse in the washing machine it is impossible – the hot air will lead to deformation of shoes. For the same reason it is impossible to dry them on the radiator or the heater. It is best to dry sneakers on the air, but not in the open sun (it is fraught with burnout). A warm, ventilated place in the shade – perfect. When drying you can stuff the shoes with white paper or paper towels, crumpled into lumps.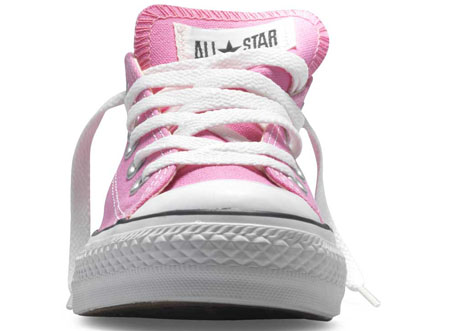 How to wash converse manually
If you decided to wash Converse sneakers hand – before washing, they also need to unlace, remove the insole and as should be clear from contamination.
Then in a small bowl, dissolve in a glass of room temperature water a teaspoon of powder or liquid detergent and lather. Wet the shoes with cool water and with a sponge or a soft brush liberally apply soap suds. Leave for 10-15 minutes.
After that, pour in a bowl of water at room temperature, place the shoes with a brush or sponge visivite soapy water, changing the water in the basin as needed. After completion of the procedure how should rinse the sneakers under running cool water.