You will need
- the canvas diagram with the adhesive
- special crystals (each color in a separate bag)
plastic saucer
- tweezers
white pencil for fine details
Instruction
Unzip the set. Spread the canvas with the image in front of him. Also should be a small pair of scissors, rhinestones, crystals handy to have a saucer of plastic ideally the container with 10-15 small cells for rhinestones, tweezers.
On the canvas with the image on top is pasted protective film. In any case, do not open it in the image. Hook the tape on the edge, slightly parted image with legend. It is desirable to open as many canvases as you will master in a given time, gradually expand and fill the canvas with rhinestones. If the compromised part of the canvas is ready, the extra piece of film cut with small knives.
When you slightly lifted the film from start to lay out the rhinestones. For bags with rhinestones specified legend colors, which coincide with the markings on the canvas. Open the tape and using tweezers, lay out the rhinestones on the canvas. Rhinestones should fit snugly to each other.
When part of the image ready (the size of a palm), you need to take a jar with a flat bottom, put on rhinestones and a little pressure to the rhinestones attached to the fabric more tightly.
And so, step by step priotkryvaya film, lay out the rhinestones, hold, extra tape otstegat.
When all the steps are done, you will see the canvas with a beautiful picture that you can frame and hang on the wall or give to friends.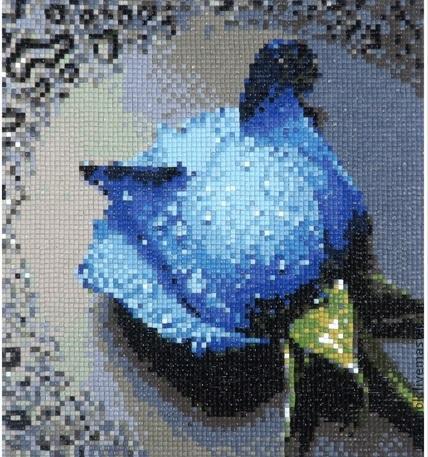 Note
In framing you can insert the embroidery under glass, but you can leave open. If you are worried about the reliability of the picture, you can turn to professionals, they will advise you of the special grout for diamond embroidery. But, as a rule, the rhinestones hold well, the main thing is to observe the execution of thread when embroidering, not to hold the canvas with the adhesive long open and tightly secured with a rhinestone at the end of work.
Useful advice
Paintings diamond embroidery technique to do simply, easily and quickly. But if you are in a hurry to create a present and you can't wait to see the final result, invite households, with a diamond mosaic easily handle even a first grader.