How to make a puzzle based on the drawing


For the manufacture of the puzzle based on the draw a picture you will need:
- scissors;
paper;
glue;
- the range;
pencil;
- thick cardboard.

Draw on a sheet of paper any picture. Also don't forget to make a copy - when mosaicking you will be able to use it as a hint.

Paste the picture on thick cardboard, and then leave it to dry. Then flip the image face down.
Using a ruler raschertite grid, which should consist of shapes of various sizes. With a utility knife or scissors cut along the lines a puzzle.

Your puzzle game is ready. Mix the pieces and get them assembling.


How to make a puzzle based on pictures


There are more sophisticated ways of making a homemade puzzle, which can serve, for example, an original gift for a friend's birthday. For this you will need:
- a color printer that can print high-quality photos of A4 format;
- thick cardboard that will fit under your printed photograph;
- PVA glue;
- scissors;
pencil.

If you want to make a pretty big puzzle, you should seek the printout of the photo in a special Studio, working on printing large-format photos.

Now, glue the printed photo to the cardboard and wait until your product has dried completely. Then trim the excess cardboard so that the edges of the photo exactly coincide with the edges of the cardboard and have the same form.

Then on the reverse side of the cardboard with the help of a pencil mark where you will need to cut out parts of the puzzle. If you make a game for adults, try to make pieces more complex, and not simple geometric shapes. Use only straight lines, but the semi-circles and geometric shapes at different angles. So you see complicate the process of assembling a homemade puzzle.

In printing, there are special machines that will allow you to cut your photo in different ways. This option can help you in case if you are in a hurry with a gift or you are too lazy to wield a pair of scissors, but a unique gift still want to give. When the puzzle pieces are cut, try to collect them in the original picture. This will make sure that they are sufficiently close to each other.


How to do the puzzle for kid


To make a soft puzzle with their hands for a small child, you will need:
- several sheets of colored foam rubber;
- scissors;
economic pulp tissues.

Cut from rubber sheets of any figures that are familiar to the child, and add them to the pulp tissue. Then using scissors, cut the figures into 2-3 pieces.

For kids that are not yet fully acquired the skill of folding puzzles, it is best to cut the picture into 2 equal parts. Some time later, when the baby easily would be to add image, every detail of the game to cut another 2 pieces.

In addition, for the manufacture of the puzzle you can use a bright page from an old illustrated magazine, stick it on cardboard and cut into squares, triangles or other geometric shapes. Even if there is no cardboard, no problem! Use the easiest way to do the puzzle for a child – take an old postcard and tight with color illustrations and cut her to pieces.

Parents are advised to put self-made puzzles in a bag or envelope, then not to look for them all over the room. This way you will be able to create your child a variety of puzzles, allowing him to develop fine motor skills and thinking.
Advice 2: How to assemble a large puzzle
Assembling a large puzzle – at first exciting and then a tedious process. Those people, whose hobby was the collection of small pieces of larger canvases reveal their secrets, greatly facilitates the process.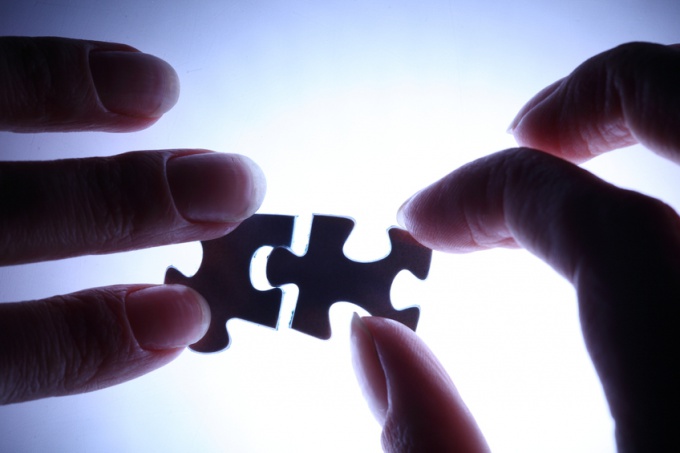 Instruction
If you do not have much experience in the Assembly, the maximum number of pieces in the puzzle should be no more than 500. Accumulating experience over time, you will be able to overcome and puzzles 10 000 pieces. Otherwise, you simply will not have the patience. Also do not just take a picture with a very complex image. Choose large pictures, for example: boat in the sea, car, cartoon character.
Before you pour the puzzle pieces and start to assemble it, prepare a piece of cardboard or plywood that will fit assembled puzzle, because the occupation is very long, so we have to ensure that during the breaks the puzzle did not move.
The first stage – placing the frames. Select from colorful heaps of parts that go on the edge – they have one or two sides completely smooth. This step is the easiest
Then usually get up to a standstill. From painstaking to sort through the pieces to find what you need, you will lose a lot of time, effort and patience. That doesn't happen with you take a few boxes or cans and place them parts of the same color, or belong to the same fragment.
By grouping items according to some basis, start putting some fragments. Collecting 1 fragment, preferably to move to the adjacent portion of the puzzle. Thus, moving from fragment to fragment, you will not notice, as before you will emerge the whole picture.
Collecting puzzle, you probably won't want to put it back in the box. Here are some ways to stick piece by piece on a big sheet of paper to cover the top with clear glue or tape. To draw a picture you can insert into a standard frame with a Mat. But, most likely, to find a ready-made frame you will not succeed. Refer to the framing workshop, providing them with information about the width and height of the mosaic. The cost of such frames together with the glass varies from 300 to 500 rubles.
Advice 3: How to make an envelope out of A4 paper with their hands
To send a letter, folded important papers or things, to pack drive, we need the envelope. It is not always possible to go to the office supply store or mail, but you can make an envelope out of A4 paper - fold it in multiple ways with your own hands.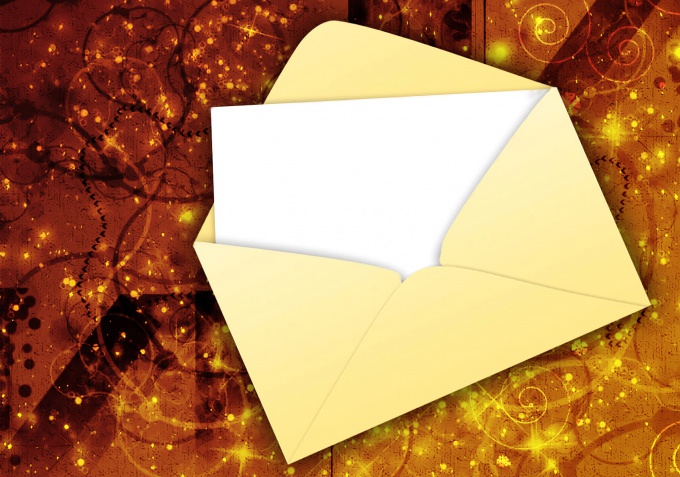 You will need
- paper A4;
- scissors;
- glue or tape;
- the range;
pencil.
Instruction
To make an envelope out of A4 paper is very simple. To do this, take an ordinary white sheet, which is used for printing, and put it in front of him.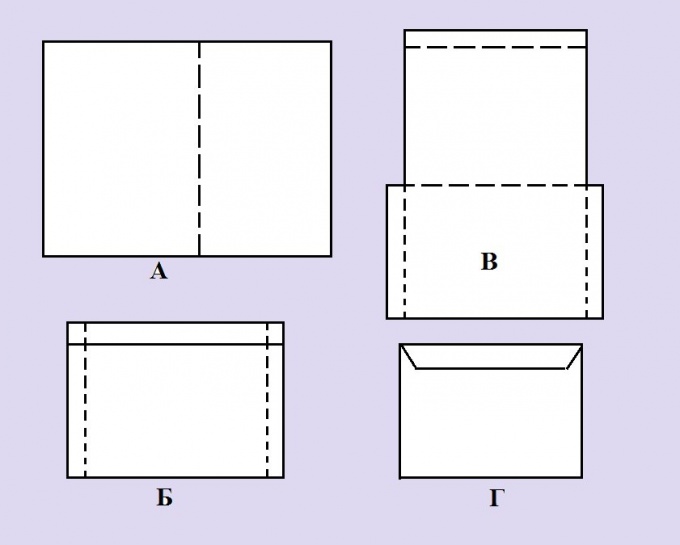 Visually or pencil, divide it into two parts. One half of the sheet should be slightly bigger than the other by 3-5 centimeters. On the marked line, fold the A4 sheet and well iron the fold line in hand.
Fold each of the sides of small sections of paper. They can bend both inwards and outwards. Glue these parts of the envelope together.
The remainder of the division of the sheet side down on the base of the envelope, flatten with your fingers a fold line. You need packing paper, seal the envelope.
To make an envelope out of A4 paper and other method. To do this, take a sheet and a ruler. Unfold the paper horizontally from the upper right and lower left corner measure 72 mm. Connect these points with the opposite corner. Cut unwanted parts of the sheet.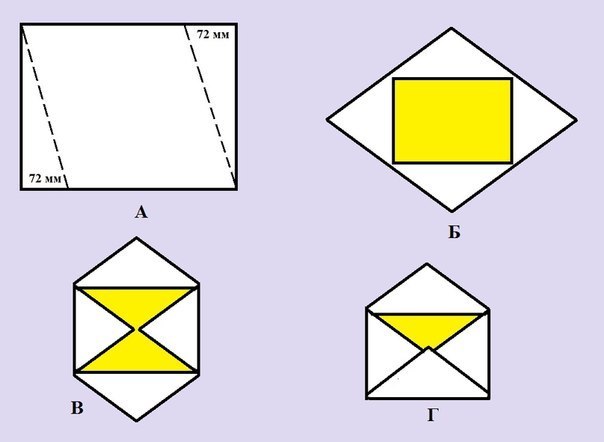 Expand the resulting rhombus in length. Fold left and right triangle so that the corners touch each other. The lower part of the pull towards the center to area was closed slightly converging lateral triangles. If necessary, glue the base of the envelope. Fold the upper part with a small overlap. And your envelope is ready. You have got to make an envelope out of A4 paper with your hands, you can pack in it a letter, money or other necessary stuff.
Note
If you need to send a letter in an envelope, do not forget to specify the address and the name of the recipient, the sender, their postal codes. Also purchase and stick postage stamps.
Useful advice
To seal the envelopes can not only glue, but also with a stapler, double-sided or regular Scotch tape. They can also beautifully decorate, cut out, for example, in the excavation of the foundations of the heart, coloring and original patterns, applications.