You will need
- concealer yellowish;
beige shade for daytime makeup;
three shades in one palette for evening makeup;
- black ink;
- peach blush;
- glue for eyelids;
- false eyelashes.
Instruction
Any Asian makeup begins with cleansing, toning and moisturizing the skin. Elegant Korean women think to apply Foundation on bare face, so spoil your skin.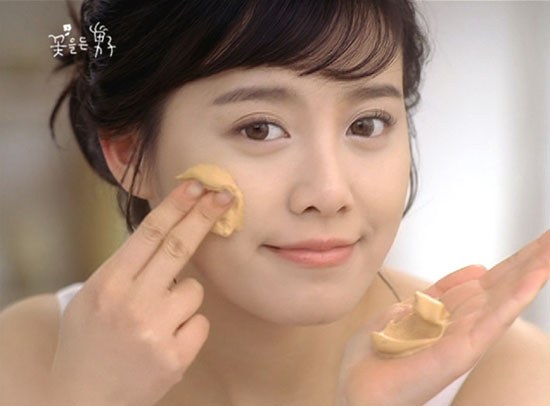 Then Koreans begin to align complexion with Foundation. Asian girls know that their yellowish skin don't mix pink shades. Therefore, they choose cream, gold, caramel, beige, cream and brown tones.
Eyebrows Koreans are paying a bit of attention. They carefully pluck out the hairs, but they arc rarely fail, so they would not distract attention from the eyes. So eyebrows have Asian women are often thin and not too dark.
Korean makeup involves underlining the cheekbones by using blush. From the warm tones of the local girls prefer peach and bronze, and cold plum. Blush plotted clearly on the zygomatic bone, and then gently shade.
Most attention Koreans paid to the eyes. They do like a light day makeup to evening smokey eyes. For the first Asian women use eye shadow shades of "ivory", "beige", "peach". And the eyelid secrete a dark brown or grey-black color.
The technique of smokey eyes is done with eye shadow in three shades. Welcome both warm and cool tones, as long as they are well combined among themselves. The most popular palette: beige, olive green, pearl grey, blue and purple. The prohibition of brick, Terra cotta, orange tones. Koreans – the winner of the swollen eyelids, and they know that a red or red shade makes their eyes filled with tears.
Asian makeup in the style of anime looks very natural and innocent. While Korean girls manage to open their eyes, that their opinion is not inferior to European eyes. The secret is a special glue for the eyelids. It helps to create the desired eye shape, making the look more expressive.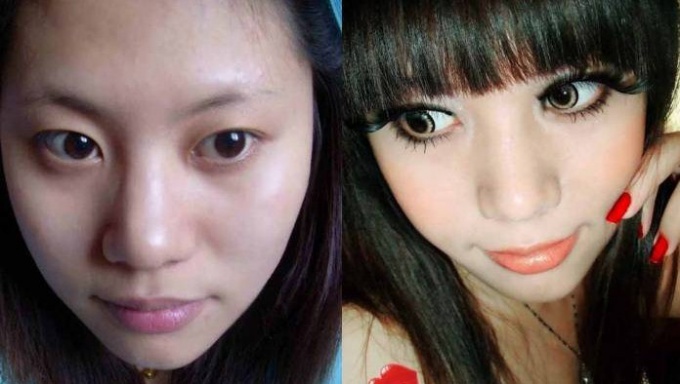 Even Koreans can't live without false eyelashes. In tandem with glue eyeshadow, they help to distract attention from the looming century.
Glue eyeshadow is applied: a special "fork" that comes complete with glue, lifted mobile eyelid. The adhesive is first applied on top of the folds. After the first coat has dried, apply the second – below the fold. Then use the same "fork" is formed into the desired cut.
In addition to the liquid glue you can use special strips. They are glued both on the level of the folds, and on all mobile eyelid.