With the change of image, age or mood women have to dye your hair. At this point the question arises: "Paint what manufacturer deserves attention, who is the leader in this area?". The answer may not be one, because there are several types of coloring substances.
Types of dyes for hair
First and foremost, I would like to mention the availability of natural dyes, therefore, to give hair a particular shade or color is not necessary to resort to chemical oxidants and dyes. You can use natural henna or Basma. The first makes the hair red, the second will help to paint them in color from light brown to black. Both paints are made from the leaves of plants.
Natural dyes can be mixed together, ensuring a brighter or darker shade. If you often dye your hair with henna, after the first clarification they will still be red color.
Chemical dyes are divided according to the degree of resistance into 3 groups:
1. The tonic is the weak crusadea effect and durability of the paint. It is used to give hair a lighter or darker shade, changing the natural color on a 1-2 pitch. Available in the form of tinted balms and shampoos. Because they do not contain bleaching substances, like ammonia or hydrogen peroxide, does not harm hair. The color is washed away after 5-6 shampoos.
2. Unstable hair dye. In their manufacture as bleach use hydrogen peroxide. Such means are well paints over a gray hair and you can change your hair color, but not for long, max 2 months. Frequent use of this type of paint can harm the hair.
3. Resistant hair dye can dramatically change the color of the hair for once, well paint over the gray. They use amines or ammonia, which do not allow the tool to slip away, to change the color it will be necessary to re-dye my hair.
The frequent use of the funds containing in its composition ammonia or amines leads to deterioration of hair and change their structure. For colored tresses require special care, with the use of masks, conditioners and balms.
Paint which firm is the best?
Currently popular are several world manufacturers of means for hair coloring. It's L'oreal, Wella and Schwarzkopf & Henkel. Under these brands are produced of several types of hair colors, each of them has its own characteristics.
In 2013, the first three places were occupied by dye Garnier Color Naturals, L'oréal shampoo and conditioner and L'oréal Casting creame gloss. They all belong to the same firm L'oréal. Tools are of good quality, a high dyeing effect. These paints have a thick consistency and easy to apply on hair. They can be used not only for hair but also for the color change.
For clarification you can still recommend paint Wella, Procter & Gamble, and Palette from Schwarzkopf. They can be used to lighten hair at a time and have a good color gray. The wide range of colors allows you to easily select the desired color and shade.
It is worth considering that paint purchased in supermarkets and in specialized shops can sharply differ not only in price but also in quality. Better not to risk and to give preference to narrow-profile boutiques.
For a more gentle, but stable color choose paint with the addition of vegetable oils, the so-called fito-line. Well established Garnier Color Shine Oleo Intense and Essential Color. Vegetable oils not only help to preserve and to saturate color but also adds Shine, smoothness and volume.
Hard to call the perfect manufacturer, which would combine both price and quality. Good hair dye doesn't cost too cheap. In most cases, women prefer more prodeklarirovany or not time-tested tools.
Advice 2 : How to dye your hair with folk remedies
Hair coloring with the help of folk remedies not only help to give the hair the desired shade, but also perfectly heal and strengthen them. Most often the basis of the coloring of the masks are henna and Basma. In addition, the often used onion peel, chamomile, cocoa, rhubarb and even regular tea.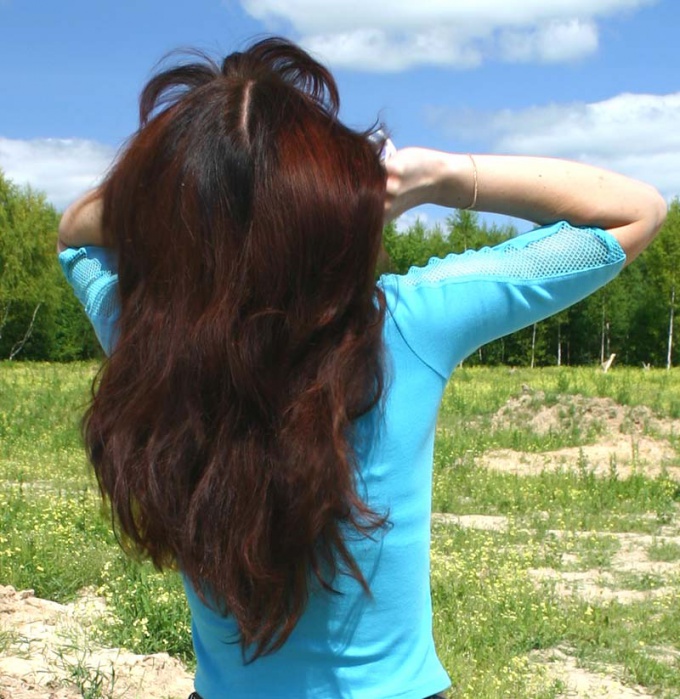 Instruction
We all know that the artificial hair dyes adversely affect their structure, gradually destroying it. The alternative is dyeing the hair with folk remedies. The advantages of this method include the General improvement and strengthening of hair getting the desired shade, the lack of chemical components that are harmful to hair.
The effect of natural dyes, as a rule, short-lived. And Yes, a noticeable effect cannot always be achieved the first time. Put cooked means need only for the whole length of the hair. The longer it takes to wash off, the more intense color it is, but to keep more than one and a half hours is undesirable.
Coloring hair yourself, to predict what the end result is a shade that is almost impossible. It is better to try colouring on one strand to try to predict the color. If you want to achieve a Golden color, two methods can be used.
Take fifty grams of the dry husk of the onion, pour 200 g of water and boil twenty minutes. The solution is then cooled for half an hour apply on hair and rinse.
Three tablespoons chopped chamomile flowers pour a liter of boiling water, steep for at least an hour, then strain. Solution massage into hair and keep for half an hour. Chamomile is possible and not to wash off.
If you need a bright Golden color, take a bag of henna and dilute two or three tablespoons of chamomile extract, cooked according to previous recipe. The resulting mask apply for half an hour and rinse thoroughly.
If you want to buy the bronze shade, use the mask in two parts henna and one part of the Basma. Mix in proportions according to instructions and apply for half an hour and then rinse.
Want to dye hair to a bright shade of mahogany? Need a mixture of one packet of henna and four tablespoons cocoa. Dilute to the consistency of thick cream and apply for twenty to thirty minutes, depending on desired color intensity.
Become a hot Brunet you will help taken equally henna and Basma. They must be applied as a mask for half an hour.
To achieve dark brown pour three tablespoons of black tea a large glass of water and boil for twenty minutes. Massage the solution into hair and hold it in for half an hour.
To get the blonde shade, you need twenty grams of roots and leaves of rhubarb, pour a half liters of white wine or wine vinegar diluted 1:1 and boil for half an hour. Infusion rinse hair and leave for half an hour.