Instruction
Ampulyarii – quite large aquarium snails. Their shell has the form of a spiral cone bright Golden-yellow or yellow-brown color. They breathe oxygen and so from time to time float to the surface. Snails feed on all kinds of residues and fouling, but if necessary they can be fed lettuce or cabbage, scalded with boiling water.
Ampulyarii – heterosexual, oviparous molluscs. However, to distinguish males and females almost impossible.
Breeding snails is quite suitable aquarium volume up to 30 liters. Fill it to the top edge remains at least 10-15 cm. cover the aquarium with a cover glass.
Offspring ampulyarii develops in the air. The female selects a place with the necessary temperature and humidity. So one day you may find laying on the wall of the tank, on the lid or on the cover glass.
If the female has not found a suitable place, and the aquarium was not closed at the top, it is quite possible that you will find her on the floor. If the snail got out of the tank, put it in a separate container, for example in a glass jar. Close the jar lid. The female will lay eggs in the Bank.
Masonry ampulyarii pinkish-yellow, shaped like a berry mulberry, is 4-7 cm long and 1-2 cm wide. Don't touch her if she normally held. If the clutch is dropped, place it in a plastic lid. Place the lid on the surface of the water in the aquarium.
Offspring ampulyarii will appear in 1.5 – 3 weeks. Despite its extremely small size (about 1/4 of a match head), "olidata" I already have armor and characteristic color.
It is best to transplant the babies to a small (about 10 liters) aquarium. Fill it with water not more than 5 cm (the kids breathe air and must surface periodically).
In the first month of life feed the brood boiled egg. Be sure to remove any food residue. To two months a small ampulyarii already able to eat finely chopped and scalded with boiling water lettuce and cabbage.
Ampulyarii grow quickly. Reached 2-3 mm snails are already able to feed on aquatic fouling.
Advice 2: How to breed snails
Breeding snails is not only a hobby but a serious business. Moreover, investments will be minimal, and the income could be about a million rubles a year from just 100 individuals. Of course, before you do this, you need to know all the rules for the cultivation of shellfish.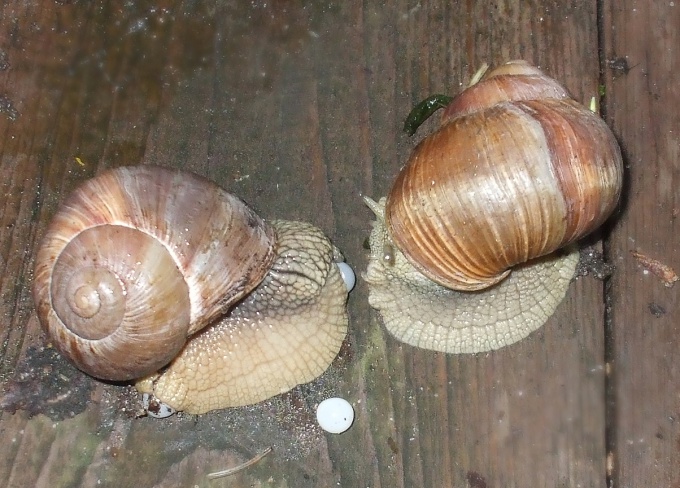 You will need
Snail, aquarium, earth, shavings, bowl, house, coconut shell, water spray, foods that contain calcium.
Instruction
Buy snails. If you plan on serious business, their number should amount to about a hundred. If you want to breed without a profit (or minimum income), there will be just two instances.
Buy aquariums or boxes with tight-fitting lid. One snail should have at least 30 square centimeters of space. If you are not able to constantly control the snails, make a well in the wall or cover a few small holes for air flow. Or daily open the lid of the aquarium for a few hours. If you bought adult snails, they can be kept in the same aquarium, if the clams are small, they should settle on different aquariums. The snails can eat off the carapace of another individual, often this occurs while they are small. Large individuals harm each other less.
Equip aquariums. They must be ground, it is necessary to pour a 2-3 cm layer in one corner. The rest of the space fill in large chips. Place a container of water. It should be large in diameter and not very deep. Create some hiding places for
snails
. It may be special
houses
, or any available means, for example, the shell of a large coconut. Place a receptacle for food. All the items in the aquarium should be without sharp edges.
Run snails in the aquarium. Several times a day obrushivaet the entire aquarium water. For this fit the usual sprays. Two or three times a week, bathe the snails in cool water, the water could even be flowing.
Food snails should mostly consist of fruits, vegetables, herbs. Never let the snails salt or salty food, it can kill them. In the aquarium have to be foods that contain calcium. This can be chalk, shells of clams (you can buy them at pet stores) or egg shells.
Regularly clean the aquarium, add water to refresh the land (be sure to check that there are insects) and chips.
In the year each individual snails can produce 90,000 eggs. Mortality is around 30% . Eggs require no special care, just be careful when cleaning the aquarium.
Note
While the little snail, be careful with her armor, he's still pretty strong.
Useful advice
If you see that the shell of one of the damaged specimens, is deposited with her for a few weeks in a separate tank as much as possible let calcium.
Advice 3: How to breed aquarium snails
Snails in aquariums holding not only for decorative purposes. Hard clams can easily handle fouling are formed on the walls of the aquarium and water plants. The most popular species of snails, which prefer to breed aquarists is ampulyarii.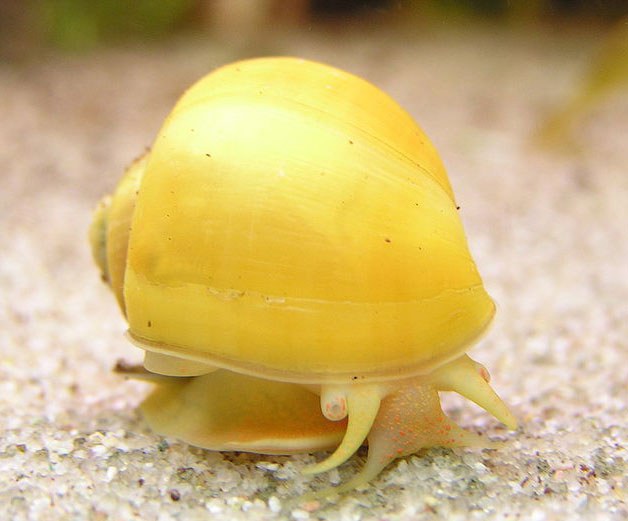 You will need
- dioecious species;
two of the aquarium.
Instruction
Anuario – one of the few snails that are not hermaphrodites. And therein lies the first problem. For breeding you'll need at least two individuals of different sexes, however, to distinguish males and females ampulyarii very difficult. Sexual dimorphism in snails is expressed very weakly. A careful breeder can try to see ampulyarii the copulatory organ of the male. It is located right under the sink on the opposite side of "siphon" in which the snail taking in air. The females in this place noticeable cavity, formed by folds of the mantle. However, beginning aquarists prefer to be sure buy a few ampulyarii, among which most likely will be a dioecious species.
For a comfortable life and reproduction ampullaria't need as much space. One snail should have ten gallons of water. The aquarium must be closed with a lid. Over water leave a distance of 10-15 centimeters, otherwise the snail can't lay eggs.
Usually, the female lays eggs on the lid of the aquarium walls or on the cover glass. Caviar has held fairly steady. If it had fallen, lay the masonry in the plastic cover, and the cover put on the surface of the water.
Kids ampulyarii be born in approximately one and a half to three weeks. Little snails already have a fully formed shell. After they hatched, put the offspring in a separate aquarium or jar. Fill it with water, it should be only five centimeters – small snails breathe air and are often forced to surface.
In the first month of life ampulyarii should feed boiled egg, and subsequently, lettuce or cabbage, scalded with boiling water. Once the snails reach two to three millimetres in length, they can be transplanted into the main tank.