Instruction
Choose high-quality material your favorite colors. For starters, you can use ordinary cotton or flannelette fabric. It is very pliable.
Prepare the working place and the tools – tailor's meter, pencil, scissors, thread, needle. Will also need a sewing machine.
Before to sew myself a scarf, measure the circumference of your head.
Now, given the taken measurements, make pattern. For example, if the circumference of your head is 55 centimeters, you need to cut from a fabric of three parts – two rectangle with a length of 19 cm and a width of 8 cm and a semicircle with a rectangular base. In the last element sizes should be as follows: base length – 47 cm, base width 16 cm, height of detail 34,5 cm
Now treat all the contours of the overcasting stitch. Stitch between the two rectangles from the inside along the long sides. Then turn on the front side, fold the unsewn edge of the narrow inward to a depth of 1 cm and iron well.
Make two lines along each long side, previously having receded 1 cm. It will be compartments for rubber bands. Neotrazimaya 1 cm to the brim.
Take two elastics for long, 6.5 cm and insert it into compartments. Capturing first with one edge, pristrochite them. Then pull to the other side using safety pins and make a line. You should have a little gathered detail.
Will astrocyte basic detail on all edges by pre-bend inner side. Can use the curly line.
Edges of the narrow base of the gusset insert to the gathered detail and baste, then stitch.
The result will be a very interesting and original scarf which can be worn on a hike or a walk in nature. It looks especially well on children. If you wish, you will be able to sew a scarf different shape, more elegant and interesting.
Advice 2: How to sew a neck scarf
Beautiful, exclusive thing does not have to be expensive. On the contrary, it may cost you a cheap price. For example, a necktie can make your own, and besides the fact that it will cost you much less purchase, this thing for you will be invaluable.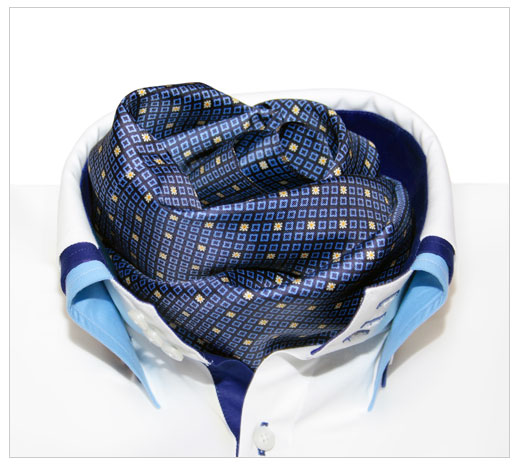 You will need
fabric
- threads,
- sharp scissors
- a sewing machine.
Instruction
Neckerchief - a seemingly ordinary thing, however, it can become an iconic accessory. If you have lost hope to find a suitable option in the stores, you know that sometimes your hands can create a masterpiece that will not only delight you for years to come, but will be one of a kind.
Even if you never sewed and have not picked up a needle and thread, to create a neckerchief under the force to you. It all starts with the fabric choice. Probably in your head already formed the image of the thing that you want to. Then you only need to find a suitable color and texture of the material. Today's fabric stores offer a huge assortment and affordable prices. An even greater selection of products available on the Internet. After a suitable fabric was found and bought in the right quantity, you can go to work. You will need the right color thread, sharp scissors and a sewing machine (you can borrow from friends or parents).
Neckerchief is an ordinary piece of cloth, which can have the size from 40X40 up to 90X90. It is important that he had the form of a geometrically regular square. Buying a fabric, remember that 1 cm on each edge will go to the ACC.
Lay the fabric on a flat surface and mark the desired size. On dark fabric you can put a mark with chalk or a dry piece of soap, and light with a pencil. Then carefully cut out.
At each end mark in one inch, tuck the fabric and keen. If the fabric will fray, you can bend the edge not once, but twice, hiding the cutting line inside. During the processing of the edge on the sewing machine, the fabric can slide. But if its pre-baste, in the end you get the same edge on all sides. After the processing of the edge will appreciate the beauty of the seam and if you are satisfied, remove the basting and try on your finished scarf.