Instruction
Pour into a small saucepan a small amount of milk, dilute it one third with water. Bring to a boil, then add in a saucepan the butter, spices and salt to taste. In a separate bowl mix a tablespoon of flour in a little water so that lumps don't form. Pour the flour in a thin stream into the gravy. Reduce the heat and stir the gravy until it is thick. Instead of milk you can use sour cream. The proportions of every woman selects for herself, as some like the gravy thicker, others liquid. You can add to the gravy tomato paste - get a beautiful and tasty tomato
sauce
.
Another method of cooking the gravy with flour - pour into the pan vegetable oil, and lightly fry in the tablespoon of flour. Then add to the flour sour cream and mix everything carefully. Then pour into the pan broth or water and bring the gravy to a boil. Add to the gravy tomato paste or spices and salt to taste.
Another version of the gravy - sauce with vegetables and herbs. Pan-fried carrot, onion and tomato until tender, then pour into the pan half a Cup of water and pre-diluted in water tablespoon of flour. Bring the gravy to a boil, add spices and chopped greens. In such a gravy out of the meat.
Very delicate gravy with flour obtained by the following recipe. Stir 2st.l. flour in 0.5 l of cream. Pour the mixture into a frying pan with high edges. Heat the pan on low heat. Add in gravy 200g grated cheese 2 cloves grated garlic. Gravy should stir and cook until then, until the cheese is completely melted.
Advice 2: How to make gravy for meatballs and hamburgers
Gravy is needed in order to make any dish even more flavorful and tender. There are many recipes. To prepare and submit it to poultry and meat, to fish and just to garnish. For improvement of flavoring qualities in the gravy add different spices, to thicken the flour. Most importantly, that sauce highlighted the taste of the dish, and did not interrupt him.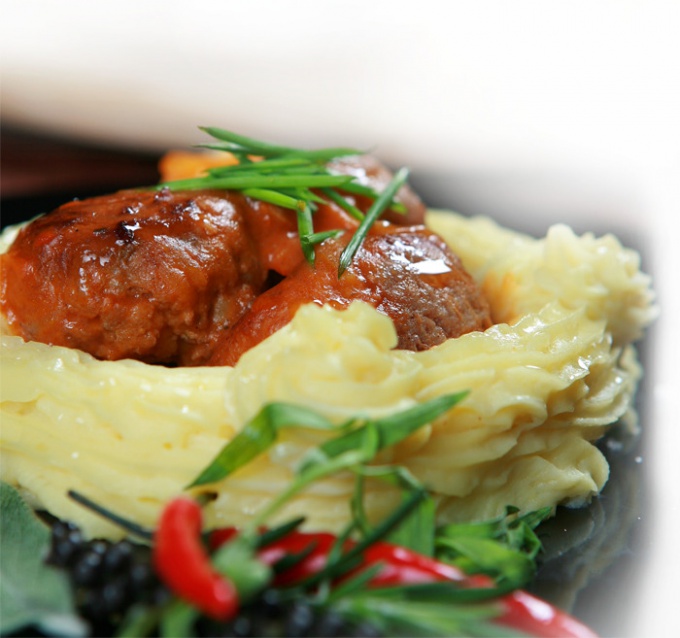 Instruction
Prepare the most common white sauce. To make it fry a spoonful of flour in butter until yellow. Take the broth and slowly pour it into the pan of flour. Gradually heat until the sauce acquires the desired thickness. Stir to avoid lumps. Add herbs and spices. Optionally, add finely chopped onion and grated carrot.
Try to cook the gravy in another way. If after cooking the meat in the oven on the pan left a lot of heated fluid and fat, you can use this as a base sauce. Scrape with a spatula all left after frying meat, mix with warm water to a volume of two cups. Dissolve a quarter Cup of flour with cold water until the consistency of liquid sour cream. To avoid lumps, whisk the mixture with a blender. Pour the diluted flour into the liquid in a pan and heat. Stir the gravy so it does not burn and thickens uniformly. Add salt, spices and herbs to taste. Gravy is ready.
Make a gravy of vegetables and mushrooms. To do this, take mushrooms or chanterelles, finely chop the rest. Peel the onions and finely chop, carrots grate. Tomato slice. The pan put on medium heat, add vegetable oil. Then put in a pan the sliced mushrooms and vegetables. Tosite 15 minutes. Meanwhile, dissolve the quarter Cup of flour in cold water until the consistency of sour cream, whisk the mixture in a blender to prevent lumps. Slowly add mixture to vegetables, stirring constantly. Add salt, herbs and spices. Cover and cook another 10 minutes. Gravy is ready.
You can prepare the gravy right in the same pan with the meatballs. To do this, 15 minutes lo the readiness of meatballs stir a quarter Cup of flour in cold water until the consistency of sour cream, add spices and herbs. Add three spoons of sour cream and mix. Add sauce to meatballs and simmer for 15 minutes with the lid closed.
Advice 3: How to cook a thick sauce with the meat?
Gravy
- the perfect complement to many main courses. It can be either too liquid or thick. Try to cook the second embodiment, it is satisfying.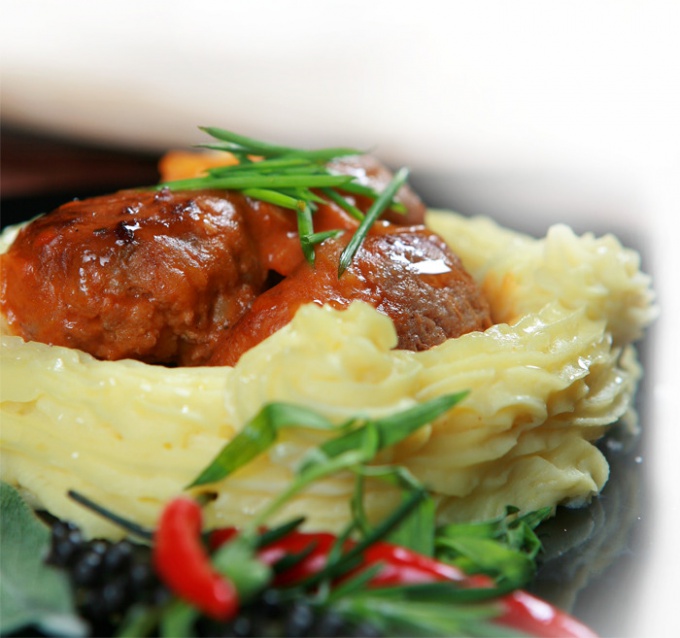 You will need
- 500 grams of pork;
- 250 grams of sour cream;
- 2 tablespoons sifted flour;
- 1 tablespoon tomato paste;
- 3 cloves of garlic;
- salt, pepper to taste;
- vegetable oil for frying.
Instruction
For starters, you must carefully prepare pork is to wash the selected piece under cold running water, lightly tap it with a hammer and cut into small pieces. At desire it is possible to beat the meat after cutting, it will take a little more time, but it will be very tender and soft.


Pork fry in any vegetable oil with finely chopped garlic. Salt and pepper the meat and add favorite seasonings. You can use ready-made spice blends designed specifically for roasting meat.
In a separate bowl mix the sour cream and tomato paste, dilute the mixture with water and add the flour. Salt and pepper to taste. The fluid should be homogeneous, with no flour lumps. But use the mixer for mixing not recommended.
Add this mixture to meat, mix thoroughly the products, cover with a lid and leave to languish on low heat. It is also important from time to time, stir the dish and watching as the gravy thickens.
After about 15 minutes the dish will be completely ready. To serve this sauce can be any garnish. It goes well with mashed potatoes, buckwheat, pasta, vegetable stew and rice.
Note
If desired, you can replace the tomato in any ketchup. It will not greatly change the taste of the finished dish.
Useful advice
If the house proved to be too little cream, you can complement it with a small amount of mayonnaise.
Advice 4: Recipes for gravy dishes
Gravy is used to improve and enrich the flavor of food. As for second courses,
gravies
you cook meat, fish, cereals, pasta. With their help complement and diversify the daily diet. They are prepared from various ingredients.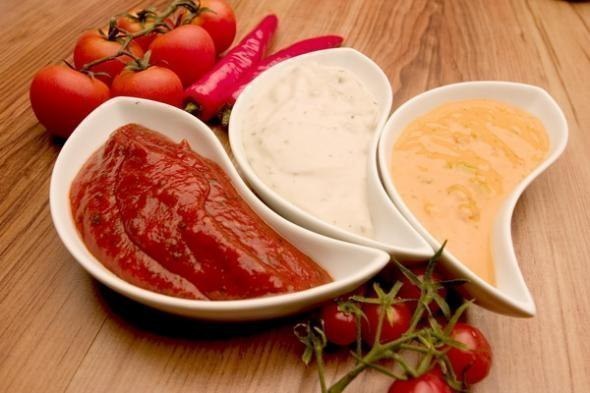 Recipes gravy very much. The main difference sauces that they served not separately, but together with dish.
Gravy potato
This gravy goes well with fish dishes. For cooking at the bottom of the brazier or pan, pour vegetable oil. Pour a teaspoon of cumin and fry to lightly darkened. At this time, cut and peel potatoes. Then you need to add a little red pepper and turmeric. The number depends on the preferences of cooking. Having mixed the mixture, add the potatoes and fry for ten minutes. Then pour water, add salt when boiling, and cook 15 minutes. Water should only lightly cover the potatoes. After some time pour in a little milk, add the coriander and continue to cook. In the end the dish is complemented chopped pickles.
For gravy you will need fresh vegetables. On one pan in hot oil fry the pieces of meat. In another pan with butter stew grated carrots and onions. After 5 minutes of frying pour in the vegetables released from the skin and chopped tomatoes. When the vegetables are soft, add 20 grams of flour, stir and add 250 ml of clean water. In the boiling gravy to shift the roasted pieces of meat and cook all together half an hour. At the end of quenching add spices, seasonings and the clove of grated garlic to the sauce with the meat was sharper. Also in the gravy when roasting vegetables, add a little pepper or Chile – for thrill. To serve a dish better served hot.
Mushroom gravy
Mushroom gravy should be served with cereals. Especially well it goes to buckwheat. First wash and boil the mushrooms. For mushrooms this process can be skipped. Cut into smaller onions. Chopped mushrooms fried with onions in butter. Lightly sprinkle with salt, mix, and then pour a tablespoon of flour. Mix ingredients, pour cream or sour cream and warm up. Dressed with gravy cereal sprinkled on top of greens.
Sauce for pasta
Pasta is often made vegetable gravy. Also nice it goes well with meat. It is necessary to chop the garlic and cut the onions a little bigger. Put them in a pan, fry lightly in vegetable oil. During this time, you need to prepare and grate the carrots, and then send after the onions and garlic. When the vegetables are cooked, they poured tomato juice. If you have tomatoes, the juice can be done, cut them in a blender. Put in a lot of spices and your favorite seasonings. Well suited to this gravy Basil, oregano, turmeric. Warming up the mixture with the tomatoes, add the cream and simmered the lot until thick. If you follow the figure, cream can not put.
Delicious gravy goes well and a little bit of it raw potatoes, and yesterday's porridge, and slightly burnt meat. The main thing is to cook it properly, use fresh produce and, of course, experiment for the sake of interesting combinations, only in moderation.