You will need
- 500 grams of veal;
- 200 grams of low fat sour cream;
- 1 tablespoon tomato paste;
- 2 tablespoons sifted flour;
- 3 cloves of garlic;
- a little olive oil;
- salt, pepper to taste.
Instruction
For this gravy you should choose veal or any other lean meat. From the use of pork should be abandoned. So the meat turned out soft and tasty, it must first be rinsed under cold water, then finely chop and thoroughly beat with a special hammer. But soy sauce and other marinades will only add to the product the extra calories.
On the bottom of the pan pour a little water and put back the meat with crushed garlic, cover and leave to languish. It is important to periodically flip the product and if necessary add water. When the meat is almost ready, in the water, add a bit of olive oil, salt, pepper product and fast fry it from all sides. And then the finished pieces to pass on to a new clean pan without oil.
In a separate container dissolve in a small amount of water sour cream with tomato paste and flour. Stir the ingredients well so that the mixture was not flour lumps, salt them, and add favorite seasonings. After that, cover the pan with a lid and leave the future to thicken the gravy and simmering in the pan.

The best garnish for this dish will be fresh or steamed vegetables. It is also desirable not to add extra sauces and gravy only to decorate fresh greens.

Note
The dish turned out really diet, it is not necessary to apply it to potatoes, cereals and pasta.
Useful advice
Olive oil if desired, can be replaced with a mixture of olive and sunflower.
Advice 2: How to cook gravy from pork
Vegetables and cereals required for the body's health, but truly delicious they become a tasty sauce. Prepare pork gravy to the side dish of buckwheat, rice, potatoes, pasta, white or cauliflower, and you will admire a pleasant combination of benefits and taste.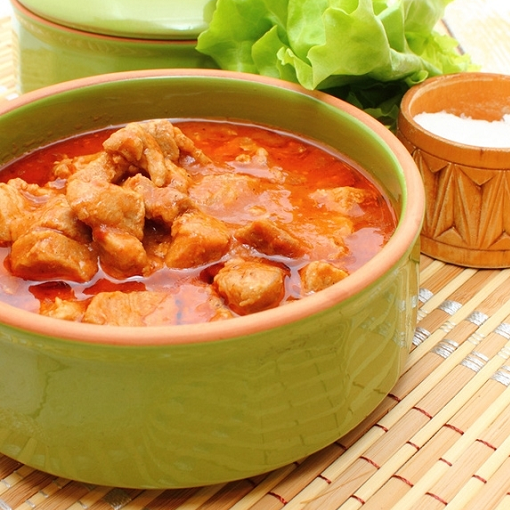 Sauce pork with tomato sauce
Ingredients:
- 500 g pork;
- 1 bulb onion;
- 1 carrot;
- 1 tbsp tomato paste or ketchup;
- 2 tbsp flour;
- 0,5 l of water;
- Bay leaf;
- 5 peas of black pepper;
- 15 g of parsley;
Sol;
- vegetable oil.
To extinguish, in principle, can use any part of pork, but it is best to cook the gravy of the ham or shoulder blade, is the meat more lean.
Wash pork and Pat dry it by blotting a piece of paper towel. Slice it into medium cubes. Clean the onion and cut into thin quarters of the rings, coarsely grate carrot. Heat the vegetable oil in a deep frying pan or large saucepan and fry in it meat from all sides until Golden while stirring with a wooden spatula. Put to it the vegetables, stir and simmer on medium heat for 3-5 minutes.
Enter in an upcoming fried tomato paste or ketchup and flour. Boil water and pour it in the pan. Lower back Bay leaf, peppercorns, lower the heat to very low and simmer the dish for half an hour, not forgetting to interfere, so it doesn't stick. Add salt to taste 5 minutes before end of cooking and stir in chopped parsley. Allow the gravy to steep for 10-15 minutes and meanwhile, prepare your favorite side dish.
Butter sauce pork with mushrooms
Ingredients:
- 500 g pork;
- 200 g mushrooms;
- 1 bulb onion;
- 1 St. 20%-nykh of cream;
- 1 tbsp. milk;
- 3 tbsp flour;
- 3 tbsp. butter;
- vegetable oil;
- 0.5 tsp ground paprika and black pepper;
Sol.
Prepare the pork and cut it into small wedges. Fry them in well heated vegetable oil on medium heat until the acquisition of grey, put in a bowl and set aside. Remove the husks from onions and finely shred it. Pour into pan with more butter and fry the onions until almost translucent, then add sliced mushrooms for 5 minutes.
Milk you can substitute vegetable or mushroom broth.
Melt in a saucepan or small pot of butter. Fry it in flour until brown and carefully dilute with a mixture of cream and milk, seasoned with paprika and black pepper, pouring it in a thin stream and then stirred. As soon as the sauce becomes homogeneous and thickens, add the meat and mushrooms, sunflower all, close the pot with a lid and cook the gravy creamy pork 15 minutes.