Simple recipe for tomato sauce to the meatballs
Ingredients:
- 2 tbsp tomato paste;
- 1 tbsp. water;
- 1 small onion;
- 1 tbsp of flour;
- 1 clove of garlic;
- a pinch of sugar;
- 1/3 teaspoon of black pepper;
Sol;
- 20 g of fresh herbs.
Instead of tomato paste we can take the average tomato, remove the skin and grate the pulp on a fine grater into a homogeneous puree.
Clean the onion, finely slice it and fry in the remaining after the preparation of chicken fat or vegetable oil until transparent over medium heat. Stir in the flour, mix all and fry for a few minutes, until the mixture turns light brown, giving not to form lumps. Put tomato paste, pepper and sugar. Boil some water and dilute it to a thick orange-red mixture, intensively stirring it with a wooden spatula.
The sunflower tomato gravy to taste and simmer for 10 minutes until thick. Remove the husks from the garlic, crush it in a special press and fold into the sauce. Chop it optional parsley, dill or cilantro, remove from heat and pour over meatballs.
Cream sauce for meatballs
Ingredients:
- 1 tbsp. milk;
- 0,5 tbsp. meat or chicken broth;
- 1 onion;
- 3 tbsp. butter;
- 2 tbsp flour;
- 0.5 tsp. ground white pepper;
- a pinch of nutmeg;
Sol.
Creamy gravy can be made even thicker if you cook it on the basis of milk, cream or sour cream.
Melt in a frying pan butter and fry in it the flour. Separately fry chopped onion and put it in first dishes. Enter in it a thin stream of milk and broth. Season the sauce with spices, salt as needed and cook at a moderate temperature, until thickened. This gravy is especially good for delicate cutlets from poultry.
Mushroom sauce for meatballs
Ingredients:
- 500 g mushrooms;
- 1,5 tbsp. 33%-nykh of cream;
- 1 onion;
- vegetable oil;
Sol.
Pour the mushrooms with water in saucepan, bring to the boil, simmer for 15-20 minutes, place them in a colander, let cool and cut into small pieces. Make transparent fried a finely chopped onion, mix it with the mushrooms and cook 10 minutes, until moisture is evaporated. Give mass to cool, grind it in a blender and return back into the pan. Pour the cream, mix all, add salt and a little warm gravy but do not boil. Serve it separately in a gravy boat or cover it chops per serving.
Advice 2: Recipe gravy with mushrooms
A thick mushroom
sauce
is a great addition to dishes of vegetables, meat, poultry or a hearty filling for pasta. With him any dish becomes a refined and a little French. Turn your kitchen into a little European restaurant and cook the sour cream, tomato or vegetable sauce with mushrooms.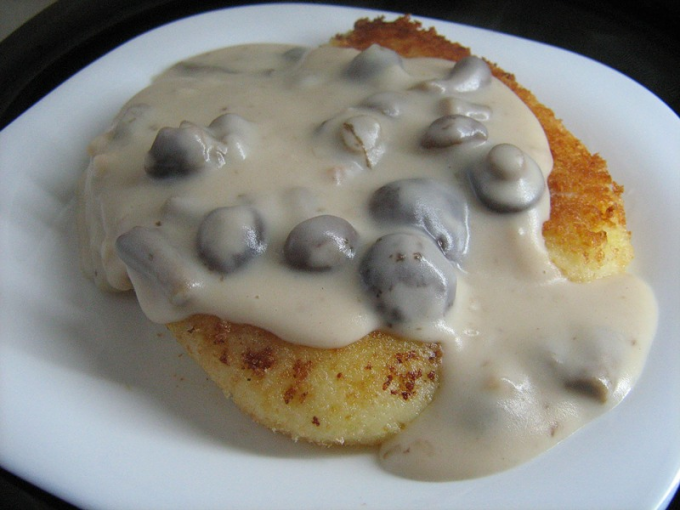 Smetana gravy with mushrooms
Ingredients:
- 450 g mushrooms or oyster;
- 1 onion;
- 25 g butter;
- 1 tbsp of flour;
- 200 ml cream;
- 3/4 tsp salt;
- vegetable oil.
Peel and thinly slice onion. Rinse and cut into small slices mushrooms or oyster mushrooms. Fry in vegetable oil first the onions until it will turn brown over medium heat, and then fry together with the mushrooms for 15 minutes. Take a saucepan and put on the next burner. Melt the butter, fry in it the flour and place in a fried mushroom. All mix well and pour 3 tbsp of hot water. After 2 minutes pour the cream, bring
the gravy
to a boil and immediately remove from heat.
Tomato sauce with mushrooms
Ingredients:
- 70 g of dry white mushrooms;
- 1 onion;
- 400 g of tomatoes;
- 100 ml of dry wine;
- 3 cloves of garlic;
- 2 tbsp flour;
- 1 tbsp dried marjoram;
- 1 tsp of salt and sugar;
olive or vegetable oil.
Soak dried mushrooms in half a Cup of hot water. Fry in olive or vegetable oil diced onion over low heat until a silvery transparency, then crush the garlic cloves in there with the help of special press or fine grater. Remove the skin from the tomatoes, scalded with boiling water. Mash them with a spoon and put in a pan. Let the tomato become a homogeneous mass, season it with marjoram, sugar and salt, add the flour and wine.
Pour the mushroom infusion with the remaining mushrooms in the pan to the other components in the sauce, boil all, then reduce the cooking temperature to low and simmer the gravy for about 10 minutes.
Vegetable gravy with mushrooms
Ingredients:
- 500 g mushrooms (can be frozen);
- 1 carrot;
- 1 bell pepper;
- 2 bulbs;
- 2 tbsp of tomato ketchup;
- 1 tbsp of flour;
- 200 ml of water;
- pinch of black pepper;
- 1 tsp salt for cooking mushrooms + pinch + 1/2 tsp;
- vegetable oil.
Bring to a boil sliced mushrooms in a liter of salted water for 20 minutes. Remove the stalk and seeds from pepper, cut into strips, and onions, freeing from the husk, half – rings, coarsely grate carrot. Make vegetable sauté in vegetable oil until the acquisition of Golden hue, pepper and salt a pinch.
Preparing vegetables pour ketchup, sprinkle with flour, stir well and dilute with hot water, and 1/2 tsp salt. Drain mushrooms in a colander and stir them into the contents of the pan. All stir and after a few minutes remove from heat.