You will need
- jeans;
- sketch;
- transfer paper for fabric;
- a marker for fabric;
- contour;
- acrylic paint;
- tassels;
- a sponge;
- iron.
Instruction
Before to paint
jeans at home
, think figure. Then make a sketch on paper, attach to jeans and put on the fabric using a special carbon paper to transfer the image onto material. If the outlines are obtained is unclear, circle them with a special marker for fabric. Don't worry, eventually all lines will disappear.
Purchase acrylic paint and outline. Choose a special paint for tissue. You can buy them in art shops or online stores. You may also need thinner for acrylics, although many of them are well diluted and water. Prepare a brush and sponge.
Put the jeans on a smooth flat surface, floor or table, pre-covered with paper, so as not to get dirty in the process. Inside of the leg, insert a piece of cardboard. This is done so that the paint didn't stick where it's not necessary. If the fabric is wrinkled, iron it with an iron, so as a work surface for painting must be smooth.
Draw a line drawing of a special circuit, if according to your idea color should not be mixed. Allow paint to dry.
Then fill the surface with acrylic paints. Fine detail paint brushes and a large surface of the paint with a foam sponge tamponazhnykh movements, i.e., apply the sponge to the tissue and immediately release it.
Allow paint to dry. Each subsequent layer is applied after full drying previous. Brush fine brush fine details drawing. After the painting is completely finished, the jeans aside and allow paint to dry for approximately two days.
Secure image. Iron the fabric on the reverse side with an iron for a couple minutes.
Note
Brush, rinse with water immediately. Otherwise, the paint will dry and you will not be able to clean them.

Drawing on jeans can be used with a stencil.
Useful advice
Acrylic paint can be mixed in any proportions to get the required shade.

Paint the picture, starting with the lighter shade, then go to painting with dark colors.
Advice 2 : How to update old jeans
If the old
jeans
are tired, rather shabby and frayed, do not rush to throw them away. Using simple manipulations, the old thing can be turned into fashionable things – the envy of all her friends. Give a second life to your favorite jeans.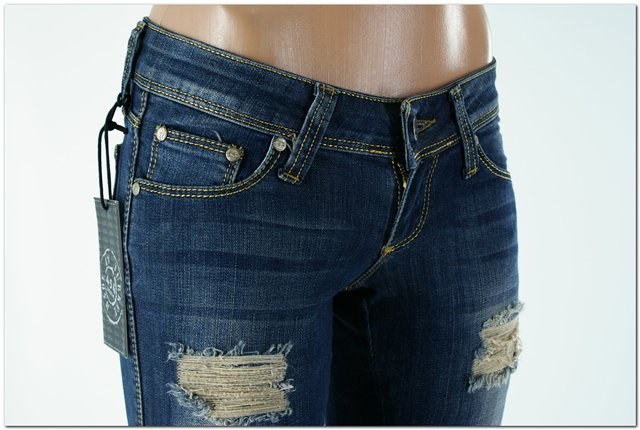 Instruction
Jeans look worn? Use it – the edges of the pockets and the surface of the pants here and there with a float or a pumice stone. Now do the one pant leg under the pocket cuts, and the other above the knee. Incisions also treated with a grater or pumice. A few movements – and you're holding a fashionable "distressed" jeans.
If you know how to embroider, consider that half the work is already done. Jeans can embroider floss, sequins, beads and beads. Think of a pattern and business. Can be limited to flowers, butterflies or geometric shapes. If embroidery thread, pre-check do not shed.
Buy in-store of goods for needlework a few thermoapplication and glue them to jeans by using a hot iron. Just put on jeans applique face down and apply a hot iron for 30-50 seconds.
Tab at leg decorative pockets or stars of leather or contrasting fabric. Jeans can also be decorated brooch-pins in the form of butterflies or fairies. These pins are sold in stores of goods for needlework.
Love to draw? Get acrylic paint for fabric and get to work. Draw whatever you want: decorate the pockets of an unusual pattern, sign the bottom of the leg, or draw something similar to the Japanese characters on the hips over the knees. You can draw thin or thick brush, as you see fit.
Old jeans you can "cook" throw them in boiling water with salt and chlorine. Simmer for an hour and be ready to get a brand new and trendy thing "boiled" jeans with stains.
Men's jeans can be updated using the camouflage fabric: cut patches or squares and sew on, and worn places. A more complicated version patches of camouflage fabric and iron buttons. Sew patches and secure them with large metal buttons.
To upgrade jeans can Nachev additional pouch pockets, over the old one. Thus you kill two birds with one stone and update your jeans and get rid of the need to carry a bag for the Essentials. Pockets you can do Velcro or a zipper, for a special content safety. Inside pockets panel mantle fabric for protection from the weather.
Old jeans can be decorated with fabric appliques. Just cut from any suitable fabric, the flowers, the sun or the clouds and sew on the sewing machine to shabby. Instead of a fabric tie applique flowers from the remnants of any yarn and sew over the pockets or on the leg. From a separate fabric or knitted applications, you can do an entire composition.
Useful advice
Very old and faded jeans turn into useful home items such as bags, pot holders or covers for stools. Not in a hurry to get rid of annoying clothes – old jeans will easily turn into fashionable and useful thing.
Advice 3 : How to make ripped shorts
Torn denim shorts have become classics of street style and even go beyond it. But if you use this item of clothing in formal situations to be very careful, for walks and meetings with friends on a hot summer day ripped shorts will fit perfectly. While you can make them with your own hands out of old denim pants. "Torn" decor will add originality to the denim shorts.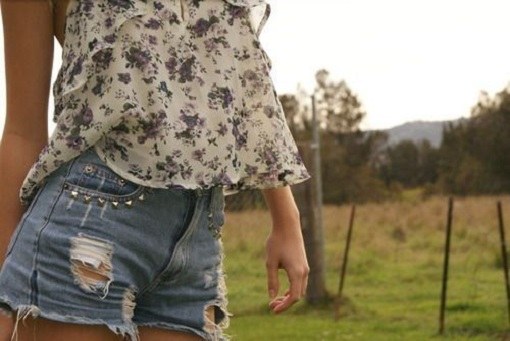 You will need
Old jeans, scissors, box cutter, soap, or chalk, needle, thread, tweezers, a little bit of lace fabric.
Instruction
Cut the
jeans
to the desired length. To do this, put on a wash, well ironed trousers and put a soap mark denoting the desired length. Turn the jeans inside out and draw a cutting line, it should be 2-4 cm below the previously set mark. Guided by the principle "one hundred times measure, cut once" wear
cropped
pants for the second time and after this try, if need be, shorten the shorts. About one and a half inches need to leave in order to handle the bottom.
With a utility knife, cut two parallel strips of the desired length with a distance of a few centimeters. The cuts should be equal and placed one above the other. Better to start with rear patch pockets, it will help to practice before a more responsible stage of work on the front of the shorts.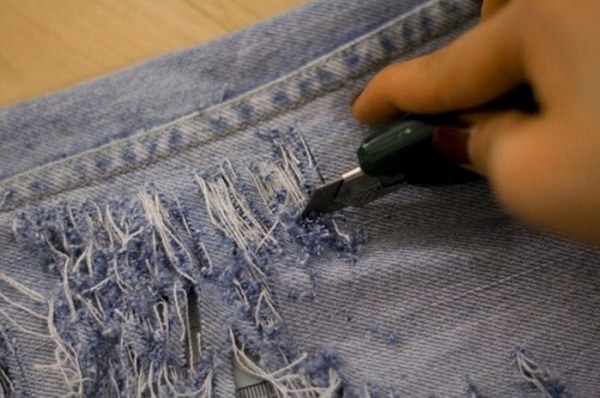 With the help of forceps and needle, pull the thread between the transverse slits are made. Thus, after finishing work on the tissue section will remain only a longitudinal thread of white color.
Repeat the same action in several places. In order for the shorts not too open on the front of the breakdown better to do over the pockets. Optionally, the shorts can be done with a utility knife small square or rectangular slot and fluff up using a needle their edges.
Treat the bottom of the shorts. The easiest way is to put on the edge of the denim "fringe", pulling the required amount of longitudinal threads around the hem. You can make smooth edges, tucked and stitched them by machine or hidden stitch. The edges can also turn out on the outside.
Optional sew small pieces of lace on the sides of the shorts. To do this, fold the product in half, measure and then cut a small corner from the outer bottom edge on both legs. The resulting triangle on the shorts need to "close" lace. This can be done with both external and inner side hidden stitch or with a machine. Shorts can be decorated with rhinestones, metal elements, applications and other ways.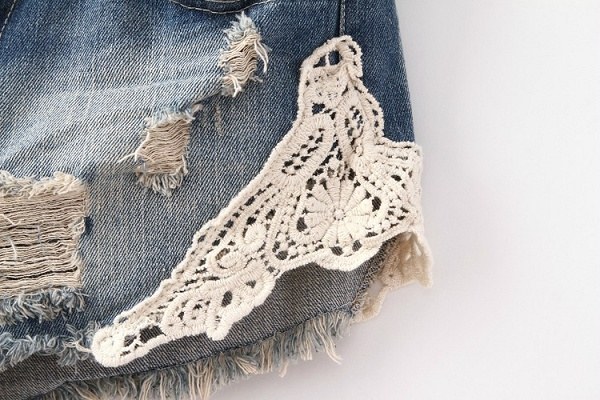 Note
The process of shortening jeans is one of the most important stages of preparation of the product. Too short ripped shorts will look vulgar
Useful advice
To achieve the effect of easy negligence and naturalness of the cuts after the first wash. If then the tears on the shorts seem too big, they can "cover up", sew the lace to the inside.
Advice 4 : How to decorate denim shorts to look stylish
Denim fabric entered the life of mankind for quite some time. The first denim shorts appeared several centuries ago. Then they were quite similar to the current version and belonged only to the male wardrobe. First cut your favorite jeans ventured the American. So we came up with denim shorts, which then began to decorate various elements in order to make them stylish and fashionable.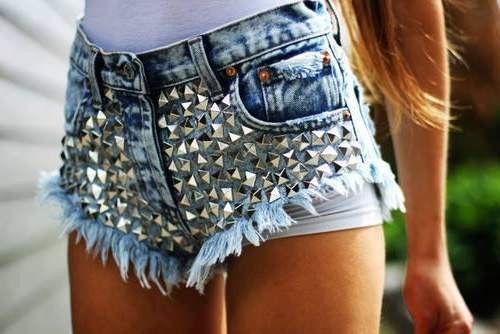 Why wear denim shorts in the summer?


To impress others the desire for stylish living and the perfect taste, enough to decorate your shorts with your own hands. It is not enough to buy a decoration, you need to know how to match it with a particular type of fabric.

Summer is a season of vacations, sun, holidays. In these days you want to impress others with not only a good figure, and fashionable clothes. No matter where the vacation is in the home country or abroad, you need to be able to dress tastefully. The clothing should be comfortable, convenient and meet the fashion trends.

Some things used in summer season, have become boring to their owners. Therefore, girls try to wear clothes that are used less frequently in hot weather. These things are taken and denim shorts. Since many of these products do not differ in brightness and figures, they can be something to decorate.


Ways of decorating


Denim shorts can be decorated with rhinestones. This item of jewelry looks good and is publicly available. Rhinestones can be selected in-store fabrics and accessories. Here you can only rely on your taste. Gluing rhinestones on denim shorts can be in any order. You need to remember only one rule. To shower things with rhinestones is not worth it. For your summer clothes is fine glimmering stripes or a small pattern on the pocket.

As decorations, you can use a zipper and rivets. These items are very popular among young people. Drawing on the shorts zippers or rivets will take time. Just keep in mind that the choice could fall only on one type of jewelry. To put on denim shorts and zipper, and rivets is unacceptable.

You can decorate the thing with appliques or bead embroidery. Beading is not suitable if the fabric from which the sewn shorts is hard. Fishing line can quickly tear or peretiraetsya. The application can make yourself or buy in the store.

Denim shorts can be decorated with lace. It may have a different shade and color. The bottom seam on the shorts need to strut, then carefully ironed it. Sew the lace from the wrong side with a concealed seam. There are other options for decorating this material. Not to rip the seams, you can sew the lace to the back or front pockets. This element can be sewed on the waistband of the shorts.

Leather lining and the same kind of fringe can be useful to create a denim shorts, cowboy style. Leather patches can be sewn on top of the shorts just below the pockets. Fringe is strengthened along their edges.

You can decorate an old denim shorts, portraying to them the flag of the country. But this method is for the more adventurous members of the fairer sex.

Animal print will also make denim shorts stylish. It is necessary to take a piece of cardboard of a similar color with leopard spots, and cut from them the necessary details. Next, you should place them on jeans. As an option you can consider painting white cardboard with a marker or waterproof paint.

Very often, the shorts are adorned with spikes. In this case, the more suitable a dark denim material. Spikes you can decorate the edge of the pockets.

Decorating denim shorts, can mix several styles in one.